Simon Shred's colouring competition – the winning bin!
If you subscribe to our newsletter or follow us on social media, you may already know about Simon Shred. If you aren't familiar with the coolest little shredding truck on earth, let us introduce you.
Who is Simon Shred?
Simon Shred is your friendly neighbourhood shredding truck. His mission is to teach children about protecting their data and the importance of recycling. He even has his very own activity books, telling the stories of his adventures and helping to spread the message of his mission. So far, Simon Shred's adventures include a trip to a school and a trip to the doctor's office, and there are always more journeys for Simon Shred to go on.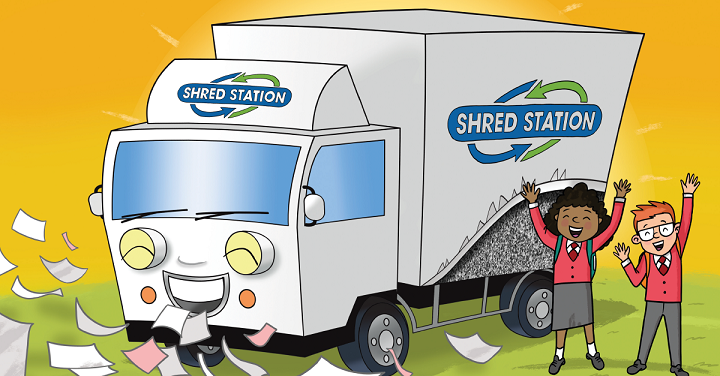 The colouring competition
On the back cover of every Simon Shred activity book is a fun colouring page. Issue 2 of Simon Shred encouraged children to colour in a shredding bin with their own unique design with the possibility of that design coming to life!
Winterton Primary School was especially enthusiastic about designing their own shredding bin and gave us lots of wonderful designs drawn by their students. Our team of judges had a lot of trouble choosing a winner! We loved every single design that came in, so we couldn't possibly pick just one.
Here is the custom-wrapped shredding bin we made especially for Winterton Primary School and their students. Each side of the bin features a design from a different young artist.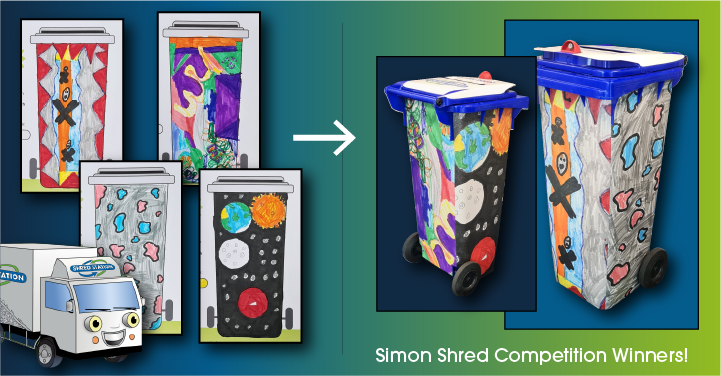 The winning designs were:
"De Vel" – This student came up with a truly original pirate-themed design. The design incorporates scary skulls and crossbones, a longboat on a river and colourful red and yellow background. Our judges thought this student had a unique creative flair and a fantastic imagination!
"Dotty" – This student went for cheetah-like pink and blue dots on a grey background. The design is simple in principle but beautifully executed and very neat. This student clearly had a lot of practice in not colouring outside of the lines!
"Rain Bow Bin" – This design was the most colourful of them all! With lots of abstract shapes, swirls and dots, our judges could only imagine that this must be what the inside of a rainbow looks like. Well done to this young artist!
"Space" – This design features a big orange and yellow sun, dozens of stars, Earth, a big bright moon and the Red Planet – Mars! It wasn't just imaginative and detailed; it was also very neat! Our judges all agreed that this design was indeed out of this world.
A huge thank you to all of the students that sent in designs. We still have copies of both volumes of Simon Shred, so if you would like copies for your school or medical surgery, get in touch! We are still happily accepting designs for future bins.
---
Sign up for our newsletter here to receive alerts about new blog articles, data protection advice, and Shred Station news.