Simon Shred's next adventure is here!
One of Simon Shred's latest adventures saw him travelling to schools to teach children to protect their data and recycle. Now, Simon Shred is making his way to doctor's offices, GP surgeries and other healthcare facilities to do the same.
Simon Shred is teaching children about data protection!
Data about our health is considered sensitive data and should be kept confidential. This is because sharing information about a person's health could put them at risk of discrimination. There is also a risk of data misuse. When we destroy old health information, we keep that data safe, and this is why so many doctors use Shred Station's services. They want to keep their patients safe in every way!
Teaching children about data security is also something we must do to keep little ones safe. We've all heard of stranger danger, but what about the stranger we can't see? With fraud crimes against children on the rise, we should encourage children to start learning about data safety sooner. That's where Simon Shred wants to help.
Who is Simon Shred?
Simon Shred is your friendly neighbourhood shredding truck. His mission is to get conversations started about data and recycling at the same time!
By teaching children about the kinds of data that are sensitive with an interactive activity book, Simon Shred can achieve his mission.
With two activity books now available, one for schools and one for medical practices, Simon has taught thousands of children about protecting their information and recycling their paper. One of the core pillars of Shred Station's ethos is that we want others to feel confident about data destruction. With Simon Shred's mission, we encourage making discussions about data fun – not something to be frightened of.
If you'd like some copies of Simon Shred's activity book for your medical practice, get in touch today.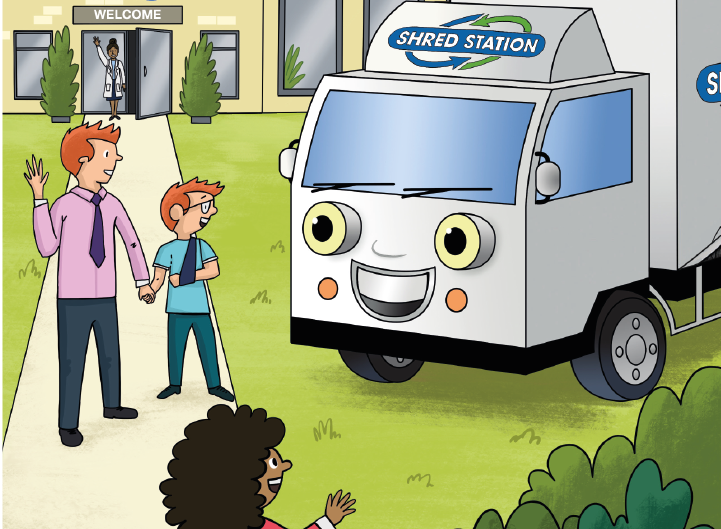 ---
Sign up for our newsletter here to receive alerts about new blog articles, data protection advice, and Shred Station news.