Shred Station in the Community
At Shred Station, we continuously look for ways to help out in our local communities, and it is a key part of our corporate social responsibility efforts to do so. Here are just a few examples of how our actions have been able to positively impact the cities in which we live, work, and operate.
---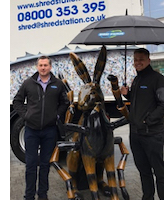 Charity Work
We like to participate in charity work, and have recently donated hoodies to the homeless, participated in gift appeals, and worked with local charities to raise funds internally. We are also regular supporters of Break Charity and have enjoyed participating in Break Charity's sculpture trails including GoGoDragons and GoGoHares. The sculptures we sponsored were eventually sold at auction, raising thousands of pounds for the charity. We look forward to taking part in future GoGo trails and are always on the lookout for more ways to support local causes.
---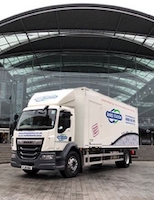 Shredding Events
Another way we try to help out is by hosting community shredding events. These community shredding events allow local businesses and individuals to have us shred their documents in one of our bespoke mobile shredding trucks for them to witness. All we usually ask for in return is a small donation, 100% of which goes to local charities. Stay tuned in to our social media channels or sign up to our newsletter to hear about upcoming community shredding events, shredding news, and more.
---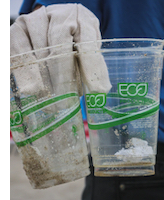 Volunteering
In addition to the charity work we do as a company; we encourage our employees to support charities and help in the community when they can. Each employee at Shred Station is entitled to two volunteer days per year. By allowing our staff time away from work to participate in community fundraising or volunteer events, we can support a much wider network of causes in the community. Allowing staff time to engage in activities and causes important to them is also good for staff wellbeing, and lets our team members return to work energised by the "helper's high" that altruistic behaviour can bring.
---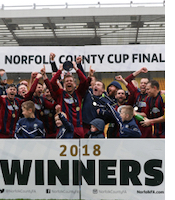 Local Sports Sponsorship
Another way we try to do our part in the local community is through sports sponsorship. Shred Station was the official Back of Shorts and Dugout sponsor of Norwich City FC for many years, and remain the official waste management supplier to Norwich City FC. Shred Station is also the current main sponsor of Dussindale Rovers FC. Dussindale Rovers FC is a team local to our head office in Norwich, and our Managing Director, Simon Franklin, takes an active role as Chairman for the team.
---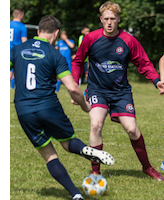 Waste World Cup
The Waste World Cup is a national event where waste management companies, such as Shred Station, pay an entry fee to compete in a day-long football tournament in support of Waste Aid UK. Waste Aid is an independent UK charity set up by waste management professionals to tackle the worldwide issue of pollution. They do this by sharing waste management knowledge with low-income countries, helping to reduce the harm pollution can have on people's health, as well as environmental health. Waste Aid also works with upstream and coastal communities to fight plastic pollution in marine environments.
In 2019, we attended the Waste World Cup for the first time, putting forward two teams of staff to compete for the trophy. With a bit of beginner's luck and fantastic teamwork, Shred Station managed to win first place, winning 2019's trophy. We look forward to participating in future competitions and helping contribute to such a great cause.
---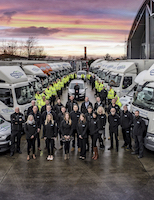 Shredding Services for Everyone
Our shredding services are accessible to all, and we recognise that, for some, shredding may not be as straight-forward as us coming to your home or business and taking away your documents. We carry out many domestic collections where the customer may have mobility issues or may have recently lost someone they care about and are having to dispose of their old documentation. For collections like this, we offer an Extra Care Personal Service at no extra cost. All of our staff are security vetted to BS7857 security standards, and all undergo training in professionalism and customer care. This service ensures our operatives set aside additional time to carry out the collection and act with sensitivity in mind, providing our customers with extra care when they need it most.
---