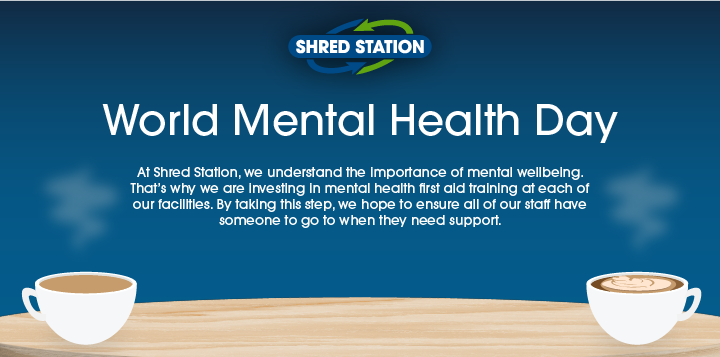 World Mental Health Day 2022
October 10th is World Mental Health Day.
What is World Mental Health Day?
World Mental Health Day was first celebrated in 1992. It has been celebrated on the 10th of October each year since then. The day encourages mental health awareness across the world. It serves as an important reminder that, globally, we need to continue working to remove the stigma surrounding mental health issues.
According to the charity Mind, approximately one in four people in the UK will experience a mental health problem each year. With so many of us going through these often-invisible issues, we all must make sure those around us know that they don't have to experience these problems on their own. Equally, it's essential to reach out to others if experiencing these issues ourselves. The more we talk about mental health, the less room there is for mental health issues to be stigmatised.
How we view mental health at Shred Station
At Shred Station, we understand the importance of mental well-being. That's why, starting this year, we are investing in mental health first aid training at each of our sites. By taking this step, we hope to reduce the stigma around mental health in our workplaces. Additionally, we hope to ensure all staff have someone they can go to when they need support. We also have over a dozen regular first aiders for any physical injuries.
Our Human Resources department also has a lot of experience and knowledge about mental health support. We have policies and practices in place to ensure we can respond quickly to any signs of mental health problems or concerns and provide our staff with the empathy and support they need.
Resources
If you have been affected by anything you have read in this blog post, there are resources that can support you day and night. Please visit the Mind website to find a list of these resources. This list includes a 24/7 text message-based service if you are unable to speak on the phone.
---
Sign up for our newsletter to receive alerts about new blog articles, data protection advice, and Shred Station news.