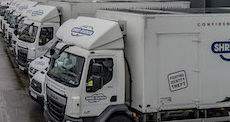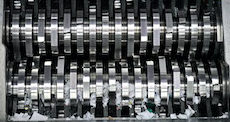 Shred Station's® bespoke fleet of secure shredding trucks are purpose-built and fitted for our operations, and all have refined security systems in place. Our fleet is constantly growing and adapting, but our high levels of security remain consistent, as they have been since Shred Station was established in 2008.
Our shredding trucks come in a range of sizes, including 7.5 tonne, 12 tonne, 15 tonne, 18 tonne, and 26 tonnes, all meeting Euro 6 emissions standards. We can cater to shredding requirements of any size, anywhere in the UK.
On-Site Shredding Trucks
Our mobile shredding trucks are fully equipped to destroy your confidential information at your business or domestic property. The onboard industrial shredder allows your waste to be disposed of while you watch, giving you ultimate peace of mind. There is also an onboard four-camera system, GPS tracking, and telematics ensuring complete security.
These vehicles are also optimised for road safety, and feature a state-of-the-art side detection system, comprised of sensors along the passenger-side panels. This detects any movement from cyclists and pedestrians, and alerts the driver with an audible beep. They are also fitted with low-rise windows to optimise direct vision, and also an audio warning signal which alerts cyclists of our drivers' intentions to turn left.
Off-Site Shredding Trucks
Our off-site shredding trucks are plain white with a discrete Shred Station logo on the cab doors. This subtle branding is an additional security measure we have employed so as not to advertise we are carrying confidential waste while our shredding trucks are in transit.
Secure Automated Vehicles
Our Secure Automated Vehicles (SAVs) are an alternative to our standard off-site shredding trucks, providing customers with a totally discrete option for off-site shredding. These trucks are completely unbranded, meaning they are indistinguishable from any other truck on the road. They are fully sealed and watertight, and as with all of our vehicles, the SAVs are fitted with a bespoke four-camera CCTV system and onboard satellite tracking device.
Secure Automated Vehicles also allow for even less manual handling of information by our security-vetted drivers, with bins lifted and tipped onto the hold compartment electronically. Immediately after loading, your confidential information becomes inaccessible.
Another added security feature is the interlocking rear shutter system, meaning the vehicle will be unable to drive off unless the shutter system is completely closed and secure.
Our Secure Automated Vehicles are environmentally friendly too, operating with a reduced fuel consumption of around 15%. The SAVs hold over 12 tonnes of paper which drastically increases payload. This can result in as much as a 40% total reduction in carbon footprint.
On-Site Granulator Vehicle
Our specialist on-site granulator vehicle is the only truck of its kind in the UK. Shredding down to 2mm on-site, this truck is perfect for ultra-high security shredding requirements such as the destruction of top-secret government documents, highly confidential information and credit cards.
Due to the smaller chassis of this vehicle, we are able to access secure areas and loading bays with ease. This means that we can assist even more companies with their shredding requirements.
Security Check and Counter-Terrorism Check cleared operating staff are also available for ultra-high security shredding collections, and we'll endeavour to meet all of your requirements.
As well as paper shredding, our on-site granulator also boasts an onboard degausser and hard drive shredder. Like our other vehicles, it also has comprehensive four-camera CCTV systems, telematics tracking, and GPS tracking.
If you'd like more information about our shredding trucks, or need some advice on which shredding service is right for you, please get in touch with one of our shredding experts today.
Mobile Shredding
Find out more about our Mobile Shredding Service.
Mobile Shredding