Ultra-High Security Granulation
Shred Station takes the secure destruction of your confidential documents incredibly seriously. Our ultra-high security granulation service ensures your confidential information is destroyed to the highest possible standards of security available. Granulation is the ideal destruction solution for highly confidential information such as top-secret government documents and documents regarding national security, and also items such as credit cards.
On-Site Ultra-High Security Granulator
Through the use of our on-site granulator vehicle, combined with Security Check and Counter-Terrorism Check cleared members of the Shred Station team to conduct the destruction, we are able to offer ultra-high security granulation services onsite at your premises.
With this service, your confidential documents will be granulated to 2mm fragments at your site for you to witness. Our on-site granulation vehicle also has an onboard degausser for magnetic media, as well as a hard drive shredder. As with all of our vehicles, the ultra-high security vehicle and is fully monitored by comprehensive CCTV and state-of-the-art GPS tracking systems.
Our on-site granulator is the only vehicle of its kind in the UK; you will not find a more secure shredding vehicle anywhere else.
Key Features of the Service
Can granulate documents down to 2mm fragments at your site
Onboard degausser and hard drive shredder
Double lined body for additional penetration security
Lockable cage doors in the shredding compartment
A specially designed smaller chassis gives this vehicle the lowest clearance of any onsite shredding truck allowing access to more loading bays and secure areas
Security Check and Counter-Terrorism Check cleared operating staff
Ideal for top-secret paperwork, highly confidential information, and sensitive media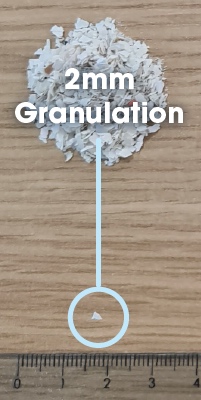 Shred Station's mobile ultra-high security granulator service complies with all BS EN 15713 shredding standards. We are audited against these standards by the BSI, and you can view our certifications here.
For more information about our ultra-high security shredding service take a look at our granulation service document here, or call 01603 558 184