Business Shredding Services
To help comply with data protection law, Shred Station® recommend using a business shredding service. Our regular, tailored, services work for every size of firm, from SMEs, to larger organisations and multi-site enterprises.
Regular business shredding
Scheduling a regular, business shredding collection can avoid uncertainty on how long documents should be kept. Secure destruction of confidential data helps businesses comply with data protection law.
The General Data Protection Regulations (GDPR) in 2018 are the biggest reform to data protection law in two decades. Fines for a data breach have been stepped up with this law. We encourage every business to review its data destruction processes on a regular basis.
Adhoc collections – no regular collection required
Some businesses decide that they don't need a regular shredding service for paper, electronic media or products. However, we can still help with a one-off shredding service and adhoc collections are particularly helpful for needs such as office moves or occasional office clear-outs. You can book our services as and when you require shredding. In addition, when booking an adhoc collection you can select from Mobile or Off-Site shredding services.
Mobile or off-site business shredding
With our business shredding service you have the choice of mobile shredding at your premises, or off-site shredding where confidential data is securely transported from your office for shredding at one of our high security depots.
Identity and data thieves are more active than ever. A data breach could risk your business's reputation and land you with a large fine. Can you afford not to make secure document disposal a priority?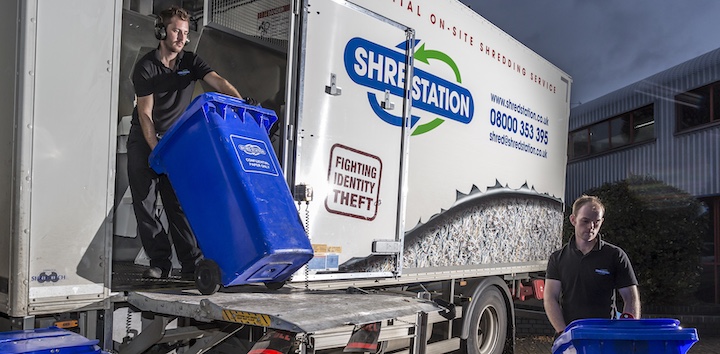 Secure bins and containers
When you select a regular shredding service, firstly we'll provide secure containers to store your confidential data, free of charge. We deliver bins or consoles to your office(s) and arrange regular collections to suit you. You can see the choice on our bins & containers page, or call one of our business shredding specialists for advice on the best option for your office.
Data protection law
Data protection law applies to any personal data, kept in any format, and includes both paper documentation and electronic media. The law applies to staff records, customer data and payment details, to give a few examples.
To make sure you're meeting data protection needs, learn more about clear-desk policies and other important steps you can take. We provide guidance in our article on best practices for safeguarding your confidential data.
Company uniform and product shredding
We can protect you in other important areas too. Your business could be at risk from corporate identity theft and espionage, or your reputation could be at risk by out-of-date products ending up on the black market, or even someone maliciously impersonating your workforce. Our product destruction service helps to safeguard your brand and reputation.
Do you still have questions? Use our service guide to match your needs with our service offer, or contact a business shredding specialist who will be happy to discuss your needs.