Our Environmental Commitments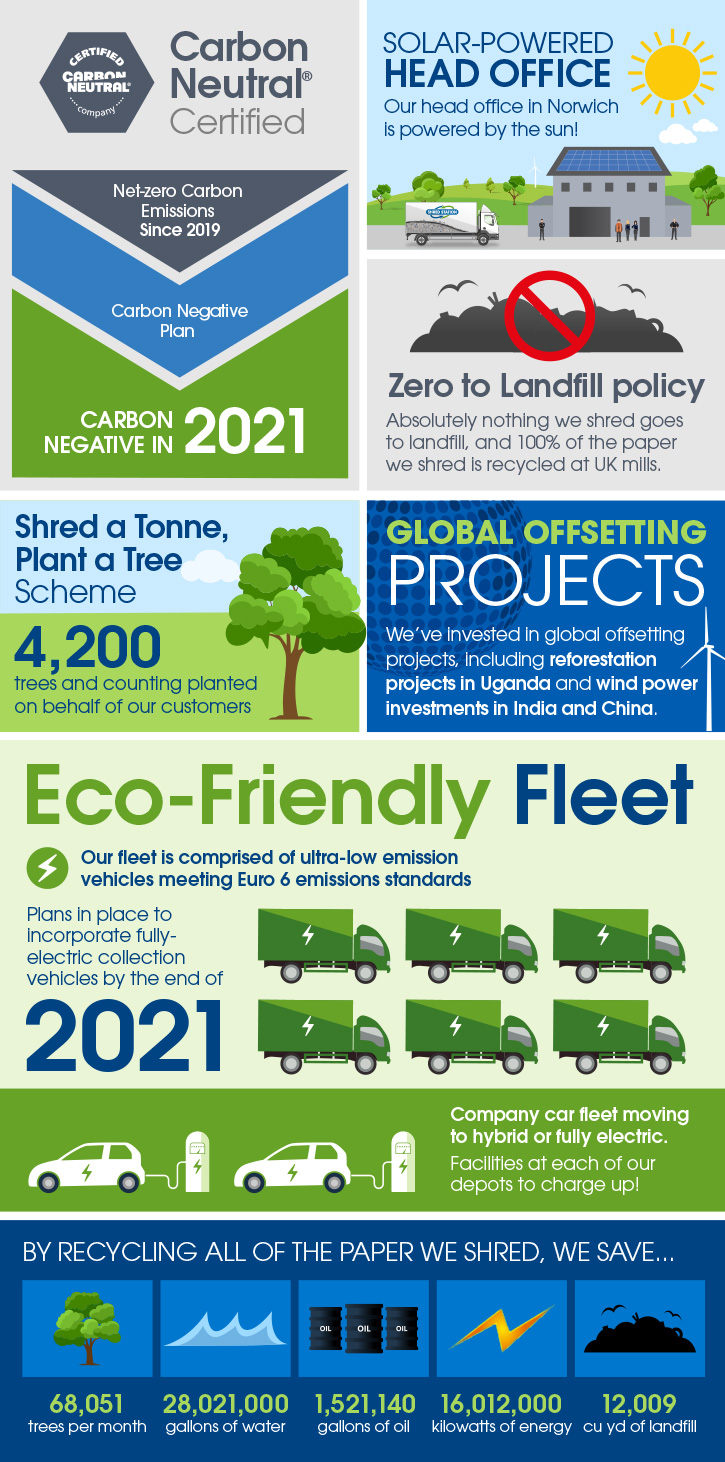 A key element of our corporate social responsibility efforts is the constant consideration of how we impact the environment around us, and how to prevent any ecological damage.
At Shred Station, minimising our environmental impacts has always been one of our top priorities. After many years of investing in ways to reduce and offset our emissions, we're pleased to say that in January 2019, we achieved official CarbonNeutral® certification. Through various projects, as mentioned below, we were able to offset our greenhouse gas emissions to net-zero. This assures our customers that the ways we operate aren't harmful to the planet. There are many other ways we safeguard the world around us, too.
Tree Planting Initiatives – From 2017-2019 we planted over 4,200 trees on our customers' behalves. Once fully grown, these trees will sequester 201,600 lbs of C02 annually.
Recycling – We have a strict Zero to Landfill policy. 100% of the paper we shred is recycled at UK mills. All other materials are either recycled, made into Refuse Derived Fuel, or are sent to Energy from Waste plants to generate energy for the National Grid.
Solar-Powered Head Office – Our head office and Norwich shredding depot run entirely on solar power.
Eco-Friendly Trucks – Our fleet is comprised of ultra-low emissions vehicles, all adhering to Euro 6 Emission Standards.
Uganda Community Reforestation Project – As part of our CarbonNeutral® certification, we have chosen various projects to offset our carbon emissions. In 2019, we chose the Uganda Community Reforestation Project.
West India Wind Project – For 2020, we committed to offsetting our emissions through various power portfolio projects. The projects involve carbon finance investments into renewable energy projects in India – one world's biggest polluting countries.
The Gobi Wind Power Project and the West India Wind Project – In 2021, the Gobi Wind Power Project in China and the West India Wind project are the offsetting projects we have chosen as part of our CarbonNeutral certification. China and India are two of the world's biggest polluters, so renewable energy investments in these countries are vital for displacing energy that would otherwise be drawn from non-renewable resources such as coal and other fossil fuels.
---