Award-Winning Shredding Services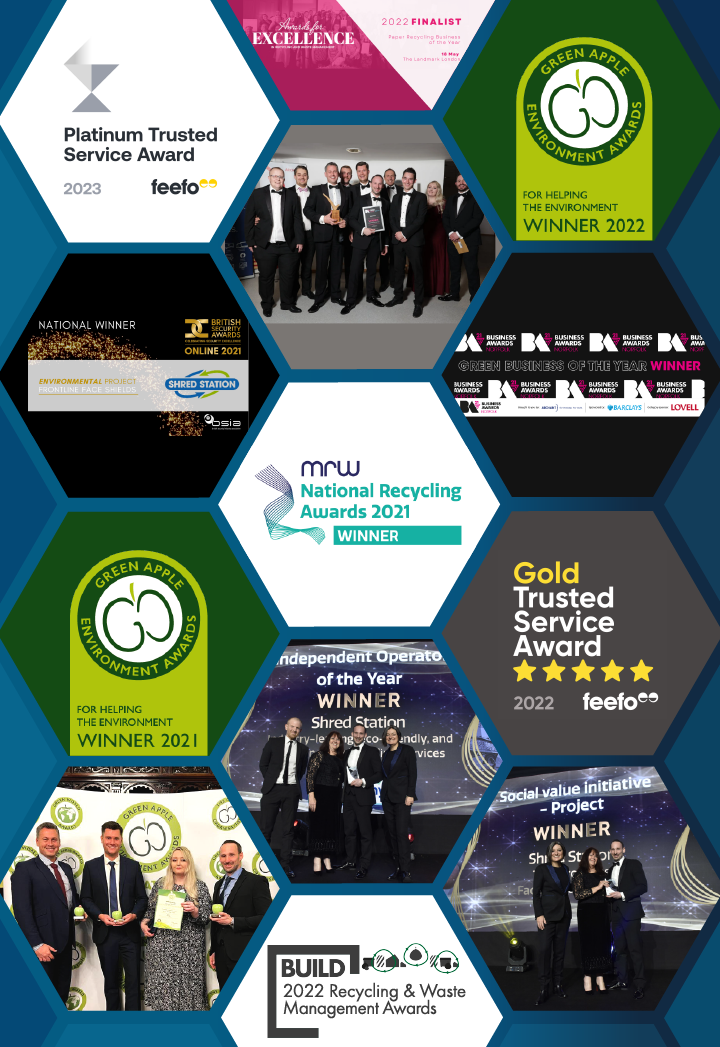 Shred Station is an award-winning shredding service provider, bringing eco-friendly shredding options to homes and businesses across the UK.
Award-winning customer service
Our award-winning customer service is built around how we can deliver and exceed our customers' expectations. Our customer experience is at the centre of everything we do.
First and foremost, we treat all customers the same. Whether our customer is a private domestic customer with a few boxes to shred or a multi-site national commercial customer with weekly shredding services, they can expect the same dedication and professionalism from our customer service team.
When we have a new member of the customer service team join, they are taught about our values and how to engage with customers. Using the acronym SHRED (Sincere, Helpful, Responsible, Engaging and Dependable), we teach our teams to keep the customer's needs at the centre of communications, giving them helpful and sincere solutions to their shredding requirements. We don't try and push our customers into getting a service above what they would genuinely require to securely destroy their confidential materials. Our ethos reinforces this sentiment:
We want our customers to feel confident about data destruction
Security every step of the way
Services to suit everyone
Minimal environmental impacts
Minimal interruption to our customers
Lead the industry through customer service and innovation.
This dedication to our customers earned us the Feefo Gold Trusted Service Award. This was awarded to us by Feefo due to our overwhelming 97% positive customer feedback in 2021.
Recognition of our environmental best practice
At Shred Station, we track our environmental impacts with our carbon-offsetting partners, RSK. RSK audits our emissions as part of our CarbonNeutral® certification. This involves tracking energy consumption at each of our depots, our fleet and business vehicle mileage, our private and public transport usage, utility usage, refrigerant gas losses, and waste streams. These are combined to calculate our carbon output, which we offset to net zero. For offsetting, we support projects that meet several UN Sustainable Development Goals. These have included renewable energy in countries heavily reliant on fossil fuels, and also a reforestation and biodiversity education project.
But net-zero and achieving CarbonNeutral® certification isn't just about offsetting. Companies should also take steps to reduce emissions. Our many environmental commitments and carbon reduction plans help us to keep on top of this goal, and our ongoing environmental best practice efforts have been recognised in the form of many awards.
To name just a few, in 2021, Shred Station was named Norfolk's Green Business of the Year. In the same year, Shred Station also received an international Green Apple Environment award.
A socially responsible independent shredding business
Corporate Social Responsibility is something we take seriously. Our three key areas of focus are our communities, the environment, and our staff. We try to do all we can to help in our local communities and host regular community shredding events, sponsor local sports clubs, and make regular financial and physical donations to charities.
Shred Station has received many awards by being a socially responsible shredding business including the BSIA's Environmental Project of the Year award 2021 and the National Recycling Awards Social Value Initiative award 2021. These were both for our contributions to the Frontline Faceshields project.
A trusted business
In addition to our numerous awards, we have also received a wide array of certifications and accreditations. The receipt of these accreditations demonstrates our commitment to environmental best practices, stringent security protocols, maintaining a safe fleet, and operating in line with a fully encompassing quality management system.
If you have any questions about our award-winning shredding services or certifications, please feel free to get in touch today.