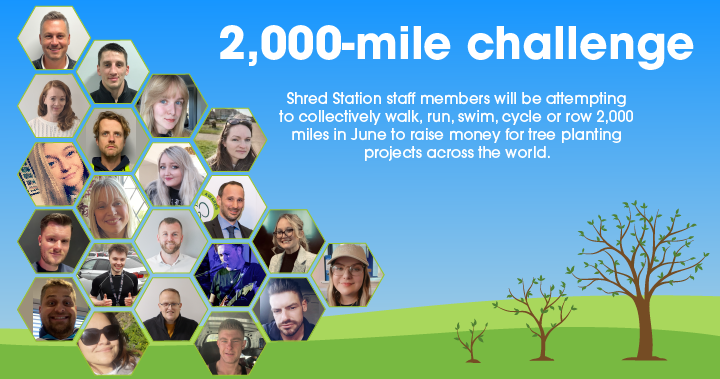 Shred Station's 2,000-Mile Challenge
In June 2022, our Charity Challenge team is working together to collectively walk, run, swim, cycle or row 2,000 miles in aid of tree planting projects across the world.
With an aim of planting 10,000 trees this year, our team has taken on various challenges to raise vital funds for tree-planting projects. This has included challenges such as a company bake-off, a bowling tournament, and a giant Easter egg raffle. We're even planning a Pie Face Day for our directors.
By taking on these challenges, our team has raised enough so far to fund over 2,500 trees in:
Kenya's Kijabe Forest
The Antsanitia mangrove in Madagascar, and
The Maputo Bay Reforestation site in Mozambique.
Our team previously completed a 1,000-mile challenge back in November 2021 in aid of Rainforest Trust UK. The 1,000-mile challenge raised enough money to permanently protect 370 acres of tropical rainforest.
This time, we're doubling our target mileage in hopes of raising enough to push us over the 3,000-tree mark.
If you wish to support us for our 2,000-mile challenge, we would very much appreciate any donation you could afford to give. Every penny helps. Simply click on the banner below to donate.

---
Sign up for our newsletter to receive alerts about new blog articles, data protection advice, and Shred Station news.