Shred Station's Carbon Offsetting Projects for 2022
Carbon emissions are, unfortunately, inevitable. At Shred Station, we do many things to reduce our emissions including the use of renewable solar power and having a Euro 6 low emission fleet. For everything we can't reduce, we offset to net-zero.
We are in our fourth year of CarbonNeutral® certification, and each year, we support different projects to offset the emissions we produce.
In 2019 we supported a reforestation project in Uganda. In 2020, we supported renewable energy projects in West India. Last year in 2021, we supported the same projects in West India plus the Gobi Wind Power Project in China. This year, we are again supporting the development of renewable energy.
Our 2022 project
For 2022, we will be supporting a project called the Chinese Wind Portfolio. This project is comprised of several wind farms across China. Of those wind farms, our offsets will be done through a site called Fuxin Wind.
China is the world's largest polluting country, and that is largely due to the country's heavy reliance on coal. In China, coal is still the largest major source of energy. Renewable energy developments like these are vital in our global fight to limit global warming to 1.5°C.
The Fuxin Wind Farm meets three of the UN's Sustainable Development Goals (SDGs):
Goal 7 – Affordable and clean energy.
This project reduces local reliance on fossil fuels.
Goal 8 – Decent work and economic growth.
Wind farms contribute to the local economy through the creation of jobs in both full-time operational roles and temporary jobs during the commissioning and construction phase.
Goal 13 – Climate action.
Renewable energy projects result in emission reductions that help to combat climate change.
All of the projects we've supported in the past meet at least three of the SDGs, so we're glad to be supporting another project that operates with these goals in mind.
Thank you to Natural Capital Partners and RSK for all of your hard work in verifying our carbon emissions. This year, we will be offsetting a total of 1,891 tonnes of CO2 emissions through the Fuxin Wind Farm. We will continue to offset above this amount and are also aiming to plant 10,000 trees this year to make our annual emissions carbon negative.
Learn more about our environmental commitments by visiting our Corporate Social Responsibility pages.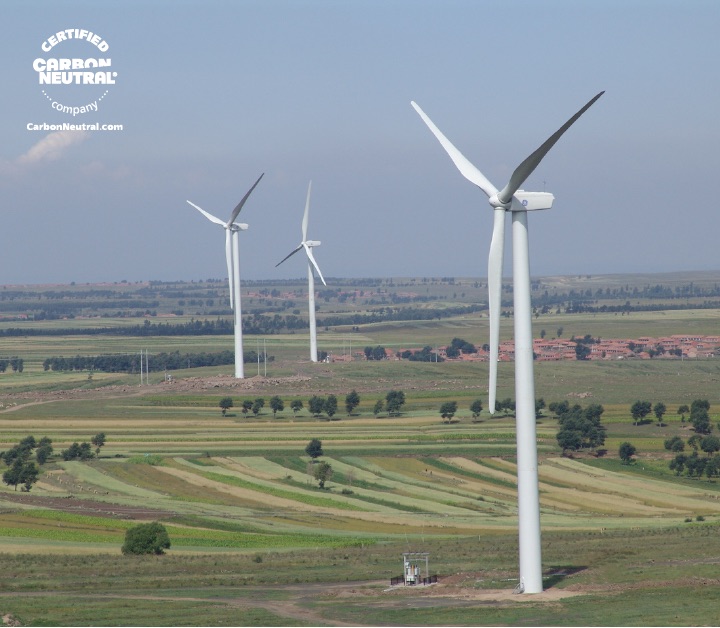 Above: Chinese Wind Portfolio site in Hebei
---
Sign up for our newsletter to receive alerts about new blog articles, data protection advice, and Shred Station news.