Why UKAS accreditation is crucial for the validity of ISO certifications
The United Kingdom Accreditation Service (UKAS) is a globally recognised accreditation service appointed by the UK government to assess the competencies of organisations providing ISO certifications. In simple terms, UKAS certifies certifiers. But why does UKAS accreditation matter, and why is it crucial for the validity of ISO certifications?
UKAS accredited ISO certification gives assurance that all elements of the certification have been applied correctly to a defined high standard. It shows that the certification body will be diligent when awarding and assessing each element needed to achieve ISO certification. Organisations that require ISO certifications from their suppliers will often not accept ISO certifications without UKAS accreditation. This is because, without UKAS, the certification may not have quality assurance and strict standards may not be being met.
So, how does UKAS accreditation affect ISO certification validity?
Here at Shred Station, we gain our ISO certifications through BSI. BSI is a provider of ISO certifications with UKAS accreditation. ISO certification providers who operate under UKAS standards, such as BSI, automatically have more validity than those without UKAS accreditation. There are many reasons for this. For instance:
UKAS accredited ISO certification processes are tailored for the business being audited. UKAS approved ISO certifications are not just generic or blanket certifications. Committed businesses will put a lot of time and resources towards gaining a full UKAS accredited ISO certification. This is because of their thorough audit process and global recognition of the standard's validity. Certifiers backed by UKAS gather rich and highly valid data about the business striving for ISO certification, rather than just ticking off boxes.
Without UKAS backing, ISO standards may vary. For accrediting bodies to become UKAS certified, they must comply with defined rules and regulations as set out by UKAS. Without operating within the scope of these regulations, non-UKAS accredited ISO providers may not have received the quality assurance needed to credibly verify whether a business has truly earned certifications to the same degree of quality that a UKAS accredited provider may be able to provide. Therefore, standards may vary and the ISO certification may not always be valid for your requirements.
Why organisations without UKAS governance are not the best choice.
For many buyers, there is a requirement that their suppliers' ISO certifications have to be UKAS accredited. For example, at Shred Station, one common requirement from our business customers is a valid and ISO 9001 certification with UKAS approval. Our certification, incorporating EN 15713 security shredding standards, assures our customers that our internal quality management systems for safeguarding confirmation information are watertight. Any confidential information we destroy on their behalf will occur in the most secure way possible.
How can you be sure your supplier's ISO certificates are carried out in line with UKAS standards?
You can ensure your suppliers have UKAS verified ISO certifications by looking at their accreditation certificates. Towards the bottom of the certificate, you should see the UKAS logo alongside the logo of the awarding body. As you can see from our ISO 9001 certificate, the UKAS logo appears alongside the BSI logo.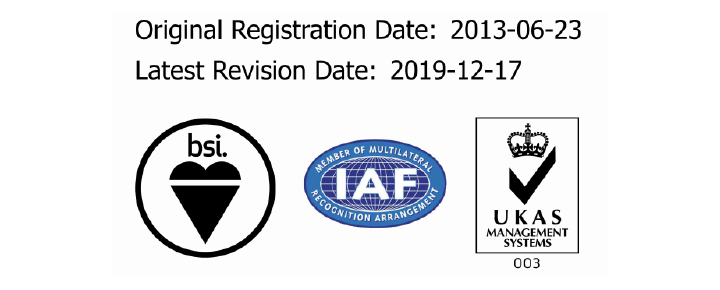 If your supplier's ISO certificates do not contain the UKAS logo, you would be right to raise questions about the applicability of the ISO certification process.
When it comes to data destruction and confidential materials, it's always better to be safe than sorry. We are proud to say that our ISO 9001 and ISO 14001 certifications have both received UKAS-approved accreditation. We are also more than happy to answer any questions you have about our certification processes.
---
Sign up for our newsletter to receive alerts about new blog articles, data protection advice, and Shred Station news.