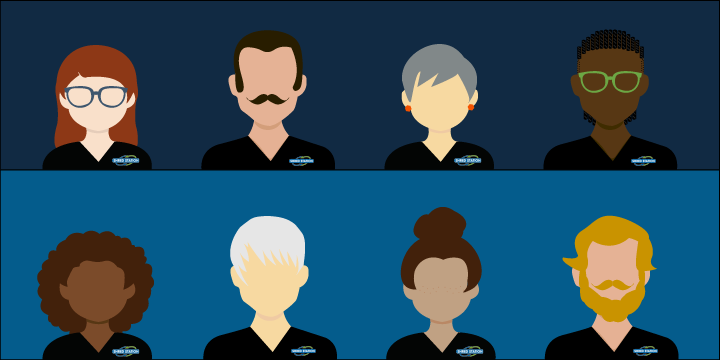 Our Employees of the Quarter
Back at the start of 2020, Shred Station introduced an Employee of the Month Award. This award helped spread positive feedback amongst teams, giving our staff a way to anonymously vote for someone in the business they thought deserved a little extra recognition for their hard work. This year, we're doing something a little different!
Our 2021 Employee of the Quarter Award will be replacing our Employee of the Month Award. This time around, we're issuing an award for someone in each of our operational teams – including drivers, drivers mates, and warehouse employees – and another for office and remote-based team members. Each winner will receive a prize and feature on posters around our premises.
Our Employees of the Quarter for Q1 of 2021 are…
Aaron Bridge – Harlow Shredding Depot
Russell Hall – Manchester Shredding Depot
Sam Carr – Norwich Shredding Depot
Clare Martin – Office and Remote
A huge congratulations to Aaron, Russell, Sam and Clare for being the first employees to receive this award, and a massive thank you for all of their hard work.
Here's why they won.
Aaron Bridge
Aaron is one of the Warehouse Operatives at our extremely busy Harlow shredding depot. He works very hard to keep our customer's paperwork secure before, during and after shredding and keeps our warehouse running like clockwork. Here's why Aaron's peers voted for him:
"Aaron keeps cool in busy times"
"For years, Aaron has worked his socks off day in and day out, holding it all together in our Harlow warehouse and deserves recognition for this"
"Aaron is a top man".
Russell Hall
Russell is one of our HGV drivers and on-site shredding operatives based out of our shredding depot in Manchester. The Manchester depot is our newest shredding depot, and Russell has been with us since it opened two years ago. Here's why Russell's peers voted for him:
"I'm voting for Russell for doing consecutive nights out"
"Russell will always do the long journey to Scotland and Newcastle"
"Russell always follows processes correctly and always does things properly".
Sam Carr
Sam is a driver and on-site shredding operative based at our shredding depot in Norwich and has been working for us for around two and a half years. Here's why Sam's peers voted for him:
"Sam is a great worker"
"Very positive attitude"
"Sam cracks on, no issues with his jobs".
Clare Martin
Clare is based in our Harlow office as a routing coordinator. She makes sure all of our Harlow and London-based drivers' routes are optimised to reduce emissions and increase our ability to offer more services in and around London. Here's why Clare's peers voted for her:
"She hit the ground running at Shred Station and provides dates for jobs quickly"
"I'm voting for Clare as she is a fantastic router with amazing knowledge, very helpful and amazing team player. She goes above and beyond to make sure things run smoothly"
"Clare is professional, helpful and dedicated to making sure customer service requirements are met whenever possible".
Congratulations again to our winners this quarter!
---
Sign up for our newsletter here to be alerted about new blog articles, data protection advice, and Shred Station news.