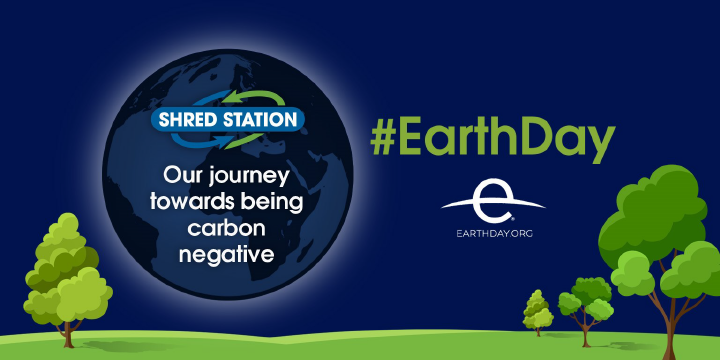 Our journey towards being carbon negative
At Shred Station, safeguarding the environment is one of our top priorities. Since our formation in 2008, we've been operating with the environment in mind. We've done this through many different ecological commitments and policies, including being CarbonNeutral® certified since January 2019. So, where do we go from here?
This Earth Day, we're pleased to announce that we're pledging to be carbon negative this year. Here's what we've done so far to work towards carbon negativity, and what we plan to do to achieve our goal of carbon negativity.
Our steps towards carbon negativity so far.
Tree planting
From 2017-2019, we ran a successful Shred a Tonne, Plant a Tree scheme. This scheme meant our customers could opt-in to have us plant a tree upon their behalf for every tonne of paper they shredded and recycled with us. This resulted in us planting over 4,200 trees in the area local to our Norwich shredding depot. Once fully grown, these trees will sequester 201,600lbs of carbon each year.
Solar power
Our head office and Norwich depot are powered by solar! That includes all of the shredding machinery in our depot, our electric car charger point, all of our computers, our beloved coffee machine (the coffee grounds from which are also recycled) and even our phones. So, when you call up our Norwich head office, our phones' power will match our team's sunny disposition!
Eco-friendly vehicles
Our entire fleet of shredding and collection vehicles is eco-friendly. Even our largest heavy goods vehicles meet Euro 6 Low Emissions standards. The vast majority of our trucks can even drive without penalty in London's Ultra Low Emission Zone. Additionally, we will soon be trialling the world's first-ever fully electric truck, which we hope will become an integral part of our fleet as these trucks reach the market.
Zero to Landfill
At Shred Station, we have a strict Zero to Landfill policy. Absolutely nothing we shred or any materials we produce in-house goes to landfill. 100% of the paper we shred is recycled at UK mills, and all other materials are recycled where possible, are made into Refuse Derived Fuel, or are sent to Energy from Waste facilities. If the final destination is Energy from Waste, materials are incinerated under strict environmental controls and the energy produced from incineration is fed back into the National Grid.
Offsetting our emissions to net-zero through responsible offsetting projects.
As mentioned, we have been CarbonNeutral® certified since 2019. As greenhouse gas assessments are carried out for the previous year, this means our emissions have actually been offset to net-zero from 2018 onwards. To achieve this, we've invested in several offsetting projects. This includes a community reforestation project in Uganda, and investments into renewable energy projects in India and China, two of the highest polluting nations in the world. These projects are verified and offset through Natural Capital Partners in line with the Carbon Neutral Protocol.
You can read more about our environmental commitments by visiting our corporate social responsibility pages.
What's next?
We're already carbon neutral certified. While that is an enormous achievement for any business, we know we can do more. We don't just want to be "even" in our emissions. We want to leave the planet in a better way than we found it. That's why, by the end of 2021, we pledge to be a carbon-negative business.
We aim to do this by even further investments into offsetting projects, adding electric vehicles to our fleet, and monitoring other operational areas where we can further improve our environmental efficiency.
If you have any questions about our carbon commitments or would like to book your very own eco-friendly shredding service, get in touch today.
---
Sign up for our newsletter here to be alerted about new blog articles, data protection advice, and Shred Station news.