Shred Station trials the all-electric Volta Zero truck
After creating a highly innovative and road-safe electric truck, Volta announced it would be filing for bankruptcy on 17 October 2023, right in the middle of our trial with the vehicle. This news came after one of the company's key battery suppliers also went into administration. This is reported to have caused significant production delays, in turn resulting in lower-than-forecasted capital. The Volta Truck journey and the company's ultimate end is undoubtedly a loss that will be felt by the electric truck market.
After close to three years of production delays, we were finally able to see and use the truck for ourselves. Sadly, we were potentially one of the last companies to ever do so. So, what was the truck like?
The trial
Our truck trial was planned for two weeks. We had the vehicle for just one of those weeks when the news broke about Volta. A highly experienced driver at our Harlow depot was chosen to trial the truck and it was used around Essex and London for off-site shredding collections.
Before the trial began, our driver had a full day of expert training from a Volta representative. He also had prior access to online training videos. The training provided was excellent, but even without training, the truck was incredibly easy to use.
The truck
In the race to electrify the HGV market, many fully electric trucks have entered production including the DAF LF and the Volvo EFE – both of which we have also trialled. So, what made the Volta Zero different?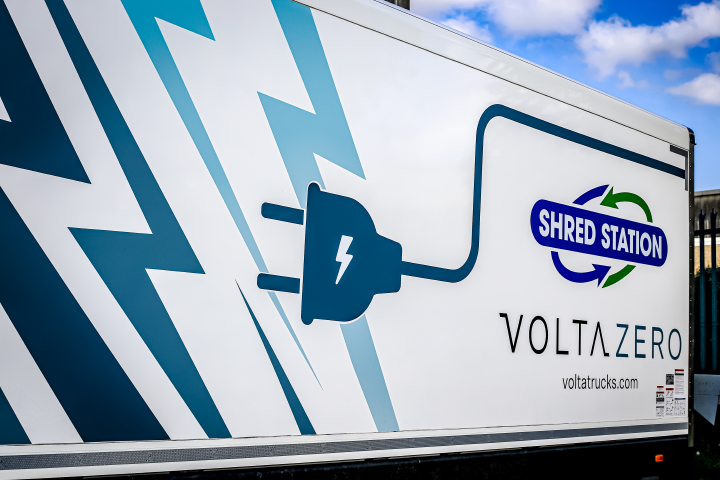 Safety
One of the most impressive features of the Volta Zero was the model's safety-oriented design. Although Volta's journey has come to an end, we are sure key features of this design will find their way into the future EV market.
Pedestrian and driver safety were some of the key pillars of the design, with the driver's seat situated in the centre of the cab at pedestrian height. This, in addition to the greenhouse-style windows, provided the highest Direct Vision Standard ever seen in a truck. With safety features like these, future truck drivers could have a much better direct field of view for pedestrians, cyclists, and other road users.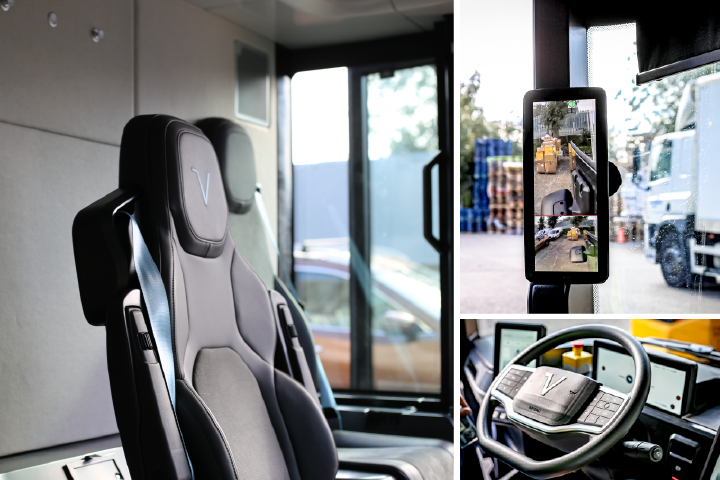 Sustainability
The European Environment Agency's 2022 Transport and Environment Report indicates that diesel-powered trucks are responsible for 19% of EU transport GHG emissions. Despite this, these vehicles only account for 6% of road miles. For this reason, the sustainability of trucks on the road is something that needs immediate consideration. That's exactly what Volta did with its Zero model.
Here are some of the ways Volta considered sustainability when designing the truck from the ground up:
As mentioned, the truck was fully electric, producing zero harmful NOx tailpipe emissions.
Volta worked with suppliers who shared its goals and prioritised knowing where all critical raw materials used in the truck's manufacture were sourced. This helped Volta to ensure the highest ethical standards were upheld in their procurement process.
Volta carried out and published a cradle-to-grave lifecycle assessment of the truck to ensure the continued sustainability of future models. While these models unfortunately may never be made, the assessment is still useful for other electric truck manufacturers.
The company used sustainable materials in the vehicle body panels.
Carsten Astheimer, designer of the Volta Zero, said that his team "wanted to create the most sustainable vehicle possible". For this reason, he explained that his team "made the body panels from natural flax fibre infused with a biodegradable resin. The result is a fully natural, extremely lightweight, high-performance fibre composite that is almost CO2 neutral over its lifecycle".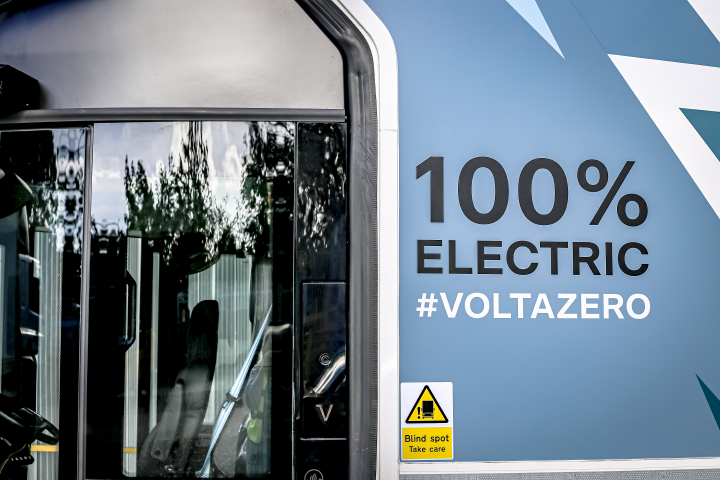 The verdict
The concept of the Volta Zero is certainly one that other EV manufacturers can use to make our roads cleaner and safer. The vehicle, however, wasn't without its problems. As mentioned, there were three years of initial production delays. Unfortunately, there were also vehicle issues closer to our trial. This meant our trial was pushed back at the last moment for another week. When we received the truck, we were also informed that pressing the emergency stop button would create an issue where the truck would simply stop working entirely. When it comes to our own services, reliability isn't something we can afford to compromise on. So, this would have been a concern for us if circumstances were different and we were able to purchase a Volta Zero.
Other than these issues, however, the truck was a highly impressive vehicle. The camera systems were state-of-the-art, the truck was easy to manoeuvre, and it had all the mod-cons you would expect in a high-end EV.
As with most electric trucks, however, the suitability of the vehicle for us would have been determined by the range. For businesses where trucks just need to go from A-B for large deliveries, this truck could easily have been the perfect choice. However, for Shred Station – and any company that makes many stops and travels many miles per day – a range of 95-125 miles is still not quite where it would need to be to add it to our fleet without concern.
Shred Station's commitment to reduce emissions
At Shred Station, we are proud to be a CarbonNeutral® company. We are committed to reducing the carbon footprint of our fleet and are confident that, as more electric trucks enter the market, we will find a model that meets our needs regarding range for off-site shredding, and the power to run an industrial on-board shredder for on-site shredding.
---
Sign up for our newsletter to receive alerts about new blog articles, data protection advice, and Shred Station news.