The Shred Station Bake Off: Meet the bakers!
Shred Station staff members are embarking on an enormous task in 2022. We will be working together and participating in multiple challenges to raise money for our tree planting fund in hopes of planting 10,000 new trees. Our first challenge is a Shred Station Bake Off, and we can smell the victory from here. If victory smells of burnt sausage rolls, that is.
Rolling up their sleeves for the trees, a baker's dozen plus one of our employees will be competing in two rounds – a signature and a technical – and selling their baked goods to raise money for our 10,000 tree fund.
The signature round will take place on Monday 14th March 2022. This round will differ slightly from the popular television show, and rather than making the same bake, the bakers will instead be bringing in their own signature baked dish. They will be marked by their colleagues on creativity, texture, taste and presentation.
The technical round will take place a week later on Monday 21st March. This time, each baker will be baking the same thing – sugar cookies! A simple and cheap bake to make, this challenge will really give the bakers the chance to show off their creativity and imagination.
With that said, let's meet the bakers!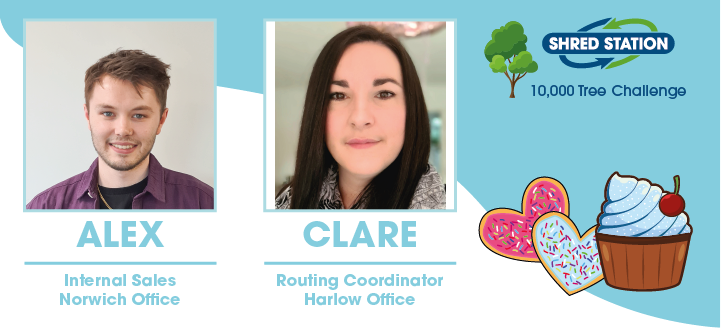 Alex Tubby – Norwich office
Alex is our first contestant. A core member of our sales team, Alex is no stranger to competition. But will Alex have what it takes to be crowned the Shred Station Bake Off champion, or will he be a one bake wonder? We'll have to wait and see.
Clare Martin – Harlow office
"I live with my husband, my two daughters who are 8 and 3, and our dog. I don't cook or bake. In fact, I hate it, not sure what I've signed myself up for!! My husband runs a food business so I might ask for some guidance from him so I don't poison anyone, but no cheating! The kids are excited to help me make some yummy treats for everyone."
Clare is our second contestant and works at our Harlow office as a routing coordinator. With top tier organisational skills and the ability to envisage the bigger picture part of her daily routine, we think Clare is certainly in with a chance of producing a showstopping bake. And if not, she can always blame the children. We call this a win-win situation.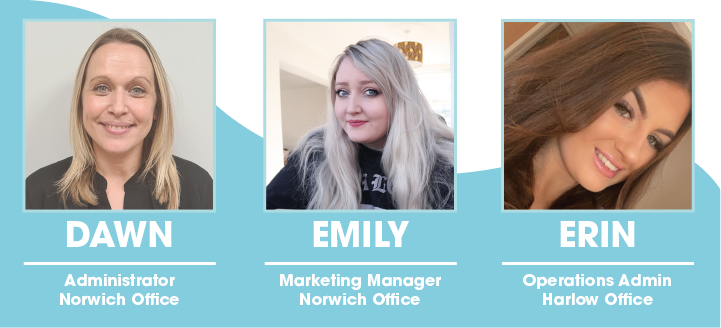 Dawn Cordner – Norwich office
"At the young age of 45, I'm a few years behind Prue Leith and Mary Berry in terms of baking experience. But I do love watching the Great British Bake Off and am a big fan of chocolate so I'll definitely be exploring the chocolate route for my bake… if I don't eat it all whilst I'm cooking. Serious question, is Shred Station insured for food poisoning? Asking for a friend."
Our third contestant, Dawn has received consistent praise from her colleagues in her role as an administrator for being an incredibly quick learner and for her ability to multi-task. But can she transfer these skills to the kitchen when the title of Shred Station's greatest baker is at stake?
Emily Bridges – Norwich office
"I moved to Norwich six years ago, but home will always be a place called Burnt Oak. I find baking very nostalgic and relaxing. Some of my earliest memories involve making Tom & Jerry box mix cupcakes with my mum and granny, the ones with little rice paper shapes on top. I'm not entirely sure my baking skills have improved significantly since then, but God loves a trier and hopefully we'll raise a good amount of cash for our 10,000 tree fund!"
Our fourth contestant is Emily. Handling all things marketing from our Norwich office, Emily's attention to detail at work means everything is done by the book. When cooking, however, reckless abandon ensues. Emily thinks of recipe rules more as rough guidelines. Could this result in a truly original bake, or could her attempts fall flat as a pancake?
Erin Cassidy – Harlow office
"Clare thought I would make a great cook. I can't cook. I order at least 5 takeaways a week, not including lunch and breakfast. The last time I tried baking I burnt my hand as I forgot the baking tray was hot, but I'm hoping this bake will go a lot better and Google can guide me."
Our fifth contestant is Erin. Erin works at our Harlow office as an operations administrator. She can navigate our shredding trucks through London and the surrounding areas, but can she navigate her way around a kitchen? We can only hope Google is on Erin's side for this challenge. Have the burn cream at the ready, Erin!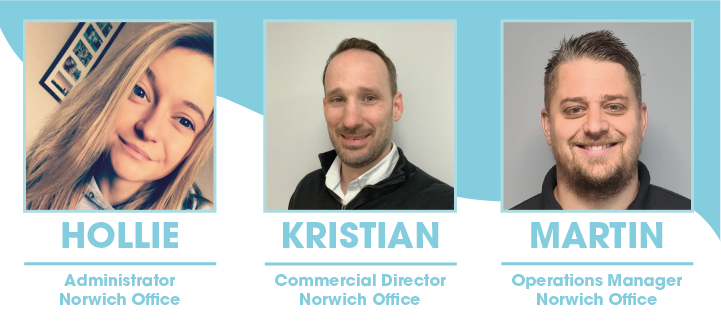 Hollie Neal – Norwich office
"I live in the Norfolk countryside with my family and two spaniels. I love spending time with my family and friends, and that includes baking together! My nan used to bake with me every weekend and we would make everything from flapjacks to buns to sticky toffee pudding. When I'm not baking, I love to drive.  Transporting baked goods into the office for the bake-off will be a part of the challenge. Hopefully, there won't be any speedbumps along the way!"
Hollie is our sixth contestant and is well-known in the Norwich office for being Shred Station's answer to Lewis Hamilton. Will her bakes survive the trip into the office and earn her the Shred Station Bake Off crown? The proof will literally be in the pudding.
Kristian Carter – Norwich office
"I do enjoy cooking but I have exactly zero experience in baking so can only imagine this is going to end in disaster. While I'm always up for a challenge I hope I don't end up having to pay the dentist bills for staff because my biscuits end up like cement."
Contestant lucky number seven is Kristian, Shred Station's Commercial Director. While based primarily at our Norwich office, Kristian is seen regularly at all of our sites. While he may have years of experience in the shredding industry, he is a self-confessed beginner when it comes to baking. Could he have beginner's luck on his side? Or will Kristian be bolting out of the office faster than we can say "I have no teeth left"?
Martin Emms – Norwich office
"I actually secretly like baking, but I don't tell the wife this as I would then be roped into it more often! I'm a big fan of anything citrussy but am renowned in my family for making the best homemade sausage rolls. They only come out for very special occasions… We'll see what the Bake Off brings!"
Contestant number eight is Martin. He's been at Shred Station for more than eleven years and has recently been promoted to our Norwich office's Operations Manager. Very out of character for Martin who is a professional conversationalist, he has kept very quiet about what he's going to bake for his signature dish. Let's hope it isn't a recipe for disaster.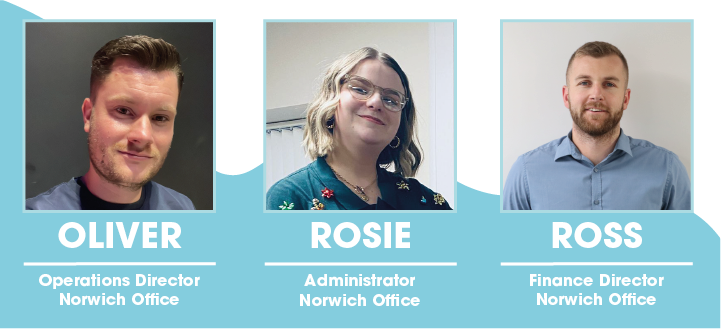 Oliver Grice – Norwich office
"I'm not known for my baking skills. But I was quite the whiz in GCSE food tech and considered myself quite good. However, I didn't really pursue those talents so now I feel this is a chance to properly prove that I am talented in the kitchen. That said, it will probably be something basic. Basic, but delicious – not unlike myself".
Shred Station's Operations Director, Oliver, is our ninth contestant. With a huge team of staff under the operations umbrella, it's no surprise that non-operational activities at work like these tend to be left a little last-minute for Oliver. This technique could pay off for the bake-off challenge, as with baked goods, the fresher they are the better. Will he pull it out of the bag at the last moment once again? Almost definitely.
Rosie Cordell – Norwich office
"Originally from Essex, I moved to Norwich a few years ago and now live with my fiancée and our two little fluff balls in the city. I have little experience in baking myself but have been surrounded by it from a young age, as my mum used to own a seaside tearoom, which we lived above. I also have an honours degree in Illustration which I'm hoping will help me make my bakes more pleasing to the eye, as I don't quite trust myself to not burn everything."
Rosie, one of our wonderful administrators, is contestant number ten. Despite being a relatively new member of the Shred Station team, she's already earned herself a raisin-loving reputation at the Norwich office. It's fair to say that raisins are the marmite of the fruit world. Will Rosie risk it all for a raisin-ladened bake? We're afraid she just might.
Ross Akers – Norwich office
"People say baking is a science, but I'm more of a maths guy. While I make a very good cornflake cake, my baking experience is limited. I gave lockdown baking a go and did manage some decent brownies, but I know we're going to be marked on our presentation. Painting by numbers isn't too hard, so I'll try baking by numbers."
The king of numbers, our Finance Director Ross is contestant number eleven. For anyone who works in finance, accuracy is always at the top of the agenda. We like to imagine Ross will be meticulously measuring every ingredient, perhaps even multiple times, just to make sure he was correct. Whatever Ross does produce, we're sure it will skyrocket him to the top of the class.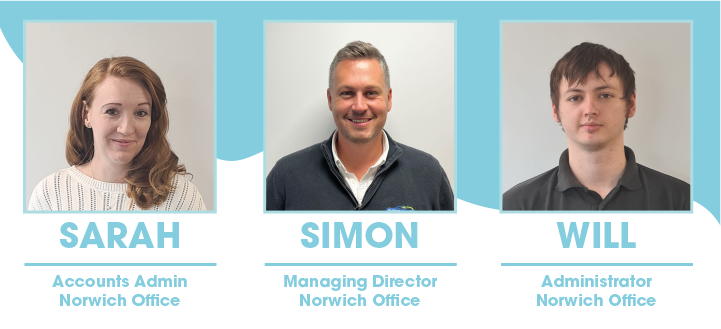 Sarah Wilkes – Norwich office
"In my little cottage kitchen in deepest darkest Norfolk there's lots of cake but not much baking. I do prefer eating cake rather than baking it! I've hit Pinterest for inspiration and just need to try and make the yummy picture an edible reality! We may not have the Hollywood Handshake but a Shred Station Fist Bump would be the next tier!"
Contestant twelve is our lovely accounts administrator, Sarah. Sarah has been with the company for over ten years, and she is the human embodiment of sugar, spice and everything nice. Can the same be said for her baking? That's for the bake-off buyers to decide.
Simon Franklin – Norwich office
"My employees will tell you I'm very passionate about food, everything from the burger van opposite's fast food to fine dining. But I have a hidden creative side in the kitchen and beyond that my employees don't see very often. For the Bake Off, I'm going all out. I love a bit of competition and I'm in this to win it! As well as raise funds for the trees, of course…"
The Big Boss and founder of Shred Station, Simon Franklin, is contestant number thirteen. While number thirteen may be unlucky for some, we think Simon's competitive nature could stop all bad fortune in its tracks. Not afraid of getting stuck in, Simon covered more miles than any other staff member in our recent 1,000-mile challenge, and if that was anything to go by, he'll be leaving the competition behind in a trail of icing sugar dust. But only time will tell if the King of Shredding is destined to wear the King of Baking crown.
Will Baker – Norwich office
"I have lived in Norwich for as long as I can remember and my hobbies primarily involve movies and video games. I haven't baked anything since my early years in high school so I would like to try again and test my skills to see if I retained anything. Hopefully, I'm as good as I remember."
Will, an administrator based at our Norwich office, is our final contestant. When it comes to the topics he's passionate about, Will's focus is unparalleled. If he is as passionate about his baking as he is about games or films, we could all be in trouble! Will is certainly one to watch. A Baker by name, we think he could well be a baker by nature, too.
LinkedIn | Facebook | Twitter | Instagram
---
The Great Shred Station Bake Off supports our 10,000 Tree Challenge.
Edited 24/03/2022: We are pleased to reveal that the Shred Station Bake Off raised enough funds to plant 921 new trees in the Kijabe Forest, Kenya! Well done, bakers.
---
Sign up for our newsletter here to receive alerts about new blog articles, data protection advice, and Shred Station news.