Shred Station's New Ultra-High Security On-Site Shredding Service
Shred Station is proud to announce the launch of a new ultra-high security granulation service, exclusively available to Shred Station customers.
Our new service uses a process called granulation to destroy confidential documents beyond the point of reassembly. But what is granulation, and how does this differ from other shredding services?
Granulation is a destruction process where paper and other materials can be destroyed into very small pieces. With this service, we will attend your site with our bespoke on-site granulator vehicle which can destroy material down to 2mm.
The key security features of our granulator vehicle are listed below:
Fully monitored by a four-camera CCTV system
A built-in, state-of-the-art GPS tracking and telematics system
Bespoke onboard granulating documents down to 2mm
Ability to degauss magnetic materials onboard
Onboard hard drive shredder
Lockable cage doors in shredding compartment
Double-lined body for penetration security
Small chassis giving the vehicle the lowest clearance of any on-site shredding truck, meaning secure areas and loading bays are more accessible
It is the only vehicle of its kind in the UK!
There are also several additional service features that we can offer as part of our service:
Operating staff available vetted to Security-Check and Counter-Terrorism Check standards
Meets all BS EN 15713 shredding standards
Waste Transfer Note and Certificate of Destruction supplied immediately after shredding has taken place
Due to being an on-site vehicle, a member of your team can witness the shredding take place for ultimate assurance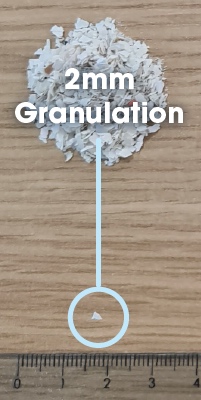 This brand-new service is the first and only of its kind in the UK, showing our commitment to innovate within the data destruction industry and meet our clients' needs.
To learn more about our ultra-high security on-site granulation service, get in touch today!
---
Sign up for our newsletter here to be alerted about new blog articles, data protection advice, and Shred Station news.