What do shredding companies do with the paper?
What do shredding companies do with the paper? That's a question we hear a lot at Shred Station. While we can't speak for other shredding companies, here at Shred Station, we recycle 100% of the paper we shred on your behalf. But where does the paper get recycled? What is it recycled into? Lastly, what happens to the non-paper products that go in the shredders, such as staples and plastic wallets?
Our shredding process, whilst complex in terms of machinery and data security protection, is simple to understand. The paper we collect is cross-cut into small fragments between 2mm and 16mm in size, depending on your service. This happens either on-site or off-site by security vetted members of staff. The fragments are mixed with millions of other paper fragments – a process known as commingling – and are baled using our industrial balers. We handle all of the confidential paperwork we destroy extremely carefully with the environment in mind.
But what happens to the paper after it has been shredded?
In short, we recycle it. We work with a carefully selected handful of paper mills that recycle our shredded paper here in the UK. By recycling all of our shredded paper, we save around 30,838 trees per month from deforestation.
What does the shredded paper get turned into?
There are many things our recycled paper becomes. Some of these items you may even have in your home or office right now! For example, one of the mills we use produces branded and own-label paper products for the UK market. This includes toilet tissues, kitchen towels, paper products, nappies, and feminine hygiene products. You can find these products in the majority of UK supermarkets, many of which are household brands. You'd be surprised by how many paper products you recognise that are made from our shredded paper!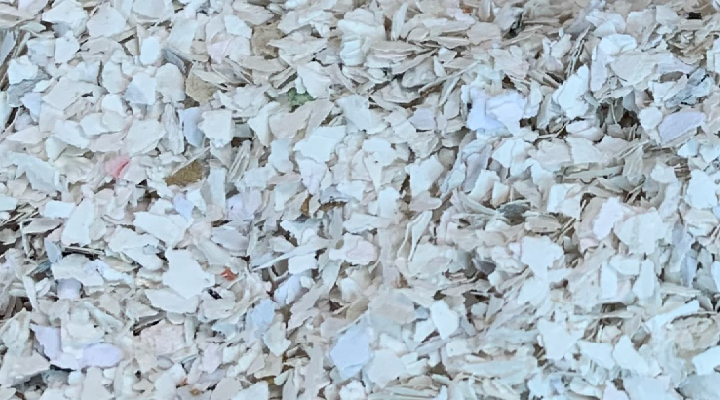 What happens to all of the staples and paper clips?
Shred Station is one of the few shredding companies in the UK that doesn't charge additional "contamination" fees for paper with staples, paper clips, or plastic wallets in place. A question we often get asked is how these non-paper materials affect our recycling process.
Quite simply, they don't. These materials are extremely easy to separate from paper using specialist recycling equipment and methods. This is similar to the separation process used for your household recycling. Some of the methods used include using industrial magnets, heating and refining, sorting and vibration.
How does Shred Station choose which paper mills to use?
Our team continually conduct horizon scans of the UK's recycling market so we can quickly adapt to any advancements in recycling technology.
We like to work closely with ethical partners who prioritise environmental considerations, choosing paper mills that invest in innovative energy generation, environmental protection, and recycling technologies. We also prefer to work with companies who support their local communities and create jobs to improve their surrounding economies.
To continue using the mill mentioned above as an example, this mill operates a leading apprenticeship programme, offers graduate and internship opportunities, and makes quality paper products using 100% recycled fibre.
If there's anything else you wish to know about what happens to our shredded paper, please get in touch! We'd love to hear from you and are happy to answer any questions you may have.
If you'd like to learn more about our environmental commitments, please visit our Corporate Social Responsibility page. Here you'll find information about our environmental commitments, how we invest in people, and some of the work we do in our local community.
---
Sign up for our newsletter to receive alerts about new blog articles, data protection advice, and Shred Station news.