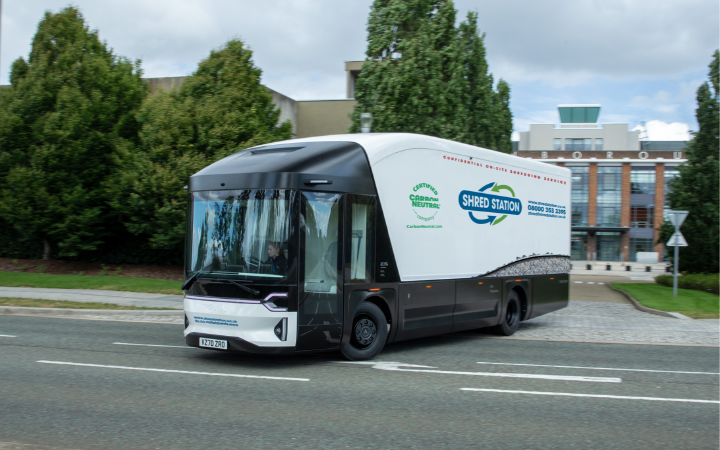 Shred Station among first in the world to trial cutting-edge electric vehicles
We're pleased to announce that Shred Station will be among the first in the world to trial cutting-edge sustainable vehicles from Sweden-based start-up, Volta.
As a CarbonNeutral® certified company, we understand the importance of minimising our environmental impacts. But, there's always more we can all do to reduce our impacts on the world around us.
One of the biggest contributors to greenhouse gases here in the UK is transport, accounting for 34% of all emissions in 2019. At Shred Station, we spend a lot of time on the road, providing shredding services across the UK. So, our vehicle emissions are something we take seriously. We have already made numerous commitments to reduce our fleet's emissions, and are proud to say that each one of our shredding trucks meets Euro 6 low emission standards. However, there is always more we can do. One of our key areas of focus for the future is adding to our electric vehicle portfolio. With that said, we are pleased to announce that we will soon be joining the Volta Pioneer Programme!
What is the Pioneer Programme?
Volta, pioneers in the sustainable vehicle industry, are soon to release the world's first fully-electric large commercial vehicle with sustainable body components. In addition to being sustainable, the trucks also boast many road-safety features. Some of the key features of this vehicle include:
Fully electric functionality
Carbon-neutral flax and biodegradable resin composites in the exterior bodywork
Centralised driving position at pedestrian eye-level for better road visibility
In early 2021, we will be trialling one of Volta's innovative vehicles out on the road. We are confident about the programme and have already committed to purchasing one of the bespoke vehicles upon completion of the trial.
What does this mean for the future of Shred Station's fleet?
As a national company, we visit hundreds of sites each week. This includes inner-city locations where there are very high levels of air pollution. By taking the next step with Volta's state-of-the-art technology, and adding their vehicles to our existing Euro 6 low emission and electric fleet, we are taking the next necessary step to prepare for the battle against climate change.
There is no question that, for both businesses and individuals, electric vehicles are the future. This is a journey we are very excited to be at the forefront of. We hope by joining the programme ourselves, we will encourage other businesses to come together to reduce carbon emissions from commercial transport.
If you want to know more, get in touch today!
---
Sign up to our newsletter here to be alerted about new blog articles, data protection advice, and Shred Station news.