Shred Station's Employee of the Month – May 2020
Every month, we ask our staff members to nominate a colleague who has stood out to them for their work efforts. The employee with the most nominations is named the Employee of the Month.
May 2020's Employee of the Month is…
Kelsey Evans!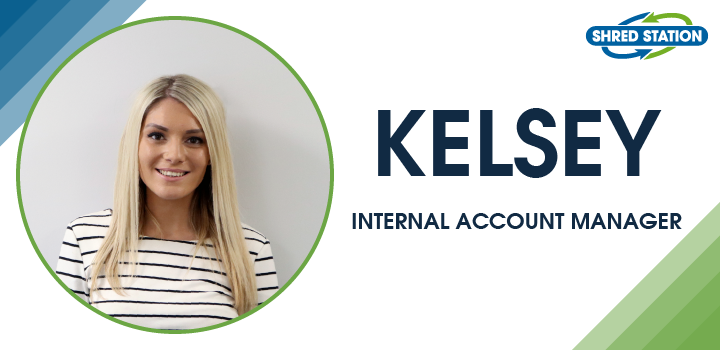 Kelsey works in our Norwich head office as an Internal Account Manager. She is a very well-liked member of the team and is an incredibly hard worker. She has received regular nominations for Employee of the Month for her work commitment, organisation, customer service, and extremely positive attitude.
Before joining Shred Station, Kelsey was studying hard for her A-Level exams and working as a waitress. Seven years on, we are delighted that Kelsey is still with us. Throughout her time with us, Kelsey has achieved many great accomplishments. Her proudest moments include watching the company's growth and being a part of that growth. Kelsey has also made a lot of personal progress in her role. She came into the company handling calls and doing admin. Now, Kelsey manages some of Shred Station's biggest customers and accounts.
Here's what our team had to say about Kelsey:
"Always willing to help, excellent knowledge in all areas of Shred Station systems, polite, will make sure any customer issue is resolved, valued member of the Shred Station team."
"Kelsey is always working hard and helping everyone!"
"Kelsey has consistently assisted me. Much appreciated."

"Always really helpful and positive even when sending her a tonne of emails about customer information requests and setups which would drive anyone crazy! Thanks, Kelsey".
Kelsey's peers said her top skills include:
Helpfulness, job knowledge, and work commitment.
We asked Kelsey how she felt about being our May Employee of the Month, and here's what she said:
"I feel pleased that I am seen as being able to help others and assist with any information that my colleagues may need. Thanks, everyone."
We couldn't be happier for her.
---
Sign up to our newsletter to be alerted about new blog articles, data protection advice, and Shred Station news.