Shred Station's Employee of the Month – April 2020
Encouraging positive feedback amongst teams is highly important to us. That's why, each month, we ask our staff to nominate someone they think should be the Employee of the Month.
The winner of April 2020's Employee of the Month award is…
Dan Varga!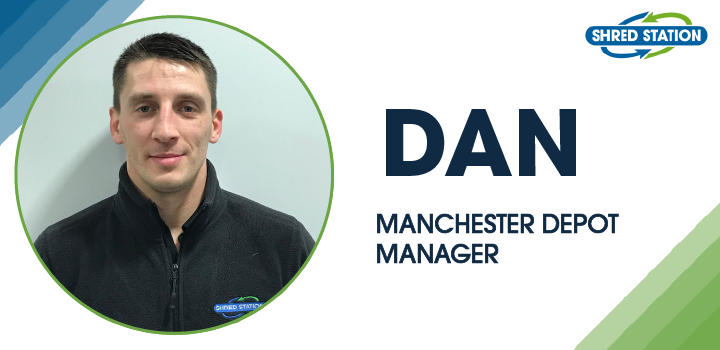 Dan is the manager at our Manchester depot and has been with the company since 2015. Starting as a Driver's Mate, he has proven his abilities throughout the years and now manages a highly successful team of Drivers, Driver's Mates, and Warehouse Operatives.
Dan's proudest achievement at Shred Station has been working towards the launch and development of the Manchester depot, which was opened last year by local MP, Andrew Gwynne. Dan has been instrumental in the success of our operations in the North and is a true credit to the company.
Before joining Shred Station, Dan worked in some very fast-paced roles, including a casino. He also has a keen interest in sports and used to do a lot of boxing, which explains perfectly his drive for success and endless energy. Having only moved to the UK in 2012, Dan has since become fluent in English, built a career, made another move from Essex to Manchester, and found his Shred Station family in the process.
Our peer-nominated Employee of the Month award has seen Dan as a regular nominee every month, so we're all extremely glad to see him winning April 2020's award.
Here's what our team had to say about Dan 'the man' Varga:
"Dan is great at what he does. I can always depend on him to get back to me within a good timescale when I need to contact back to customer regarding install dates and services. He always goes out of his way for the customer to squeeze in last minute jobs onto the route, which makes very happy customers. Happy customers make my job run smoothly. Thanks, Dan!"
"Love him!"
"Dan is always helpful"
"The guy bleeds Shred Station, he will bend over backwards to get stuff done and never stops! He really deserves it!"
"Always helpful – occasionally a little stressed – but still always helps".
Dan's peers said that his top skills were:
Dependability, helpfulness, attitude, and teamwork.
We asked Dan how he felt about being our April Employee of the Month, and here's what he said:
"To tell you the truth, I don't know! I haven't had time to think about it! I'm just proud to work for Shred Station. It can be hard work but I really enjoy it."
That says it all! Dan is always on the go, is a colleague valued by all, and is a very deserving winner this month.
---
Sign up to our newsletter to be alerted about new blog articles, data protection advice, and Shred Station news.