Andy Macgregor Norwich Depot Employee of the Month – November 2020
Each month our staff members anonymously share positive feedback with their peers by voting for someone they think should be the Employee of the Month!
November 2020's Employee of the Month is…
Andy Macgregor!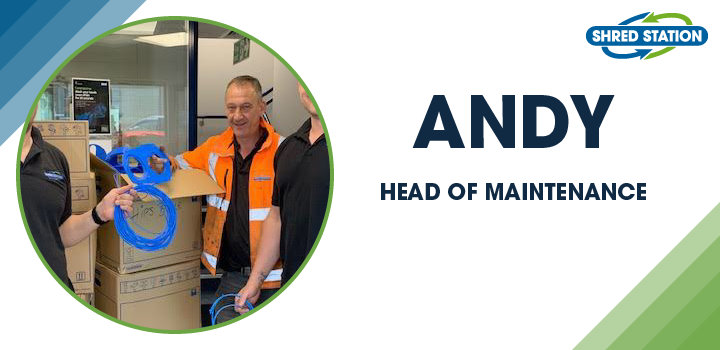 Andy is Shred Station's Head of Maintenance. He repairs, maintains and services all vital equipment that is used in our daily operations at all depots. This includes vehicle shredders, static shredders, balers, conveyor belts, dust suppression, forklifts, and pretty much anything that may need repairing – from a broom to an office door. He clocks up many miles in his well-used service van, travelling round to all of our sites ensuring all of our machinery is operating as it should.
Here's what our team had to say about Andy:
"Andy has a lot of knowledge and is good at his job".
"Andy is always up for a laugh and works really hard. He's always getting his hands dirty and is a valued member of the Shred Station family".
"He can fix anything".
Andy's peers said that his top skills were:
Job knowledge
Attitude
Work commitment
Congratulations again, Andy!
---
Sign up to our newsletter here to be alerted about new blog articles, data protection advice, and Shred Station news.