Shred Station's Employee of the Month – February 2020
Recognising the efforts of our employees is incredibly important to us. That's why, this year, we have launched a peer-voted Employee of the Month award.
We use this as a way to document and celebrate the accomplishments of our hard-working team of staff. We've also found that it's been a great way to encourage positive feedback amongst our teams.
The winner of February 2020's Employee of the Month award is…
Lloyd!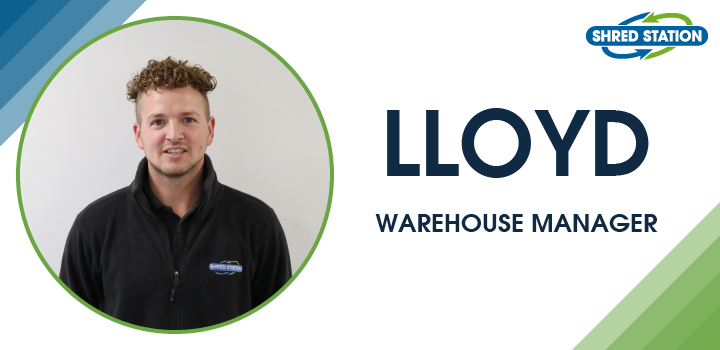 Lloyd works in our Norwich Depot as a Warehouse Manager and has been with the company for five and a half years.
Prior to coming to Shred Station, Lloyd worked for a local building supply company, so knows his way around all sorts of specialist equipment in addition to our bespoke shredders.
In the last five years, Lloyd has continued to impress us with his dedication to his work, progressing throughout his career with us. He has a lot of responsibility and is now in charge of a large team of warehouse operatives, but, in his words, he wouldn't change a thing.
Our Employee of the Month award is peer-nominated, and Lloyd has been recognised by his peers for many reasons. We asked our staff to detail why they were voting. This allowed using us to collect as much positive feedback as possible to anonymously share with nominees.
Here's why our staff voted for Lloyd:
"Lloyd makes my life easier"
"You can always rely on Lloyd"
"Lloyd just cracks on; he is versatile and knowledgeable"
"Lloyd just cracks on, pure ledge"
Lloyd's peers said that his top skills were:
Dependability, job knowledge, and attitude.
We asked Lloyd how he felt about being our February Employee of the Month, and here's what he said:
"Firstly, I was very surprised to think I had won and that people had voted for me – but very grateful! It's also quite good to think that my work colleagues do understand my role and responsibilities in the company and that I do enjoy working for Shred Station! Last of all, thanks to everyone who voted for me and keep up the good work!! UP THE SHRED STATION!!"
We couldn't be more pleased for Lloyd, who we all think is a very deserving winner.
---
Sign up to our newsletter here to be alerted about new blog articles, data protection advice, and Shred Station news.