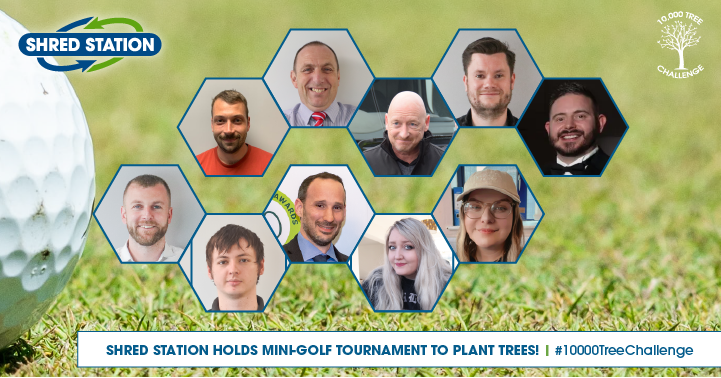 Our staff are putting for the planet!
On 18th August, Shred Station staff will be putting for the planet as part of the company's 10,000 Tree Challenge for 2022.
Ten of our Norwich head office staff will be competing in a mini-golf tournament to try and plant as many trees as possible. For every hole-in-one our employees achieve, Shred Station will plant 50 new trees! For every hole-in-two, it'll be five trees. Finally, for every hole-in-three, we'll plant one tree.
With eighteen holes to work through, our team has the potential to plant 9,000 new trees from this challenge. While it's unlikely every team member will achieve eighteen hole-in-ones, there is definitely the possibility of a lot of new trees being planted as a result of our Putting for the Planet challenge.
We have split our ten staff into two teams for the challenge, as below.
Who do you think will win?
Team 1
Louis Green – Textile Shredding Specialist
Louis' days are spent dealing with textiles away from the main office. None of us are 100% sure what he does. All we know is that he drives a very big motorbike and likes Iron Maiden. But will his golf skills make us all run to the hills? Or will he be the trooper of planting trees? Only time will tell.
Chris Willgress – Senior Account Manager
Our very dependable Senior Account Manager, Chris, has decades of experience in the shredding industry. But that's not all. He is also a champion bowls player – something that runs in the Willgress family. There can be no doubt that Chris has accuracy and aiming abilities that most of us could only dream of. He's also said, "I only play to win". Fighting talk, Christopher!
Darren Richardson – Operations Coordinator
Darren loves a challenge and recently won the chance to pie our Managing Director in the face as part of our Directors' Pie Face Day fundraiser. As you can see from the video, Darren has a great sense of humour and a passion for mischief. Will these traits see him sneak his way to the top of the pack?
Oliver Grice – Operations Director
Oliver is Shred Station's Operations Director and happens to be a regular golfer outside of work. But Oliver does have an Achilles' heel when it comes to golf. He can't have anything in his pockets. None of us are quite sure why, but as long as he keeps a clear pocket, we're positive he will get quite a few trees planted by taking part in this challenge.
Luke Mattin – HSEQ & Compliance Manager
Luke is our HSEQ and Compliance Manager. It's safe to say that someone who thinks about health and safety all day has a very analytical mind and is good at solving problems. But can Luke overcome the many mini-golf obstacles in his path? He's certainly confident his team will come out in front.
Team 2
Ross Akers – Finance Director
Our Finance Director is, unsurprisingly, naturally gifted at maths. Golf is all about angles, force, momentum, and probably also a bit of confidence, which Ross should have buckets of, being an avid golfer outside of work. With this in mind, it's no surprise that Ross is a strong contender to win this challenge. He has even threatened to bring his own putter, so that's how you know things might get serious.
Will Baker – Office Assistant
Will is an Office Assistant at our Norwich head office and he also helps out with our customer services. He is known for his quick wit, ability to multi-task and helpful nature. When it comes to hobbies outside of work, Will's passion is video games, which can require a lot of skill and hand-eye coordination. Will his skills translate into a real-life mini-golf scenario? Team 2 certainly thinks so.
Kristian Carter – Commercial Director
Upon receipt of some gentle competitive goading from Luke (Team 1), Kristian admitted that, for him, this challenge is all about the winning. That is, after the tree planting, of course… Being our Commercial Director, Kristian is a true team player and voice of support for many of our staff. We think he could use these skills to provide the encouragement Team 2 needs to take the crown (and plant lots of new trees).
Emily Bridges – Marketing Manager
Emily (that's me!) is our Marketing Manager and also organises our 10,000 Tree Challenge events. Being the organiser, Emily thinks it's only fair that she gets involved too. Emily has almost no golfing experience but she did have a secret trip to the mini-golf course in advance for "research" purposes. Whether this works in her favour remains to be seen.
Rosie Cordell – Administrator
Rosie is a regular participant in all of our 10,000 Tree Challenge events. This challenge is no different. While Rosie has admitted to being a little limited in terms of golfing ability, they have said they are willing to give it a good shot in the name of planting some trees. We have our fingers crossed for you, Rosie!
Stay tuned in to our social channels to find out who wins, and check back later to see how many trees our teams manage to plant from this challenge.
LinkedIn | Facebook | Twitter | Instagram
---
Sign up for our newsletter to receive alerts about new blog articles, data protection advice, and Shred Station news.