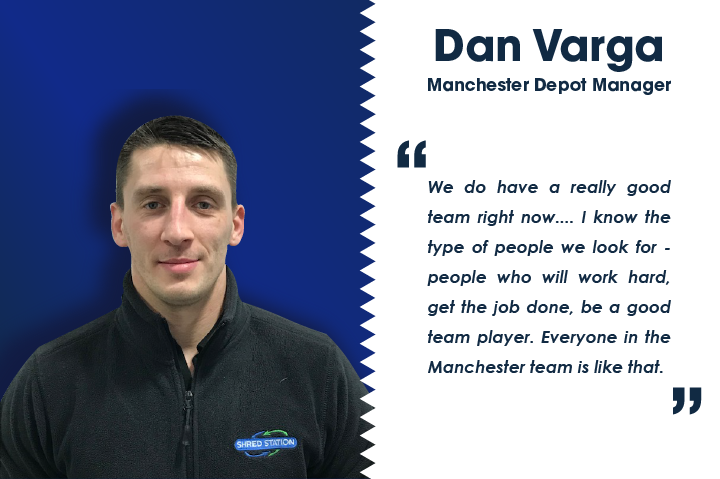 Shred Station's Manchester shredding depot: Two years on
The doors of Shred Station's Manchester shredding depot have been officially open for over two years. But, with a pandemic, several lockdowns and now national driver shortages, how has the depot fared in terms of delivering shredding services across Manchester and beyond? We spoke with Dan Varga, the Manchester shredding depot manager, to find out.
How has the last year been for the Manchester shredding depot?
To be honest, we've been getting busier and busier. We've recently won lots of new contracts, including police forces, NHS Trusts, hospitals. Even with businesses closing temporarily because of coronavirus, there's still been a big increase in sites on our routes. There have also been a lot of big one-off shredding jobs, for example, where companies going back into workplaces are having a clear-out. We're also getting busy in the Cumbria area and have just taken on an NHS contract, which we'll be rolling out this month.
That sounds very busy! How much growth has happened within the Manchester depot since opening to allow for this level of expansion?
Thinking back to 2019, I think we had just two or three trucks, maybe two driver's mates and two drivers. Now we have ten HGVS, seven are on-site shredding trucks and three are off-site shredding trucks. We also have two vans. Including myself, we now have 21 employees, so massive growth in quite a short time.
How would you say the expansion of Manchester's shredding service provision has affected our customers?
It's been very good for our customers, especially larger contracts. If a company has an office in Edinburgh, for example, and an office in London, that Edinburgh office has the same expectations as the one in London in terms of our availability. The Harlow depot is huge and covers London so availability is very good for customers in the South and South East. Now the Manchester shredding depot is growing, availability is good everywhere. We can meet and go beyond customer expectations all over the UK. We cover Scotland's central belt weekly, and since 13th September we are covering even more areas every two weeks. This means we can take on more customers and bigger contracts in places like Dundee, Aberdeen, and Fife.
How has the transition been for yourself as the Manchester shredding depot manager trying to coordinate splitting coverage with other depots?
This wasn't something we rushed into because, to be honest, we didn't have the staff or infrastructure in place before to take on the Norwich shredding depot's large customer base. But we have that in place now, and it means our journey distances are shorter, our emissions are lower, and our drivers all over the UK seem happier.
In terms of splitting coverage with the Norwich depot, it's been quite easy. We have great communication and great people in the operations team. We always help each other, and it's been working well in Manchester. We have recently taken on a new operations coordinator, Mark. Hiring someone in operations in Manchester has been a long-term process. We wanted to find someone who had a good understanding of routeing systems, and that's been a huge help. It also frees up a lot of time for me to focus on other things.
It sounds like the Manchester shredding team is thriving!
There are driver shortages at the moment, but we do have a really good team right now. I don't want to jinx it, but I know the type of people we look for – people who will work hard, get the job done, be a good team player. Everyone in the Manchester team is like that. There are some long hours involved for the drivers and quite a bit of lifting, so it takes the right kind of person who is good at that and willing to do that kind of work. We try to make sure everyone is happy here and those long hours are managed. With the right amount of people and the right type of people on board, that's so much easier. We do have a really good team.
Where do you see the Manchester shredding depot in, say, another two years from now?
It's hard to say what the future holds, but if we progress at the same pace, we could be looking at having 15 trucks by the end of next year. You'll have to ask Oli*! 
Thank you for your time, Dan! Anything to add, Oli?
I am extremely pleased with how Dan and his team have progressed up in Manchester. I know how hard everyone there has worked to ensure we continued to grow and develop both the depot and the areas we cover from that depot. This is even with the many challenges that both the pandemic and national HGV driver shortage have caused. To answer Dan's question, I would be looking for us to even be pushing to have 20 vehicles based out of Manchester by the end of 2022, along with increased coverage of all core areas around the North of England and Scotland.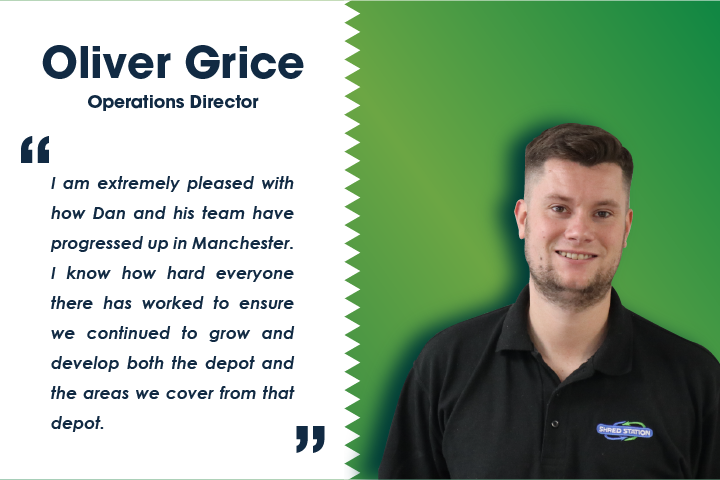 *Note: Oliver Grice is Shred Station's Operations Director, also present.
---
Sign up for our newsletter here to receive alerts about new blog articles, data protection advice, and Shred Station news.