BSIA's National Shred Day – 2nd October 2021
Shred Station will be taking part in the UK's inaugural National Shred Day!
Taking place on Saturday 2nd October 2021, shredding companies across the UK will be hosting community shredding events to help both businesses and individuals securely destroy their confidential paperwork. Launched and organised by the British Security Industry Association (BSIA) in collaboration with national charity CrimeStoppers, these events are the perfect opportunity to safeguard your confidential information through destruction.
How does it work?
It's simple! Come along to one of the shredding locations, and have your confidential papers shredded on-site for you to witness. There is no cost or booking required. However, if you can spare a small donation for CrimeStoppers, a little can go a long way. All donations will go towards regional projects carried out by CrimeStoppers. 100% of the paper we shred will be recycled at UK mills into paper and tissue products.
Shred Station will be providing community shredding at the Morrison stores listed below:
London Enfield Morrisons – 327 Southbury Road, Enfield. EN1 1TW.
Norwich Morrisons – 4 Albion Way, Norwich. NR1 1WR.
There are many more locations across the UK where shredding vehicles will be available, for example, Cardiff, Edinburgh, Farnborough, Glasgow, Gloucester, Leamington Spa, Newcastle, Nottingham, Pontefract, Sheffield, Southampton, and Yeovil. For the full list of sites, click here.
Shred Station operates in all of these cities regularly, so if you need regular, scheduled services, feel free to get in touch today.
What is Crimestoppers?
CrimeStoppers is an independent UK charity that gives people a way to anonymously report crimes. Some people may not feel comfortable talking to the police to report crimes and choose to talk to CrimeStoppers instead. By offering people an alternative to talking to the police, CrimeStoppers has been able to assist with the arrests of more than 151,000 suspects, the recovery of over £139m worth of goods, and the seizure of over £367m worth of illegal substances. Without CrimeStoppers, this may not have been possible.
What is the BSIA?
The BSIA is the UK's professional security industry trade association. It has led the way for over 50 years in the shaping of the nation's security industry. BSIA members, like ourselves, are responsible for more than 70% of privately provided UK security services and products.
Shred Station's Commercial Director, Kristian Carter, is the Chair of the BSIA Information Destruction section. His role as Chair allows us to stay at the forefront of security shredding industry innovation and events such as National Shred Day.
For more information about the event, visit the BSIA's National Shred Day web page.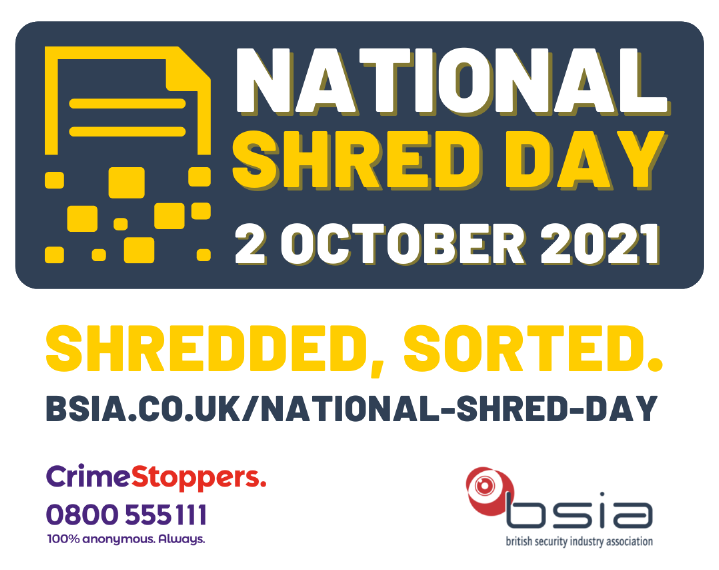 Don't let thieves get their hands on your personal information. Shredded, sorted.
---
Sign up for our newsletter here to receive alerts about new blog posts, data protection advice, and Shred Station news.