Fraud is the Most Common Crime in England and Wales
Fraud is now the most common crime in England and Wales, with 3,797,000 incidents reported last year. That's 9% more than the number of fraud incidents reported in England and Wales in 2018. But why are fraud crimes on the increase, and what can we all do to protect ourselves against it?
Fraud costs the UK an enormous amount of money each year – an estimated £193 billion. Fraud and fraud-related crimes can have devastating financial effects on businesses and result in huge personal losses for individuals. No one is invulnerable to fraud and fraudsters do not discriminate. However, having the knowledge needed to spot a scam and the knowledge needed to protect physical data are some of the best ways to safeguard yourself against these attacks.
Spotting a Scam
There are many different types of fraud. Most fraud cases reported in England and Wales last year were instances of bank and credit account fraud. However, hundreds of thousands of other types of scams exist and succeed every day. Familiarising yourself with these scams could be the best way to ensure you don't fall victim to fraud.
Types of Scams
Fraud crimes can be broken into several main categories as outlined in the image below.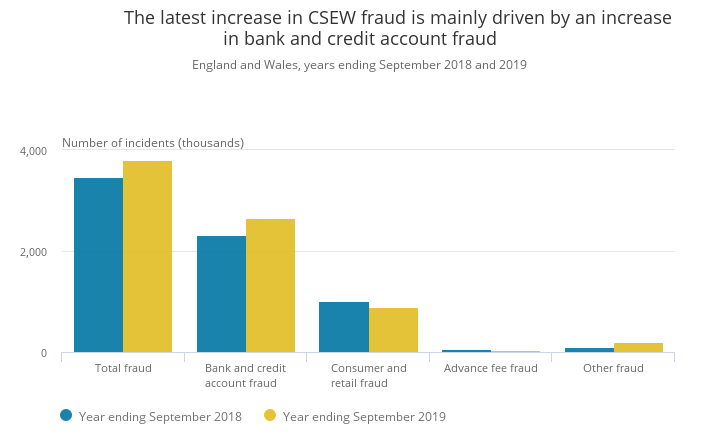 The figures outlined in the image above are produced by the Office for National Statistics – Crime Survey for England and Wales and are correct at the time of publication.
The table above shows us that the most common type of fraud is bank and credit account fraud. This is where the fraudster uses your bank details for their own financial gain. Typically, this involves either stealing digital bank and credit account information through hacking, physical theft of confidential documents, or through elaborate scams. Some scams may include phone or phishing scams. This is where the attacker will claim to be someone they aren't, such as your bank or internet service provider. They do this to get your bank details, or to encourage you to make a payment to an untraceable account they have set up.
There are many other common types of scams to look out for too.
Advance Fee Schemes
These are schemes where fraudsters will offer victims something that seems too good to be true. They may offer large sums of money, gifts, or even job opportunities, in exchange for an advance fee. A very common example of an advance fee scheme is the widely known 419 – or "Nigerian Prince" scam. Of course, these scams often don't originate from Nigeria at all. In fact, a 2006 study found that 61% of internet criminals were traced to the United States, 16% to the UK, and just 6% to Nigeria. These scammers usually request victims to wire transfer money over to them, with the promise of a large return for the sender. Once they receive the money, they either vanish completely or convince the victim to send more and more.
CEO Fraud
This is where fraudsters create fake – but convincing – email addresses to mimic those of company CEOs or directors. Then, they will send urgent emails to certain people within the organisation. For example, they may pressure employees in the accounts department to urgently pay a high-value invoice. The employee acts quickly and is less likely to question instructions from senior colleagues, but unfortunately, the money ends up being transferred to a bogus account. This is also known as a bogus boss scam.
Procurement Fraud
Procurement fraud affects businesses and is most commonly associated with a form of corporate bribery known as a kickback. This is where procurement employees will agree to terms with a supplier, or personnel employed by a supplier, to buy goods at an inflated value in exchange for a percentage cut in the sale. This is something that also happens in governments across the world. For example, Indonesia's former President, President Suharto, was widely known as "Mr Twenty-Five Percent" due to his inclination to take a 25% cut of all income received from major government contracts.
Telemarketing Fraud
Telemarketing fraud is quite a simple but effective crime. The data thief will call a victim and make a false statement or promise a false service to acquire money or sensitive information from the victim. Most of us have probably experienced attempts at this type of fraud. We may receive a phone call with a pre-recorded message plays to sound like a real conversation:
"Hi there, I've been informed you've been involved in a car accident recently that wasn't your fault, is that correct?".
A good way to assess whether these calls are genuine or not is to think about GDPR. Does this person have consent from you to be contacted on your personal phone? If not, or if you're unsure, the best thing to do is hang up.
Romance Scams
Romance scammers approach people on dating sites or even on social media, often living abroad. The scammer will put effort into forming a "genuine" relationship with the victim, sometimes going on for months or even years! Over the course of the "relationship", the fraudster will gradually extort the victims out of hundreds or even thousands of pounds for things such as flights they may never get on, medical bills they have forged, or various other reasons. £7.9 million was lost to romance scams in the UK in the first half of 2019, up 50% from the previous year. It's thought that one-fifth of people using online dating services have been asked for money or have given money to someone online. It's a lot more common than most people think.
Door-to-door Scams
This type of scam can be particularly daunting for vulnerable people or those living alone. Often, door-to-door scammers will come around to offer you something for free. This could be free estimates for maintenance work that you "need" looking at, such as loose roof-tiles, damp proofing, or repair work for unsafe pathways. They will pressure the victim into paying an upfront cost to get the work done. Often, they will never return. Sometimes, they will return with unskilled workers to do more damage than good, and charge colossal fees for the pleasure.
Best Course of Action
When a fraudster thinks they have lured you in, they will usually start to put the pressure on. They could urge you to make payments immediately or use basic manipulation techniques. They may promise you a large amount of money for your "help", become aggressive, or even attempt to blackmail victims into paying up. If they suspect any uncertainty on your part, fraudsters will often put even more pressure on, not giving you time to think about whether or not their requests seem suspect.
The most important thing you can do is take some time to think. Step away from your phone or computer. In the instance you feel uncertain or hesitant to give out your personal information or make payments, then trust your gut. If something doesn't feel right, then it probably isn't. If you suspect a fraudster could be pretending to be someone you know, double-check with the person the fraudster is pretending to be. While it may seem daunting, give the CEO a quick call or text on their direct line. The few seconds it takes to double-check will be nothing in comparison to the hassle it could be to retrieve lost data or finances.
Scammers often prey on the most vulnerable. Be sure to share your knowledge about identifying scams with the vulnerable or elderly people in your life. A short conversation could be all they need to protect themselves from being scammed.
Reporting Fraud to the Authorities
If you suspect you may have been a victim of fraud, report it to your bank and Action Fraud immediately. Action Fraud is the UK's national fraud and internet crime reporting centre. You can visit their website by clicking here. It may also be necessary to report the crime to your local police station, or by using non-emergency number 101.
Protecting Your Physical Data
It's important to remember that many types of fraud are not committed overtly. Often, fraud can occur and you won't know anything about it until you need a credit check, apply for loans, or notice something suspicious on your bank statements. Fraud can be something as simple as someone going through your recycling bin, taking your old paperwork, and using your information to commit a crime or purchase goods. Even addressed envelopes could give fraudsters all the information they know to use your identity maliciously.
With fraud on the rise, there is no better time to start safeguarding your physical data. By using a secure data destruction service, you are protecting yourself from any risk of physical data theft. Here at Shred Station, we use industrial shredders and security-vetted operatives to ensure your data is destroyed beyond the point of retrievability. All paper we shred is commingled with millions of other pieces of shredded paper and is never accessible to the public. Our services are available to businesses and individuals, even if it just a couple of bags you need shredded. It isn't just paper we shred either. We can destroy almost any materials, and we serve the entire UK.
Get in touch today to see how we can help you!
---
Sign up to our newsletter here to be alerted about new blog articles, data protection advice, and Shred Station news.