Shred Station's Employee of the Month – January 2020
Recognising the efforts of our employees is incredibly important to us. That's why, this year, we are pleased to be launching a peer-voted Employee of the Month award.
We introduced our peer-voted Employee of the Month this year as a way to document and celebrate the accomplishments of our hard-working team of staff. We've also found that it's been a great way to encourage positive feedback amongst our teams.
The winner of our first-ever Employee of the Month award is…
Emily!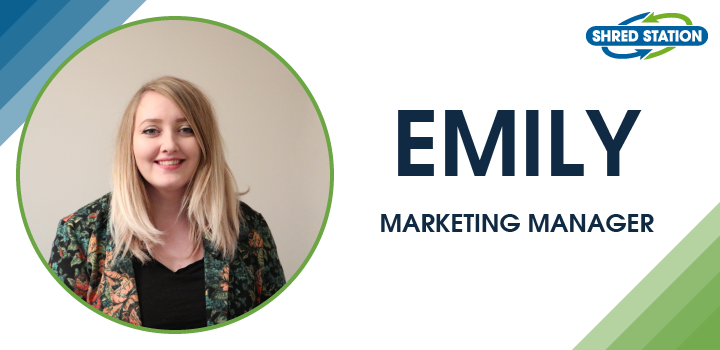 Emily works in our Norwich Office as a Marketing Manager. She has been with the company since November 2018.
Prior to coming to Shred Station, Emily worked in advertising and also spent a couple of years organising photo and video-based events.
Since joining us, Emily has impressed us all with her ability to write about herself in the third person.
Our new Employee of the Month award is peer-nominated, and Emily has been recognised by her peers for many reasons. We asked our staff to detail why they were voting. This allowed using us to collect as much positive feedback as possible to anonymously share with nominees.
Here's why our staff voted for Emily:
"Emily has employed many skills with her input into finding and implementing the new CRM. It was a very rushed project and Emily communicated well to all involved each step of the way and ensure everyone's requirements were being met. Usual teething issues have happened following implementation and Emily has continued to show her commitment to the project to iron these out"
"I voted for Emily for the fantastic work towards the Christmas marketing as there was no vote for December and great work towards the CRM"
"Emily is always happy to assist in a timely manner"
"I voted for Emily for organising last month's Christmas do, and surviving CRM!"
Emily's peers said that her top skills were:
Project implementation, helpfulness, work commitment, attitude, job knowledge, and communication.
We asked Emily how she felt about being our first ever Employee of the Month, and here's what she said:
"I did not expect this at all but it is very nice to have my work recognised! Everyone here is always so busy with their own projects and grafting away. I was expecting to be writing about someone else on the blog and social media! I don't really ever stop to celebrate my own achievements so it's going to be strange writing and reflecting about myself this time! Thanks to all who voted."
---
Sign up to our newsletter here to be alerted about new blog articles, data protection advice, and Shred Station news.