Shred Station's confidential waste bins are now closed-loop!
We've officially closed the loop on our blue bins. When our confidential waste bins become damaged, they'll now be broken down and turned into brand new bins!
At Shred Station, we've always recycled our blue bins. Now, to go one step further, we're pleased to say that our confidential waste bins will now become entirely closed-loop!
What does closed-loop mean?
Closed-loop recycling is where waste is collected, recycled and turned into something new. In our case, new confidential waste bins. Essentially, it means the plastic waste from damaged or broken bins comes back around in a full circle without causing negative environmental impacts.
Why use closed-loop products?
HDPE, or High-Density Poly Ethylene, is a thermoplastic polymer made by applying intense heat to petroleum. As you may know, petroleum is one of the big three fossil fuels. It causes significant environmental damage to extract from the land or below seas.
HDPE and other plastics should be recycled rather than discarded. Making new plastic can be incredibly harmful to the planet, so closing the loop and reusing old plastic granules can make the plastic industry greener, save fossil fuels, reduce harmful microplastics in the future, and can divert waste from landfill.
Our closed-loop recycled bins.
Our plastic bins, when old, damaged or broken, will be granulated and sent to Contenur along with HDPE we collect from our customers such as plastic crates. Contenur is a sustainable producer of bins with impressive UK facilities. Contenur will use the plastic we provide to create new Shred Station bins.
Reducing our carbon footprint.
A key point raised at the 2021 COP26 event was that businesses need to take drastic measures to reduce emissions to minimise global warming. With just 20 firms causing a third of all emissions since 1965, commercial change is essential in the fight to reduce the damage our natural world endures.
As you may already know, Shred Station is CarbonNeutral® certified and has been since 2019. Being CarbonNeutral certified isn't just about throwing caution to the wind and offsetting all of the emissions you produce. It's about reducing emissions as much as possible. Offsetting should only be used as an option when reductions can go no further.
Closing the loop on our plastic bins will mean further reductions in our emissions, something that's been at the heart of our ethos since formation.
To save transport emissions, we facilitate the exchanges of old bin materials and new bins in one trip. We can even collect HDPE from our customers as part of their usual service to introduce even more plastics into the closed-loop process!
If you need recycled lockable paper bins for your workspace or office, visit our webshop today. Or, we can provide these bins to our regular customers as part of our scheduled shredding service package.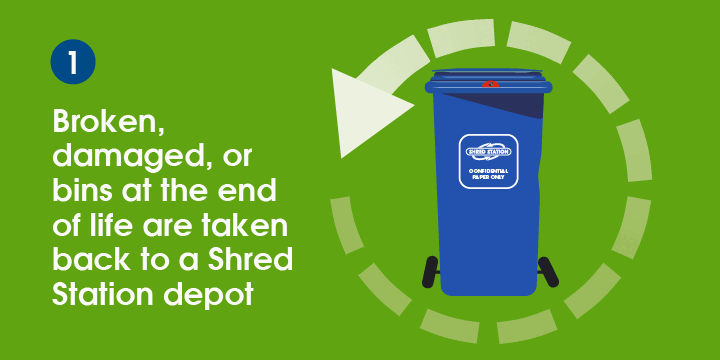 ---
Sign up for our newsletter here to receive alerts about new blog articles, data protection advice, and Shred Station news.