COP26 – the United Nation's Climate Change Conference of the Parties 26th meeting – took part this year in Glasgow. Here is our summary of COP26 and what it means for nations across the globe.
The 12-day programme of events brought together 120 world leaders. All of these leaders were hoping to walk away from the conference with a clear plan on how to reduce global warming to within 1.5 degrees. The event arguably held the most weight a COP event ever has before, with many countries not currently meeting their targets set out in the Paris Agreement reached at 2015's COP21. With protests across all seven continents, sobering speeches from some of the world's most well-known climate activists, and a global outcry for urgent and desperately needed changes in attitudes towards the climate, this event has resulted in some of the biggest pledges to reduce climate change than we've ever seen before.
But with countries' contributions to reduce climate change only voluntary, is it just more hollow promises? We look into the outcomes of the event and what it means for countries across the globe.
Pre-COP26.
The weekend before COP26 began, the G20 summit took place. G20 meetings happen each year, with heads of government and heads of state from the world's richest countries meeting to cover issues regarding global economy and finance, and other global issues such as climate change.
At the G20 Summit, Prince Charles addressed world leaders, stating:
"COP26 begins in Glasgow tomorrow. Quite literally it is the last chance saloon. We must now translate fine words into still finer actions".
The future King has championed sustainability for over fifty years. In 2017, he was awarded the GCC Global Leader of Change award. The award represents outstanding contributions to environmental preservation and protection across the globe. He has also publicly shared his understanding of why environmental activists demand faster action. The Queen, who turned 95 this April, was unable to attend COP26 this year due to a recent illness. Magnified in the Queen's absence, Prince Charles voiced earnest warnings about the environment. These served as a beacon of hope for the millions who look to world leaders to fight for what's right. In this case, the future of our natural world.
31st October – COP26 Opens.
On 31st October, world leaders trickled into the Scottish Event Campus for the welcome speeches of COP26. Prime Minister Boris Johnson opened the event with a keynote address, and many powerful speeches followed.
COP26 President, Alok Sharma, delivered a powerful speech.
Alok Sharma's words included:
"We know that our shared planet is changing for the worse and we can only address that together, through this international system. And we know what we need to do, because six years ago, in Paris we agreed our shared goals.

We said we would protect people and nature from the effects of climate change. We said we would get finance flowing to climate action. And we said we would limit the rise in global temperature to well below two degrees pursuing efforts towards 1.5.

The rapidly changing climate is sounding an alarm to the world, to step up on adaptation, to address loss and damage, and to act now to keep 1.5 alive. We know that this COP, COP26, is our last best hope to keep 1.5 in reach. And I know that we have an unprecedented negotiations agenda ahead of us. But I believe this international system can deliver. It must deliver."
UNFCCC Executive Secretary, Patricia Espinosa, also addressed visitors.
Espinosa's speech included the powerful words:
"Every day that goes by without being able to implement the Paris Agreement in full is a wasted day — the accumulation of which have real-world repercussions for people throughout the world, especially the most vulnerable. I call upon Parties to complete the necessary work here at COP26 that will move us towards full implementation. Success is possible because we already know the pathway to solutions".
Stealing the show though was Sir David Attenborough: naturalist, broadcaster, historian, author, and conservation ambassador. You can watch the full speech here.
A small segment of Sir David Attenborough's speech included:
"In my lifetime, I've witnessed a terrible decline. In yours, you could and should witness a wonderful recovery. That desperate hope, ladies and gentlemen, delegates, excellencies, is why the world is looking to you and why you are here".
With the World Leaders Summit due to start the following day, the collection of thought-provoking addresses had the COP26 off to a promising start.
1st & 2nd November – World Leaders Summit
Boris Johnson invited Heads of State and Government to participate in a World Leaders Summit on the 1st and 2nd of November. These two days of the summit were where big changes to environmental commitments were expected.
Not in attendance, however, was China's president Xi Jingpin, nor Russia's president Vladimir Putin. China leads the world in carbon dioxide emissions and produces more than double the emissions of the second-largest emitter, the US. The absence of Xi Jingpin and Vladimir Putin was certainly a concern, leaving the world wondering whether the two countries would commit to reducing their carbon footprints at all.
Nonetheless, the first two days of the World Leaders Summit did produce some positive outcomes.
India committed to net-zero emissions by 2070. India had not previously made any concrete commitments to reducing emissions, so this is a huge first step for India in the fight against climate change.
100 countries pledged to end deforestation by 2030, representing 85% of the world's forests. This included Brazil, which, under President Bolsonaro's reign has seen deforestation of the Amazon rainforest surge to a twelve-year high. In the days following, a further 34 countries signed up, covering 91% of forests globally.
The UK, US, Germany, Norway and the Netherlands have collectively pledged at least $1.7bn of funding to indigenous peoples and local communities in recognition of their role acting as guardians of lands and forests.
Ecuador's President, Guillermo Lasso, announced the 60,000² km expansion of the Galapagos Island's marine reserve. With not much attention to the oceans at this year's COP, this is a welcome step in much-needed marine conservation.
Over 100 countries have signed up for the global methane pledge. If delivered, this could curb global warming by 0.3 degrees Celsius in the next 20 years.
However, it is important to mention once again that these measures are voluntary.
Within just says of agreeing to stop deforestation by 2030, Indonesia, home of the third-largest tropical forest in the world, seemed to backtrack on the agreement.
The UK's own Boris Johnson was even accused of "staggering hypocrisy" by Labour chair Anneliese Dodds. This was for his actions after leaving the conference on 2nd November. Johnson left the conference in Glasgow at 6.20pm to catch a flight to London Stansted for shortly after 7pm. From there he headed to a private men-only club for dinner with the former Telegraph editor, Charles Moore. Moore is a self-confessed climate change sceptic, and, incidentally, Boris Johnson's former boss during his days as a columnist.
It begs the question, are the pledges and seemingly sincere speeches made by world leaders genuine? Or, are they simply lip service?
3rd November – Finance Day
Money talks. Developing nations are often the hardest hit by climate change, yet often are without the funds to invest in emission reduction. Developed economies and large polluters, however, do have the cash. Producing most of the world's emissions, the richest nations owe it to developing nations to contribute to climate finance initiatives.
COP26 held Finance Day on 3rd November, and some big pledges were made.
Two-fifths of the world's financial assets, amounting to $130 trillion, are now under the management of banks and financial organisations that have signed up to 2050 net-zero goals. This means huge global finance streams will be redirected towards carbon-reducing technologies and away from "brown holdings", i.e., investments in gas, oil and coal.
By 2023, most big UK firms and financial institutions will be forced to show how they intend to hit climate change targets under new proposed rules from the Treasury. A 2017 study found that just 100 companies are responsible for 71% of global emissions, so we can only hope other nations follow suit in this plan. Disappointingly, however, any commitments in the UK's proposed rules will not be mandatory.
South Africa set to receive $8.5bn (£6.2bn) from wealthy nations to help end the country's reliance on coal power.
4th November – Energy Day
Energy Day at COP26 was a highly-anticipated day of the conference, expected to result in some big changes to the way the world produces power, as well as some big tensions. While Energy Day saw a lot of big promises from the UK and many other nations, there is still an uphill battle in getting the world's biggest carbon emitters to commit to green energy.
Here are some of the key results from Energy Day:
The UK has committed to phasing out coal completely by 2024 and will give $100bn (£73.76bn) to help developing countries achieve net-zero.
77 countries signed the pledge to phase out coal-fuelled power plants. However, missing from the countries that signed are some of the world's biggest coal-dependent economies, including Australia, China, India, and the US.
Greg Hands, the UK's Energy and Clean Growth and Climate Change Minister said that ending international finance for all fossil fuels is the "next critical frontier" world leaders would have to commit to deliver if we are to achieve a climate increase of just 1.5 degrees. 20 countries have signed to end the support for the international fossil fuel energy sector by the end of 2022.
5th November – Youth and Public Empowerment Day / Ocean Action Day
The 5th of November was Youth and Public Empowerment Day and Ocean Action Day at COP26. However, a lot of the media buzz around the event seemed to happen outside of COP26 on the streets of Glasgow.
Over 100,000 people, many of them young people, took the streets in protest. A march was also organised by Fridays for Future Scotland. Demanding urgent climate action, young activists including Vanessa Nakate and Greta Thunberg took to the stage in Glasgow's George Square. In a passionate address, Greta accused COP26 leaders of greenwashing, using the event as nothing more than a publicity stunt. Demanding more significant results, the 18-year-old climate activist said she doesn't want to hear any more "blah blah blah" from world leaders. This sentiment was echoed by many addresses within COP26's walls too, including from former President Barack Obama later in the week – more on that shortly.
Inside the venue, while there were many empowering young voices finally given a platform to be heard, there wasn't much significant news to report in terms of progress.
The Education Secretary, Nadhim Zahawi, pledged for climate change to be embedded further into the curriculum in England's schools. Additionally, by 2023, a Climate Leaders Award will be introduced. This will essentially be like a Duke of Edinburgh Award, but more climate-focused.
With young people standing to inherit a climate crisis that was largely ignored for generations, now is the time for older generations to listen and act. We must all hope that these young voices have inspired the people in power to take meaningful action.
Ocean Action
Canada reaffirmed its support of the Ocean Risk and Resilience Action Alliance (ORRAA), pledging a $9m commitment to the alliance.
Google announced a $2m commitment to ORRAA to help develop tools that can combat illegal fishing. Other companies including AXA XL, SalesForce and Deutsche bank also pledged funds.
The UK pledged to contribute £6m to PROBLUE, a World Bank fund that supports blue economy development, plus an additional million-pound (now £6m total) contribution to the Global Fund for Coral Reefs.
The UN committed to protecting at least 30% of the ocean by 2030.
6th November – Nature
Nature Day of COP26 had a heavy focus on agriculture. The UN estimates that land use generates at least a quarter of global emissions, and three-quarters of deforestation to date has been driven by agriculture. Suffice to say, the industry is due a much-needed overhaul. Here's what was achieved on Nature Day.
45 nations signed up to a new Policy Action Agenda. This agenda will be driving change in the agriculture industry with the aims of delivering a low-carbon and deforestation-free food system that supports farmers, produces less waste, and consumes less water and chemicals.
The same nations plus an additional 100+ organisations will aim to gather $4bn of public investments to reduce emissions and improve the agriculture industry with measures such as climate-resistant crops and tools to improve soil quality.
Brazil has pledged to expand its low-carbon farming programme to 72 million hectares. The nation claims this could mitigate a billion tonnes of carbon emissions by 2030.
Germany pledged to plan to lower land-use emissions by 25 million tonnes by 2030.
The UK pledged to engage 75% of farmers in low-carbon practices by 2030.
Alongside agriculture, there were also many other positive commitments.
Over 95 UK business giants including big supermarket chains, energy companies, and fashion houses made a joint commitment to deliver 'nature positive' operations by 2030. The UK's COP26 unit and the UNFCCC will coordinate this commitment.
Also putting their money where their mouths are is a group of 33 major financial institutions. Since 2010, around 40x more finance has flowed into land-use practices that degrade nature rather than preserve it. The 33 institutions have over $8.7 trillion in assets and have committed to stop financing agricultural commodities that contribute to deforestation by 2025. By the end of 2022, risk exposure assessments should be completed for agricultural sectors such as palm oil, soy, beef, leather and also the paper industry.
The Scottish government has also made big promises to protect nature across the country, pledging £55m for projects that preserve lochs, peatlands and wetlands. The UK government has also confirmed that £500m from the £3bn pledged for international climate finance will be used to conserve 50,000 square kilometres of rainforest. Millions of pounds will also go towards agricultural research and support for farmers in developing countries.
7th November – Rest Day
After a productive first week, 7th November was a rest day at the COP26 summit.
8th November – Adaptation, Loss and Damage
On COP26's Adaptation, Loss and Damage Day, one of the most notable moments was Barack Obama's address to the summit. His address was highly anticipated, drawing crowds of people to Glasgow just to witness his arrival.
Obama began his address warming up the crowds. but wasted no time diving right into how he feels about climate change:
"Even though I'm not required to attend summits like this anymore… old habits die hard. And when the issue at hand is the health of our planet and the world our children and our grandchildren will inherit, then you will have a hard time keeping me away".
Perhaps one of his more endearing qualities, Obama spoke not just of the victories, but of his own anger and fears for the future of the world's climate. Not sugar-coating the stark realities of our global efforts to combat climate change, he impressed to world leaders:
"…Collectively and individually, we are still falling short. We have not done nearly enough to address this crisis; we are going to have to do more. And whether that happens or not, to a large degree, is going to depend on you. Not just those of you in this room, but anybody who is watching, or reading a transcript of what I say here today".
Regarding the absence of commitments at this point from the world's largest emitters, Obama said:
"We have to acknowledge that this progress is partial. Most nations have failed to be as ambitious as they need to be. The escalation, the rationing up of ambition that we anticipated in Paris six years ago has not been uniformly realised. I have to confess, it was particularly discouraging to see two of the leaders of the world's largest emitters, China and Russia decline to even attend the proceedings. And their national plans so far reflect, what appears to be, a dangerous lack of urgency. A willingness to maintain the status-quo on the part of those governments. And that's a shame.

We need advanced economies like the US and Europe leading on this issue. But you know the facts. We also need China and India leading on this issue. We need Russia leading on this issue. Just as we need Indonesia and South Africa and Brazil leading on this issue.

We can't afford anybody on the sidelines. I recognise we're living in a moment when international cooperation has waned…

…But there is one thing that should transcend our day-to-day politics and normal geopolitics, and that is climate change".
As mentioned, the commitments companies make during the summit are not legally binding. Nations rely largely on pressure from other nations to commit. Obama's speech, directly addressing the countries that have fallen significantly short in their commitments, could go some way to increasing that pressure.
He also addressed young people directly, saying they are the most important energy in the climate change movement, drawing a round of applause.
"We need everybody, even if we disagree on other things. And what's also true around the world, true in the US, true in all the countries represented here, is that the most important energy in this movement is coming from young people. And the reason is simple. They have more stake in this fight than anybody else."

"My message to young people begins with acknowledging, you are right to be frustrated. Folks in my generation have not done enough to deal with a potentially cataclysmic problem you now stand to inherit. But I also want to share some advice my mother used to give me. If I was feeling anxious or angry or depressed or scared, she'd look at me and she'd say "Don't sulk. Get busy. Get to work. And change what needs to be changed". And, luckily, that's exactly what young people around the world are doing right now".
Admitting he didn't have all the answers, he did offer three pieces of advice for younger people.
Number one: "Vote like your life depends on it because it does".
Secondly, he encouraged young people to speak with their wallets and put pressure on companies. He reminded young people of their power to buy from and work for companies who sit on the right side of climate change. "That's part of your power, you need to use it".
He also encouraged the importance of educating the older generations.
Other key points from the day:
International Trade Secretary Anne-Marie Trevelyan announced another £290m would be pledged to support the least developed countries and small island states to help tackle urgent challenges climate change has already caused.
Simon Kofe, foreign minister for Tuvalu, recorded his address to the summit knee-deep in seawater in a business suit. His address was a thought-provoking reminder of the reality of rising sea levels and what it will mean for smaller island countries.
9th November – Gender, Science and Innovation Day.
Gender
According to the UN, 80% of people displaced by climate change are women and children. COP26 chairman, Alok Sharma, highlighted this fact to event delegates, adding "women and girls are also leading efforts to tackle climate change in communities around the world".
Nations around the world pledged to measures that put gender at the forefront of climate action.
Canada ensuring 80% of its $5.3bn climate investments between now and 2026 target gender equality outcomes
UK will be setting out how £165m in funding will address gender inequality and climate change as hand-in-hand issues
The US is investing at least $14m of the Gender Equity and Equality Action Fund to gender-responsive climate programming, and investing over $20m to increase women's opportunities in clean energy sectors, address barriers to women's land rights and support women farmers in East Africa to adapt to a changing climate.
Bolivia, Ecuador and Nigeria and Sweden all also made pledges to
Science and Innovation
Many countries also pledged to enhance or invest in low-carbon innovations, hoping to accelerate innovation for a net-zero future.
A new Global Energy Alliance for People and Planet was launched. The alliance hopes to accelerate investment in green energy and renewables. The alliance aims to gather $100bn in private and public funds over the next decade. With this sum, the alliance hopes to reach a billion people with renewable energy, avert four billion tonnes of carbon emissions, and create, enable or improve 150 million jobs globally.
47 countries committed to developing climate-resilient and low-carbon health systems in response to growing evidence of climate change impacting health.
23 nations including China, US, India, the EU and the UK announced plans to catalyse cleantech investments under COP21's 'Mission Innovation' platform.
German officials are launching the world's first commercial plant for making synthetic kerosene, a more climate-friendly component for jet fuel. Operations will only produce small amounts initially, but this could be the start of something big for reducing aircraft emissions.
The UK to invest £210m in small nuclear reactor research, headed up by the US.
10th November – COP26 draft released
Before negotiations on the 10th, a draft of the COP26 negotiation outcome was published. This detailed the probable outcome of the COP26 talks. Many developing countries thought it fell short on climate finance commitments.  Additionally, based on the analysis of countries' current 2030 targets, a projection by Climate Action Tracker found that global heating is likely to increase by 2.4 degrees, not the 1.5 degrees world leaders were working towards.
If nothing more is done to reduce global warming, it will have devastating effects across the world. This will include worse floods, forest fires, heatwaves, droughts, and rising sea levels.
Jennifer Morgan, the executive director of Greenpeace International, said the draft was "a polite request that countries, maybe, possibly, do more next year", adding "that's not good enough, and the negotiators shouldn't even think about leaving this city until they've agreed to a deal that meets the moment."
"The job of this conference was always to get that number down to 1.5C, but with this text, world leaders are punting it to next year. If this is the best they can up with, then it's no wonder kids today are furious at them".
10th November – Transport Day
Transport Day at COP26 had some positive outcomes, but again, commitments on a global scale were underwhelming.
24 countries and many regional governments agreed to phase out the sales of new diesel and petrol cars by 2040 or earlier. The UK still plans to phase these out by 2030.
Major car manufacturers have also agreed to phase out the sale of petrol and diesel cars by 2040. This includes Ford, Jaguar Land Rover, Mercedes-Benz and Volvo.
However, disappointingly, major car manufacturing countries such as Germany and China did not sign the pledge.
Also disappointingly, the UK, hosts of the COP26 conference, refused to sign the Beyond Oil and Gas Alliance. The alliance, founded by Denmark and Costa Rica, has drawn a club of countries committed to phasing out oil and gas production.
11th November: Cities, Regions and Built Environment Day.
Big news happened overnight between 10th and 11th November. The world's largest polluters, China and the US announced they would work together to reduce emissions this decade. With an underwhelming commitment before this announcement from China, the news was very much welcome to not only other world leaders but to everyone interested in reducing global warming.
Other announcements resulting from the Cities, Regions and Built Environment Day were:
C40 cities and construction companies formed a new Clean Construction Action Coalition. This new coalition aims to halve emissions from the global built environment by 2030.
110 cities have pledged to move towards more sustainable construction systems.
Beijing and Qingdao are joining C40's clean construction programme. The two cities, representing 30 million people, will also initiate joint research projects to reduce construction pollution and emissions.
The UK Green Building Council launched a roadmap to achieve net-zero carbon emissions across the built environment sector – a sector responsible for a quarter of the UK's total carbon footprint.
Meanwhile, the Environment Bill was passed, becoming the Environment Act 2021. This is a huge breakthrough for England's environmental laws. There are now legally-binding targets for waste, water quality, pollution and biodiversity.
12th – 14th November – Closure of negotiations.
Originally scheduled for just the 12th of November, the closure of negotiations was extended by two days. World leaders felt the weight of global pressure to do more to reduce global warming. They eventually agreed to a climate pact that will, allegedly, keep the aim of reducing global heating to a limit of 1.5 degrees alive if further commitments are made in the coming years.
The Glasgow Climate Pact saw countries agree to meet next year to further reduce emissions to try to meet this limit, which currently stands at an approximate increase of 2.4 degrees. A disappointing result for all nations, particularly smaller island countries that would be at the mercy of rising sea levels if global temperatures were to continue to increase.
For the first time at any COP conference, however, was an explicit plan to reduce coal usage. This is groundbreaking as coal currently contributes to around 40% of global emissions. COP26 President, Alok Sharma, fought back tears towards the end of negotiations. The original plan to "phase out" coal was in partway blocked by China and India. These nations wanted the language in the deal to instead be "phase down". To secure a deal at all, this watered-down language was agreed upon. On BBC's Andrew Marr show, Sharma said:
"China and India will have to explain themselves and what they did to the most climate-vulnerable countries in the world".
Prime Minister Boris Johnson also said, despite progress made, his reaction to the deal was "tinged with disappointment", but that "Glasgow has sounded the death knell for coal power".
So, where do countries stand in their current goals to reduce emissions and limit global warming?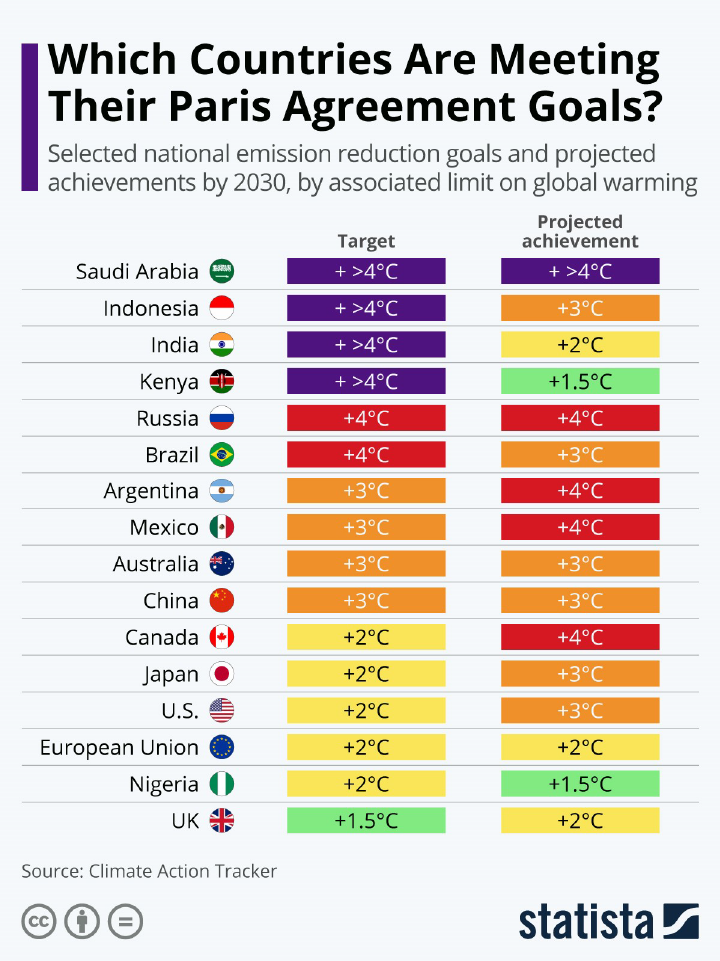 Source: https://www.statista.com/chart/26102/emission-reduction-goal-and-projected-achievements-by-country/
At Shred Station, we believe in transparency and taking measures to go above and beyond just offsetting carbon. We have many environmental commitments in place and have also been CarbonNeutral® certified since 2019.
---
Sign up for our newsletter here to receive alerts about new blog articles, data protection advice, and Shred Station news.