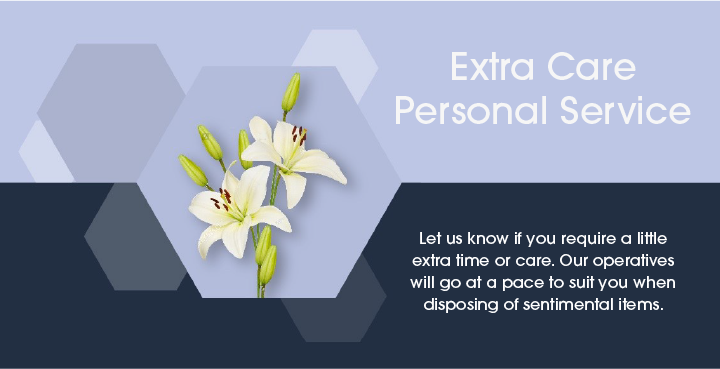 Extra Care When You Need it Most
Our Extra Care Personal Service is available to anyone who needs us to use a little extra sensitivity during collections.
What is the Extra Care Personal Service?
Being an independent company, we work to a strong set of beliefs. One of these is that our customers should come before anything else.
Our Extra Care Personal Service is something we offer to anyone who needs it.
Bereavement
Bereavement is a difficult topic for most of us. But, sadly, it's something we will all experience at some point in our lives. When the passing of a loved one is still raw, the last thing on our minds is what to do with possessions and paperwork belonging to the person who has passed away. That's why, when the time comes to dispose of these documents and possessions securely, we try to make this process as easy as possible.
Data destruction for the bereft is something we have experienced since we opened our doors in 2008. We understand that bereavement can already be incredibly emotional and stressful for the person who has lost a loved one. That's why we promise you'll receive a truly professional and stress-free service when you need it most.
Disability, ill-health, or mobility issues
You may be unable to get to the door quickly or might need a little help getting your materials near to your front door for us to collect. You may be hard of hearing, or, it may be the case that you suffer from extreme anxiety when getting rid of confidential materials. Whatever you need us to do for you, we'll do our best to help.
All of our operatives receive training in professionalism. During collection, we will go at your pace and handle everything we touch with as much care as possible.
You don't have to divulge any details, but it is especially helpful for us to know when extra sensitivity is needed when handling items for shredding. When you book your service, please just let us know in advance that you'll need our Extra Care Personal Service. This will allow us to schedule a bit more time than usual for your collection and go at a pace that suits you. This service costs nothing extra. It just lets our operatives know that extra time and care should be taken when making a collection.
Please let us know if you have any questions about this service. You can do so by contacting one of our telephone representatives today on 01603 558184 or by submitting a general enquiry form.
---
If you need some additional support while grieving, there are people who will listen. Call the Cruse Helpline on 0808 808 1677 if you or a loved one is struggling with grief and need someone to talk to.