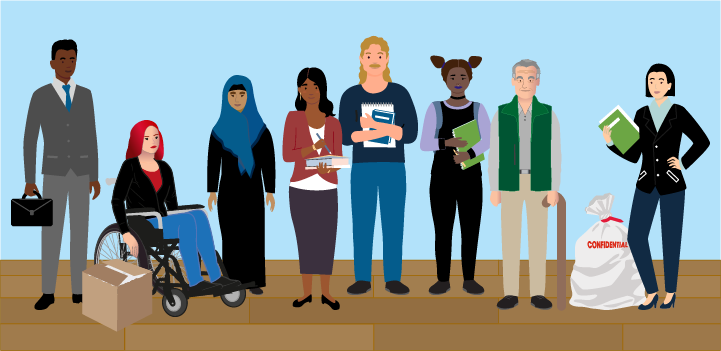 Who needs shredding?
Who needs shredding? If you've ever received a paper document that contains confidential information, you will have had to decide what to do with this paper once it's no longer required.
You may be wondering if shredding services are suitable for you. Whether you're an individual with some old paperwork to destroy or are trying to find an information destruction solution for your business, shredding services are worth considering.
Personal paperwork you need to shred
For your personal paperwork, there are many documents you should destroy when you no longer need them. For example:
Paper bank statements
Utility bills
Loan statements
Invoices
Boarding passes
Old insurance information
Old warranty paperwork
Old prescriptions and medical labels
Paper copies of your CVs
Physical payslips that are 3 years old
To ensure your personal information doesn't fall into the wrong hands, you must destroy it when no longer needed. The best and most environmentally friendly way to do this is by shredding and recycling.
It may be the case that you prefer to have only digital copies of your documents. If you are storing confidential information on old laptops, computers, hard drives, memory cards, SD cards, USBs or even floppy disks, there will come a time you need to delete old files and destroy old devices. In this instance, we would recommend a fully accredited digital media shredding service. This is safe and cost-effective and ensures your data isn't retrievable. There are even fully tracked postal shredding services available for hard drives. Please see our Ship2Shred product page for more information.
Business paperwork that your company needs to shred
If you are one of the decision-makers in a business, it may fall to you to decide what happens with your entire company's waste or even just the waste for your office or site. If this is the case, you must ensure your business operates legally in line with General Data Protection Regulations. This also applies if you are a sole trader.
The Information Commissioner's Office advises using shredding services as a way to ensure your paper documents are permanently and securely destroyed. The ICO website says:
"You could use a shredding service. Companies will come to your business, collect the documents and safely shred them for you. If you decide to take this route, make sure you're satisfied they're a reputable company that will destroy the documents securely".
You can tell if a company is reputable by checking its accreditations and asking for a copy of its Waste Carriers Licence. Some of the information your business needs to protect through secure destruction includes:
Old CVs and applicant information
Old personnel files and emergency contact information
General office paperwork
Commercially sensitive information like internal reports and handouts
Meeting notes and flipchart papers
Documents about designs, wireframes, innovations, or future projects
Old marketing materials
Monthly bank statements
Post-it notes – these could contain customer information
Client or customer records or files where no longer needed
Service agreements where contracts have ended
Any other records that you no longer need
Please note, some of these items should only be destroyed once legal retention periods are over. Your company may already have a data retention policy. If not, we advise seeking legal advice to help you get started.
---
Sign up for our newsletter to receive alerts about new blog articles, data protection advice, and Shred Station news.