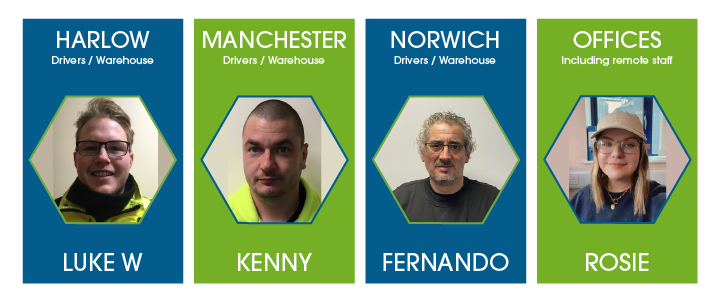 Our 2023 Q1 Employees of the Quarter
We are proud to celebrate our four Employees of the Quarter for 2023 Q1.
Each quarter, we ask our teams to vote for the colleagues they feel deserve a little bit of extra recognition. We ask them to vote in four areas of the business – our Harlow operations staff, our Manchester operations staff, our Norwich operations staff, and all office or remote staff.
Our winners for this quarter are…
Harlow – Luke Ward!
Luke is a driver based at our Harlow site. He spends most days servicing our London-based customers and receives regular praise both in customer reviews and in our quarterly awards. A few pieces of feedback for Luke this quarter were:
"He's great."
"Proactive, willing to help where is possible and all around a very good worker."
"Luke works really long hours and is always helpful. He spends most of his week in central London and never needs to call with queries, he just gets on with it. He is well-liked by the other drivers and office staff and is a great asset to Shred Station."
Great work, Luke.
Manchester – Kenny Fletcher!
Based at our Manchester depot, Kenny spends his days driving around the North of England collecting and destroying our customers' confidential information. He has been praised by many of his colleagues at the Manchester depot for his work ethic, and this win is well-deserved. Here are some of the reasons Kenny's peers voted for him:
"Cabinets are like Pokémon, gotta catch 'em all."
"Outstanding work ethic."
"Hard working."
"He is always so cheerful and willing; the customers love him!"
Well done, Kenny.
Norwich – Fernando Marchant!
Fernando is part of our Norwich depot's warehouse team. Our warehouse teams work hard to ensure all off-site shredding is conducted safely, securely, quickly and with extreme care. As well as working in the warehouse, Fernando often assists depot drop-off customers with their bags, which is a great help to our Customer Service Team.
He received many nominations in this quarter's awards, a few of which can be read below.
"Fernando is always willing to help whether that be with a depot drop-off with a customer or bringing bags upstairs for us. He is super lovely and a real credit to the warehouse and Shred Station! Well done, Fernando."
"Helpful and kind."
"Fernando is always so helpful with customers. He's always so friendly and happy to help."
"Fernando has been really helpful whenever I ask for help bringing bags upstairs or when a customer brings in bags as a depot drop-off. He is always really polite and smiley."
Thank you, Fernando!
All offices/remote – Rosie Cordell!
Rosie is a Senior Customer Service Advisor based at our Norwich head office. Day-to-day, they look after mostly urgent enquiries and queries from our largest and most complex customer accounts. They receive regular votes each quarter, but this is Rosie's first Employee of the Quarter win. Here's why their peers voted for them:
"Always happy to help with a smile, very approachable along with the occasional office banter."
"Rosie has become my daily go-to for help with some of our largest accounts and is always super helpful. Friendly and nothing is too much trouble. Rosie has also helped me with some key training which I was very grateful for."
"Rosie has shown exceptional commitment to the Customer Service Team, staying late, working weekends, and going above and beyond to make sure our customers are responded to as soon as possible. They are highly approachable with a can-do attitude and we are blessed to have them."
"Rosie goes above and beyond to make sure myself and the other new hires are fully comfortable in our training and has made me feel very welcome. Rosie is always happy to assist with any questions and has shown a great deal of support. They are very knowledgeable and approachable, and I believe that is a really important quality for a senior teammate. I haven't worked with them long but I already know Rosie is a very strong and loyal part of the company."
Congratulations, Rosie.
Well done to our winners and thank you for your hard work.
---
Sign up for our newsletter to receive alerts about new blog articles, data protection advice, and Shred Station news.