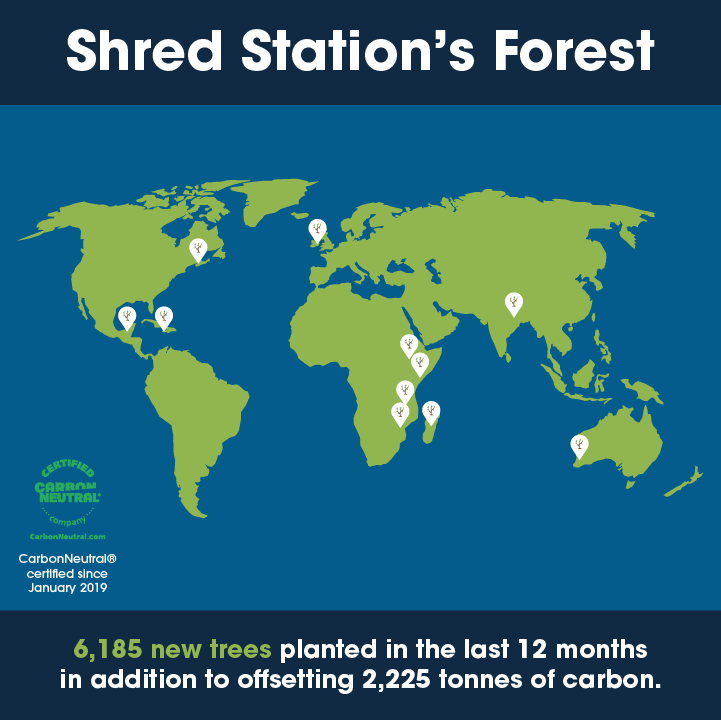 The Shred Station Forest
At Shred Station, we take our environmental impacts seriously. We always have. How we affect the world around us has never, and will never, be an afterthought for us.
Here are some of the many ways we minimise our environmental impacts:
We recycle 100% of the paper we shred.
We don't send anything to landfill.
We've invested in solar panels and car charging facilities.
We have a closed-loop process for our shredding bins.
Our cabinets are made from certified sustainable wood.
We have a Shred a Tonne, Plant a Tree scheme for our customers.
We have been CarbonNeutral® certified since 2019 – and each year we publish our full carbon assessment on our website.
We're trialling electric vehicles and have already started replacing our forklifts with electric models.
We also have plans in place to become lifetime carbon neutral.
But, when it comes to minimising environmental impacts, there is no summit we can reach. All of us, especially businesses, can do more. That's why we're continuously innovating and funding eco-friendly projects. One of the ways we do this is through tree planting.
The Shred Station Forest
The 'Shred Station Forest', as we like to call it, is growing! In the past 12 months alone, we've funded 6,185 new trees across six continents.
Hundreds were planted as part of our Shred a Tonne, Plant a Tree scheme and for National Tree Week. But a huge 5,763 of these have been planted as part of our 10,000 Tree Challenge.
Our amazing team of staff have baked, raffled, ran, cycled, walked, bowled, golfed and risked a pie in the face to raise money for the 10,000 Tree Challenge Fund so far, and there are many more challenges they will be taking on between now and the end of the year.
To put it simply, at Shred Station, our passion for the environment has deep roots. It sits at every desk, behind every wheel, and is shared across the whole company. This company-wide attitude means that our teams are not only on-board with environmental activities but actively share their ideas. This, coupled with our team's extensive knowledge about shredding and data protection, is what sets us apart from other companies in the shredding industry. When we say that minimising our environmental impacts is one of the core pillars of our ethos, you can be assured that this ethos is meant.
If you want to talk to our expert team about our environmentally friendly shredding services, get in touch today.
---
Sign up for our newsletter to receive alerts about new blog articles, data protection advice, and Shred Station news.