Shred Station's Employee of the Month – March 2020
Recognising the efforts of our employees is highly important to us. That's why we have employed a peer-voted Employee of the Month award.
We use this award to celebrate the achievements of our hard-working team of staff. It's also been a great way to encourage positive feedback between teams.
The winner of March 2020's Employee of the Month award is…
Martin!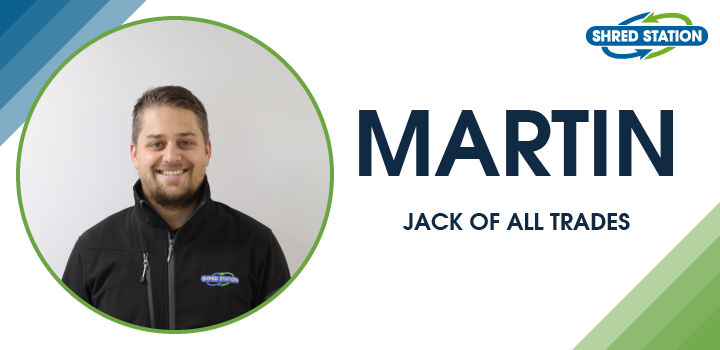 Martin works in our Norwich head office – his unofficial job title being 'Jack of all trades'. As well as being the Sales Manager, Martin also gets stuck in with IT support and operations. He has been with the company for almost ten years.
Prior to coming to Shred Station, Martin spent five years working as an IT engineer. He also took a year out living in Nottingham where he worked at an after-school club – one of the most rewarding jobs Martin says he's ever done.
Over the last decade, Martin has become part of the furniture at Shred Station. During his time with us, Martin has made enormous progression. He has done everything from being in the trucks servicing customers, to leading our internal sales team and achieving a record year of incoming sales. He has also more recently overseen an entire overhaul of our internal systems, moving our operations to a new PDA paperless system – achievements that both the company and Martin are very proud of.
Our Employee of the Month award is peer-nominated, and Martin has consistently received praise month after month. This month, he has been recognised by his peers for many reasons.
Here's why our staff voted for Martin:
"He's a great team player"
"He's always there to help with anything for anyone! He is a top boy."
"For his strong dedication and attitude towards work even during a time of national crisis"
"His all-round general helpfulness and attitude, especially when things aren't going as expected. Thanks, Martin!"
"Martin has pulled together a great team for sales again. Training and retraining where necessary, he has juggled many tasks and continues pitching in with his own sales effort as required too. Thanks, Martin!"
Martin's peers said that his top skills were:
Teamwork, helpfulness, work commitment, and general 'Martinness'
We asked Martin how he felt about being our March Employee of the Month, and here's what he said:
"It feels great to be picked out of the 100+ members of staff we have here, who all deserve credit for the work they put in, especially throughout the mad times we are currently going through. It's all one big team effort really. And finally, everyone, stay safe."
We couldn't be more pleased for Martin, who is an incredibly deserving winner this month.
---
Sign up to our newsletter to be alerted about new blog articles, data protection advice, and Shred Station news.