Shred Station's Employee of the Month – July 2020
Every month, our staff members have the chance to anonymously nominate a colleague who they think deserves to be crowned Shred Station's Employee of the Month. We ask employees to think about their colleagues' achievements over the past several weeks, how their peers have gone above and beyond in their roles, and how they contribute to a positive working environment. The staff member who receives the most nominations for that month wins! 
July 2020's Employee of the Month is…
Rachel Lofthouse!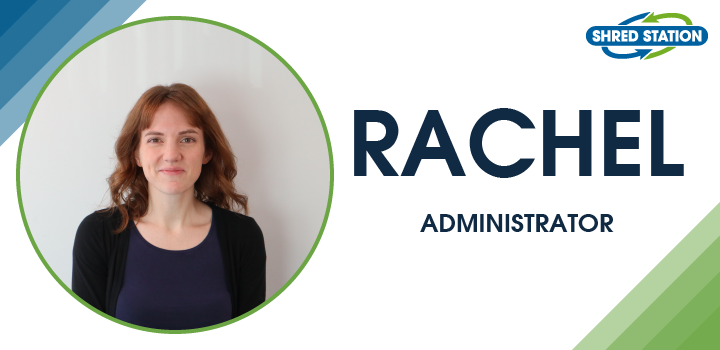 Rachel first started at Shred Station in February 2015 and has taken on more and more in her role as an Administrator as time has gone by.  As well as general administration, Rachel also helps with customer service enquiries, invoicing, and producing management reports. The variety in Rachel's role enables her to have a good view of Shred Station's overall processes, which, in turn, means she can assist with a huge range of customer queries and solutions.
Rachel receives regular positive feedback in our Employee of the Month surveys. She is an extremely reliable and helpful colleague.
Before joining Shred Station, Rachel had just graduated from university and was working as a Laboratory Technician and Receptionist. She has always been a multi-tasker! She is also a fantastic baker, and regularly brings in amazing biscuits, muffins, cakes and sausage rolls for her colleagues – something we are all delighted about!
Here's what our team had to say about Rachel:
"Rachel, as always, has worked non-stop this month no matter what has been thrown at her. It's about time she got recognition for this."
"Always willing to help and resolve things in a timely manner."
"Rachel is a kind and helpful member of the Shred Station team. She takes on extra work all the time, not because she has to, but just because she likes to help. Very knowledgable and nice to work with."
Rachel's peers said her top skill this month is:
In past months, she has also been praised for her dependability and work commitment.
We asked Rachel to comment on how it felt to be July 2020's Employee of the Month. Here's what she said.
"I'm stunned! I can only do my job with the support of all the hardworking people at Shred Station, so it is very much a group effort!"
Modest as always, Rachel is a very deserving winner, and we couldn't be happier for her to be July 2020's Employee of the Month.
---
Sign up to our newsletter to be alerted about new blog articles, data protection advice, and Shred Station news.