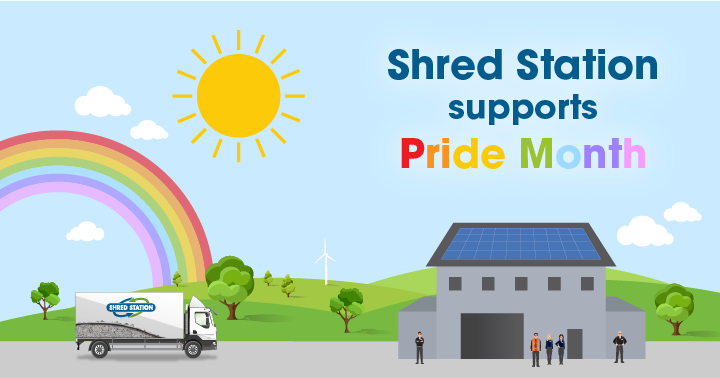 Shred Station supports Pride Month
At Shred Station, we believe everyone should feel comfortable at work and have the freedom to be their authentic selves.
While the UK has made some significant progress in recent years regarding the rights of people in the LGBTQ+ community, it hasn't always been this way. There is still a long way to go. Understanding the issues people in the LGBTQ+ community face and empathising with these issues is key to nurturing a work environment that celebrates everyone.
To improve company-wide understanding of what it means to be a part of the LGBTQ+ community, we consulted staff members that openly identify as LGBTQ+ and in February of this year issued LGBTQ+ awareness training to our employees.
What the course covers
The course we issued aimed to:
Increase employee confidence around the use of inclusive language.
Give employees the tools to create an inclusive workplace where everyone feels comfortable being their authentic selves.
Teach employees how to be effective allies for the LGBTQ+ community.
Nurture a greater understanding of the issues faced by the LGBTQ+ community in recent UK history.
After each module of the course, there is a mini-quiz. We are pleased to report that the average score across all course recipients was an impressive 92%.
To improve overall workplace awareness of gender identities, we also introduced the option for employees to have their pronouns in their email signatures. We implemented this in the summer of 2022 and this has been utilised by staff members across the business.
We know that these measures alone do not constitute the perfect solution. No workplace culture can be perfect and there is more we need to do to support our LGBTQ+ employees and our local communities. However, we feel positive that this was a good place to start.
Happy pride month to all.
---
Sign up for our newsletter to receive alerts about new blog articles, data protection advice, and Shred Station news.