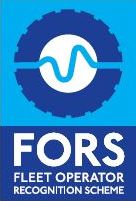 Shred Station is accredited by the Fleet Operator Recognition Scheme (FORS)
Our fleet operations are now accredited under the Fleet Operator Recognition Scheme (FORS). We have joined the voluntary certification scheme to show that we manage our fleet operations with efficiency, safety and in an environmentally conscious and lawful manner.
We are currently FORS bronze accredited and working towards achieving the silver standard. To become accredited you must meet the criteria within the FORS standards. A company audit, completed by an independent FORS auditor, is required to confirm the standards are met and certification is achieved.
FORS recently announced it has reached its 3000th accreditation, showing the number of fleet operations that want to demonstrate their commitment to raising professional standards.
The standards cover:
Management
Vehicles
Drivers
Operations
You can find out more about the scheme on the FORS website.