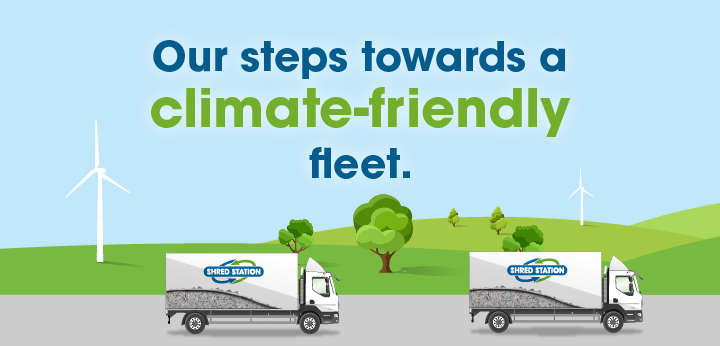 Our steps towards a climate-friendly fleet.
At Shred Station, our biggest source of emissions is our fleet. We have over eighty specialist shredding and collection vehicles across the UK, and without these secure vehicles, we wouldn't be able to operate our shredding collections.
As such an integral component of our business model, it's vital to us that these vehicles are not only reliable but also that they represent one of the core pillars of our ethos – minimal environmental damage. Here are the steps we've taken so far to ensure our fleet emissions are kept at a minimum.
Euro 6 Low Emissions Trucks
Our vehicles meet Euro 6 low emission standards. Because they meet this standard, our trucks produce so few emissions that we can drive them freely in London's Ultra Low Emission Zone (ULEZ).
But what does this mean?
When a vehicle meets Euro 6, it means that they produce minimal Nitrogen Oxide and minimal soot particles. They must also produce minimal Carbon Monoxide, Carbon Dioxide, Sulphur Dioxide and Hydrocarbons. All of these contribute to global warming.
Our trucks meet the standard by design. They are equipped with a Selective Catalytic Reduction converter which injects AdBlue solution into the vehicles' exhausts. When this injection takes place a chemical reaction occurs that neutralises harmful gases.
Company Vehicles
We are in the process of changing our company cars to either plug-in hybrid or fully electric models. We also have the facilities at each of our depots for employees to charge their cars. This is our way of showing support for employees making the eco-conscious move to greener vehicles.
Electric Forklifts
At our secure premises, forklifts run constantly moving bales of shredded paper and loading it onto our vehicles for transportation to recycling facilities. Due to the fact they are in constant use, our diesel forklifts use quite a large amount of fuel. We have purchased two new fully electric JCB forklifts to replace diesel models at our Norwich depot and are currently awaiting delivery of these machines. The switch to these electric models will save around 10,400 litres of diesel per year per machine. This is not only a massive amount of fuel, but it will also mean a big reduction in our overall carbon emissions for years to come.
Volta Trucks
Originally planned for 2021 but delayed as a result of the coronavirus pandemic, this year we will be trialling the world's first fully-electric HGV as part of the Volta Trucks Pioneer Programme. Adding electric trucks to our fleet and ultimately phasing out the use of new diesel vehicles will see our future fleet emissions reduced.
DAF Trucks
On the 2nd of May 2022, we started a one month trial of a fully-electric DAF truck. We'll be updating this blog post on how we got on once the trial is over.
Thinking about the present and changing the course of the future is key to safeguarding our world from the threat of global warming. We believe all businesses should be doing more to reduce their emissions and offset where reduction isn't possible.
At Shred Station, we have been CarbonNeutral® certified since 2019 and plan to offset our historic emissions to net-zero too. This year we are offsetting our annual emissions beyond net-zero, meaning for 2022 we will be carbon negative. By 2030, we aim to have offset all of our historic emissions and eventually will be aiming for lifetime carbon negativity.
If you'd like to know more about our environmental commitments, please visit our Corporate Social Responsibility pages.
---
Sign up for our newsletter to receive alerts about new blog articles, data protection advice, and Shred Station news.