The government's Health and Safety Executive (HSE) Driving at Work Guidelines state that "health and safety laws apply to on-the-road work activities, and the risks should be effectively managed within a health and safety system". They also estimate that over a quarter of road traffic incidents involve somebody who is driving in a work capacity.
With a figure this staggering, it's no surprise that one of our most important focuses is road safety. We must maintain and exceed the high standards of road safety we set out for our drivers.
So, what measures have we made to keep you safe?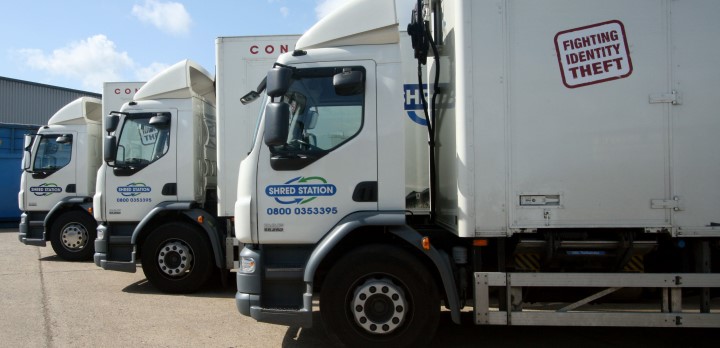 All of our new shredding vehicles are fitted with low-rise windows to optimise direct vision. This dramatically improves vision for the drivers, particularly on the passenger side. These windows enable drivers to have a better view of cyclists, pedestrians, and other road users.
We've also fitted all new shredding vehicles with a state-of-the-art side detection system. These systems consist of sensors carefully placed along the passenger-side panels of our trucks. These detect any movement from cyclists, pedestrians, or other hazards. If the system does detect movement, the driver will hear a loud beep. The sensors are proving to be very useful for our drivers, especially drivers based in London and other areas where road activity is high.
In addition to the above, all of our new shredding vehicles are fitted with audible left-hand warning signals. These alert cyclists when trucks are turning left. We've also renewed all of our cameras in our trucks with a Smart Witness system, and all of our HGV vehicles have been updated with a four-camera system, telematics and trackers.
As well as using physical features to help our road safety, we also invest in regular training for our drivers.
All of our drivers undergo security vetting to BS7858, DBS and SC Security Clearance standards. They also all undertake an e-learning course on road and cycle safety as part of their induction process.
We are also FORS certified, meaning we have an eye on the future with regards to potential future improvements too.
It is vital to us that, as well as having absolute security when destroying your confidential waste, we have absolute safety when on the road too.
---
Sign up for our newsletter here to be alerted about brand new articles, data protection advice, and news about Shred Station.