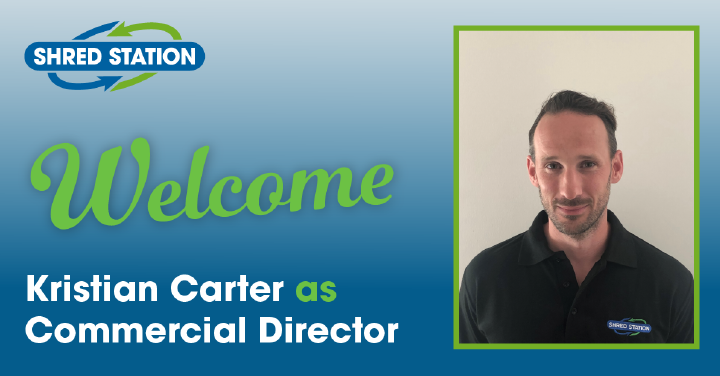 Meet Shred Station's New Commercial Director
Shred Station is proud to welcome Kristian Carter to our ever-growing team of shredding experts!
Kristian has joined us as our new Commercial Director, having worked elsewhere in the shredding industry for over a decade. Having just completed his first week with us, we asked Kristian a few questions to find out how he's finding being the newest member of the Shred Station family, and what his appointment means for our customers in the future. Here's what he had to say.
What were you doing before you joined the Shred Station?
Before joining Shred Station I'd previously been working at Restore Datashred heading up their Sales and Marketing function.
What attracted you to the Commercial Director position at Shred Station?
Initially, I liked the idea of taking on a wider job role with more responsibility – having a direct impact on how the business is structured across the board and its next phase of growth. The shredding industry is one that I have known and enjoyed working in for many years.  Shred Station was a brand and business that I'd been aware of and followed for a while; I believe it has a great potential to deliver something better to customers. I'm looking forward to being part of that journey.
How would you describe your first week on the job?
The first week has been great – slightly strange timing given the current Covid-19 impact! But, I've been able to spend quality time with a lot of the team to really understand how the business works and how the different roles contribute to the overall business. While the industry is familiar, I think it's important to learn how the business runs and understand its uniqueness. My biggest takeaway so far has been the positivity I've felt from all the people I've spent time with. The culture of the business really is a strength.
What are the highlights from your first week?
We have had a couple of lovely sales enquiries come through which given my background are always going to be a highlight!
Has coronavirus and social distancing impacted the way you would normally approach your role?
It has completely changed it. Under normal circumstances I would be spending a lot more time face to face with people, heading out on collection vehicles and visiting the operational sites.  Under the current restrictions I haven't been able to do that, so have relied a lot on Zoom calls and socially distanced one-to-ones with people locally. It will be nice once some normality has returned so I can pick up on those missed things, as I do feel it is important to get a grounding in the business across all elements, roles and sites.
What are you most looking forward to as the company's first-ever Commercial Director?
There is a great foundation here already with a great team of people and I'm most looking forward to helping to realise the potential this business has.  With this being a new role there is a blank sheet of paper to map out what can be improved upon and how the business can develop. I'm certainly looking forward to that.
How will your appointment improve Shred Station's commercial processes and aid in the delivery of excellent customer experience?
There are a lot of things in the pipeline which will improve customers interactions with us. The customer-centric ethos of Shred Station is one that completely resonates with me. It's been brilliant to see how the team currently deliver a great experience.  We'll be looking to build on that over the coming months, adding some new ideas and technology to our customers.
What do you think makes Shred Station unique in the shredding industry?
I think Shred Stations' uniqueness in the industry is underpinned on four key pillars. Firstly, we have a flatter structure giving more responsibility to front line management allowing quicker local decision making. Secondly, being a national provider with a smaller depot network allows us to control our fixed cost base and deliver savings to the end customer. Thirdly, the ownership structure allows us to focus on long-term growth and unrivalled service to every single customer. Last but not least, we'll be in a position to deliver great innovation and technology that delivers real value to customers.