A closer look at our secure automated vehicle
Here at Shred Station, we strive to continuously improve your experience with us. We are always on the lookout for the latest technology, conduct regular research into data protection and incident trends for many industries, and also seek out any upgrades we can make to further improve our already exceptional security standards.
All of our shredding trucks are safe, secure, and are fitting with numerous security systems. This includes bespoke CCTV, driver monitoring, satellite tracking, and many more custom features. The security of your confidential materials has always been our top priority, and all of our vehicles are designed with that in mind.
Our Secure Automated Vehicles offer a service to customers who require off-site document shredding, with an extra layer of security.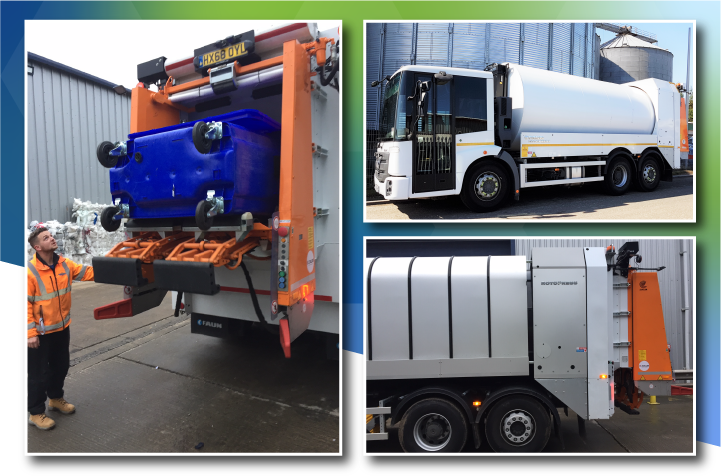 What makes these vehicles so secure?
Firstly, the Secure Automated Vehicles (SAVs) boast a high-security interlocking system. The bin platform will not operate unless the rear shutter is in place, preventing spillage of your confidential information. The vehicle will also be unable to drive without the rear shutter being fully closed. Your confidential data is therefore even safer from any potential risk in transit.
Additionally, the SAV's loading system is entirely automated. This means our uniformed and BS7858 security vetted operatives can lift and tip your confidential information electronically. There is no need for any manual handling.
A critical new security feature of the SAVs means that immediately after your confidential documents are loaded into the vehicle's sealed, watertight storage drum, they become entirely inaccessible. They will then be taken to one of our highly secure depots, unloaded directly onto the shredding conveyor, and destroyed under stringent conditions.
As mentioned, along with the rest of our fleet, the SAVs are fitted with a bespoke CCTV system for added safety and security. They are also equipped with an onboard satellite tracking device.
What are the other benefits?
As well as these extra security measures, the SAVs are able to operate with reduced carbon emissions due to their very low fuel consumption. They can also hold up to 12 tonnes of paper. This means the payload is increased, and the overall carbon footprint is reduced by approximately 40%.
The vehicles are also watertight rotopress vehicles. This means materials within the truck's body are continuously compressed, so we can fit huge quantities of paper on board the truck.
We firmly believe these Secure Automated Vehicles are setting the pace for vehicles involved with document collection and destruction purposes. Our safe, lockable bins will remain the same, and can still remain at your premises between collections. This means there is no extra work or inconvenience for you.
If you'd like to talk to us more about our Secure Automated Vehicle service, give us a call. One of our shredding specialists will be able to answer any questions you may have.
---
Sign up for our newsletter to receive alerts about new blog articles, data protection advice, and Shred Station news.