Top Ten Tips for an Eco-Friendly Christmas
Christmas is a magical time of the year for all ages, but whether we like it or not, the festive season means a large increase in waste going to landfill.
Our top ten tips for an eco-friendly Christmas will help you to reduce your environmental impacts, and could even save you a bit of cash, too!
Tip 1 – Use Recyclable Paper
A recent study found that the UK uses 227,000 miles of wrapping paper each year! Sadly, much of this goes to landfill because a lot of Christmas paper is dyed with metal-based dyes, or is decorated with coloured foils and glitters. While these additions look lovely and festive, a lot of councils will refuse to take this type of paper as it's not widely recyclable.
Using recyclable paper is a great way to be 100% sure that your Christmas wrapping avoids landfill. If you don't like the idea of plain brown paper, you could decorate it with custom designs! Potato printing or rubber stamp printing using eco-friendly or vegetable-based ink can be a fun activity for the whole family. Coloured string and pine trimmings also create a nice Christmassy feel.
Tip 2 – Use Wrapping Paper Alternatives
If you want to go above and beyond this Christmas with your eco-friendly efforts, you could eliminate your paper waste altogether. Furoshiki is the Japanese art of fabric wrapping. Fabric wrapping is a great way to minimise waste and the fabrics can double up as accessories such as scarves. Best of all, fabrics can be reused for years.
Fabric is often surprisingly cheap, so why not visit your local fabric shop or charity shop for some inspiration? You could even decorate some old pillowcases with fabric pens, or test out your embroidery skills. If you want some ready-made Christmas fabrics, eco-friendly cosmetic company, Lush, has a large range of knot wraps.
If you need some help getting started with furoshiki, click here to see step-by-step instructions on how to wrap objects of various shapes and sizes.
Tip 3 – Reuse Last Year's Christmas Cards to Make Gift Labels
Around 1 billion Christmas cards are binned each year in the UK. That's equivalent to 33 million trees! Why not repurpose these old cards and turn them into gift labels? You'll save money on gift tags, free up some drawer space, and make sure your old cards aren't going straight into the bin.
Tip 4 – Send an e-Card Rather Than a Physical Christmas Card
This year, why not send e-cards instead of paper cards? If just 1% of people switched to sending e-cards, 330,000 trees could be saved each year. This method is cost-effective, saves time, and most importantly, could help to reduce the number of trees we are cutting down each year.

Tip 5 – DIY Decorations
Making your own decorations can be a fun activity for the whole family. Dried willow branches can be wound in a circle to make the base of a wreath, and other natural materials such as pinecones and holly can be found growing wild all over the UK. You could make snowflakes out of scrap paper, woollen baubles from scrap wool, and stockings from scrap fabrics and ribbons. All of these methods will save you a bit of cash, reduce waste, and get you feeling festive.

Tip 6 – Dispose of Your Christmas Tree Responsibly
Christmas trees are one of the biggest symbols of Christmas and are a centrepiece in many households. However, Christmas trees, if disposed of irresponsibly, can be a huge contributor to landfill after the festive period.
Artificial Trees
If you are upgrading your artificial tree, consider donating your old one. Most artificial trees are non-recyclable, but there are plenty of families who would appreciate an artificial tree at a lower price. Christmas can be economically stressful for many households across the UK. Donating your old artificial tree can help others as well as reducing waste to landfill.
Real Trees
If you buy a real tree, most councils will accept these for recycling once the Christmas period is over. Old trees are often turned into wood chippings for playgrounds and public gardens, so be sure to drop these off at your local recycling centre. A lot of people also choose to get living Christmas trees. These come in pots and can be planted in the garden after Christmas. Each year, you can just transfer the tree into a pot again and bring it indoors until the festive period is over.

Tip 7 – Rethink Your Christmas Cracker Habits
How often will you use a spinning top, magic fish, or stencil set? Rather than buying a dozen crackers year after year, why not have a go at making some yourself? You'll get a cracker gift you'll want to keep, and you'll also be preventing unwanted cracker gifts from going to landfill!

Tip 8 – Make Something Tasty with Your Christmas Dinner Leftovers
One of the best ways we can make our Christmas more environmentally friendly is to reduce the amount of meat we eat. However, we understand that turkey on Christmas day is a tradition that most families can't bear to part with. Instead, why not reduce food waste by cooking up something delicious with your Christmas dinner leftovers? 54 million platefuls of Christmas food waste end up in landfill from UK homes each year. A small reduction each could go a long way.

Tip 9 – Rethink Your Gifts for Secret Santa and Stockings.
Do you participate in your office Secret Santa or have stockings at home? Instead of buying small brand-new gifts with lots of packaging, you could reduce your carbon footprint by making a small gift yourself, or choosing an eco-friendly gift. Many companies are also now encouraging employees to purchase their Secret Santa gifts from charity shops. By doing this, you'll generally tend to get more for your money. You'll also be contributing to a good cause, and may even encourage a bit of "reduce, reuse, recycle" culture in the workplace.

Tip 10 – Invest in a reusable advent calendar
Advent calendars are a big contributor to landfill, despite most being made up of recyclable elements. To reduce waste, it could be worth considering investing in a reusable advent calendar. We made our very own reusable advent calendar here at Shred Station by decorating the truck below – the plain version of which we purchased from a craft store! These can be used for the whole family and can be reused for generations.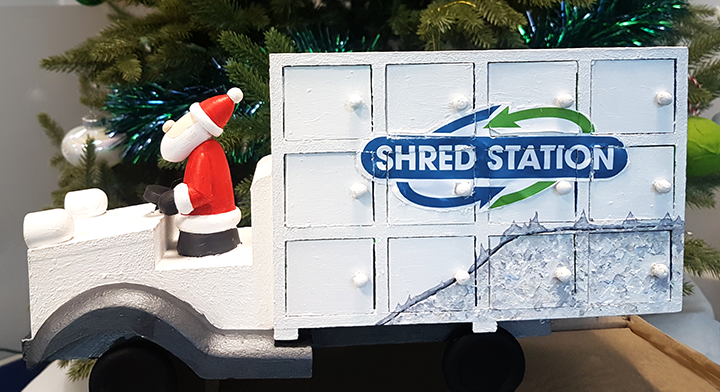 We hope you've found this list of eco-friendly Christmas tips useful.
Eco-friendliness is important to us at Shred Station, and we're proud to be a CarbonNeutral® company. We are happy to help our customers with their recycling needs. If you already have a regular shredding service with us, why not encourage employees to recycle their wrapping paper by ordering some extra bags for your first collection after Christmas? It may even encourage other types of workplace recycling too! Talk to one of our shredding specialists today to get your extra bags. We'd also love to hear from you if you use any of these tips to reduce your carbon footprint this Christmas!
---
Sign up to our newsletter here to be alerted about new blog articles, data protection advice, and Shred Station news.