Shred Station's Employee of the Month – August 2020
At Shred Station, we understand the importance of acknowledging the hard work of our staff members. Each month, all staff members have the chance to anonymously share feedback about their peers, nominating the one person they believe deserves to be crowned Shred Station's Employee of the Month. When voting, we ask staff members to consider their peers' achievements, how the individual they are voting for has gone above and beyond their usual duties, and how they make the working environment a better place. The team member who receives the most votes for that month wins! 
August 2020's Employee of the Month is…
Darren Richardson!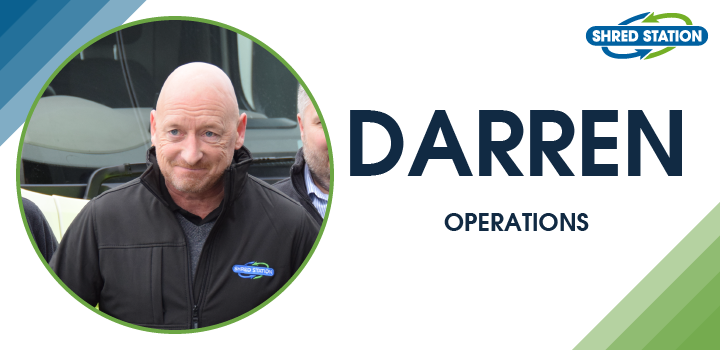 Darren is a key member of our operations team and is based in our Norwich head office. While Norwich based, Darren actually works very closely with our Harlow depot management team as well as the large team of drivers we have in the south of the country. The company has grown enormously since Darren joined us, and he has been instrumental in ensuring the journey has been smooth for Shred Station customers as well as our own drivers.
Before joining Shred Station in March 2017, Darren worked as a depot manager in London for another shredding company, so has a lot of experience in the shredding industry.
His expertise has meant a complete overhaul of our transport management and operations systems. He has changed our London routes and optimised efficiency, meaning we are able to offer a stable, reliable service to hundreds of customers each week in London and the surrounding areas. As well as being highly efficient, Darren is also a very well-liked member of the team and has a great relationship with everyone he works with, something Darren says makes his job a lot more satisfying.
Here are some of the comments that were made about Darren:
"Great guy, works hard and is great at his job."
"Always helpful and willing to try and accommodate any customer requirements."
"Darren has been fantastic as always, always quick to reply, and will always answer the phone if ever needed. Cheers, Daz."
Darren's top skills, as voted for by his peers, include:
Helpfulness
Teamwork
Attitude
Job knowledge
We asked Darren for a comment about how it felt to be August 2020's Employee of the Month. Here's what he said:
"Thank you all. I'm overwhelmed. We are all good at what we do at Shred Station. A great team. That's what makes us different from the rest."
Darren receives regular votes every single month, and we are thrilled that he has been crowned August 2020's Employee of the Month.
---
Sign up to our newsletter to be alerted about new blog articles, data protection advice, and Shred Station news.