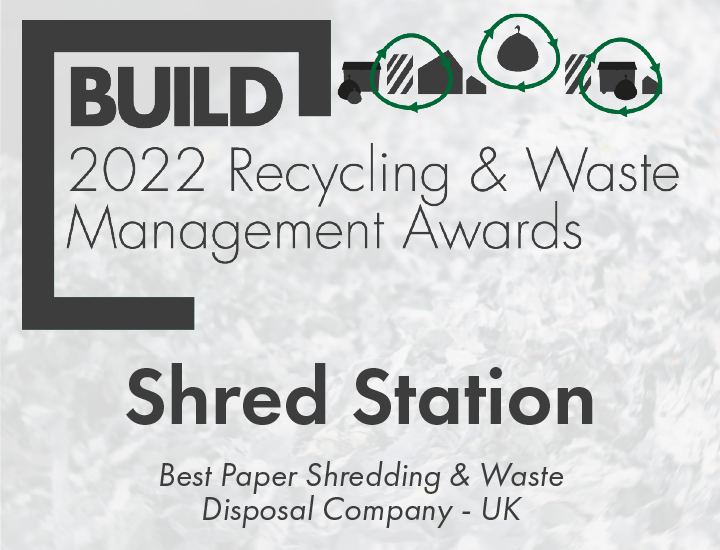 Shred Station wins Best Paper Shredding and Waste Disposal Company Award!
On Friday 6th January 2023, BUILD Magazine's Recycling & Waste Management Awards winners were announced. It is with great pride we share the news that Shred Station won the 'Best Paper Shredding and Waste Disposal Company – UK' award!
At Shred Station, we strive for more than just paper shredding. We operate with minimal environmental impacts, are growing sustainably, and shred all sorts of materials. In short, we aim to be the best the shredding industry has to offer. These efforts have not gone unnoticed, winning us numerous awards over the years.
This is the first time we have been nominated for the Recycling & Waste Management awards and we are delighted to have been chosen as a winner at such a prestigious event.
What is BUILD and what are the Recycling & Waste Management Awards?
BUILD magazine is a digital publication with a focus on construction and property markets. The magazine has hosted the Recycling & Waste Management Awards since 2018, shining a light on the industry's innovators and trailblazers.
For these awards, there is no submission process. Instead, the public can nominate businesses for each awards category. A panel of five impartial researchers then select winners from those nominees.
Laura O'Carroll, an Awards Coordinator at BUILD, commented on the success of this year's programme:
"I am pleased to present these fantastic, well-deserved accolades. Without these kinds of businesses, our world would be much different. All the best to them as they continue to discover, grow, experiment and exceed expectations. Well done".
You can view all of the winners here.
A massive thank you to BUILD for selecting us as your winner. We are incredibly proud and extend huge congratulations to every other winning organisation.
---
Sign up for our newsletter to receive alerts about new blog articles, data protection advice, and Shred Station news.