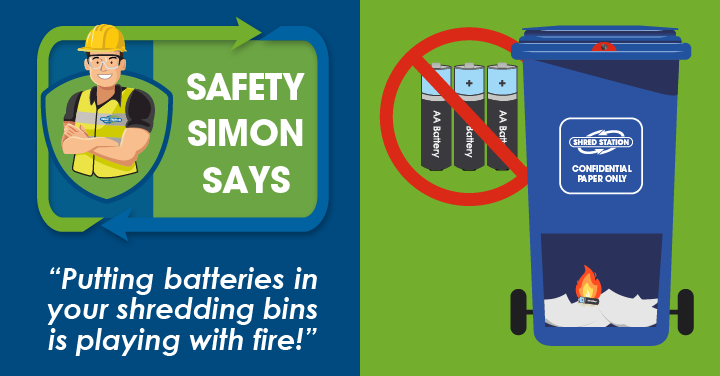 Safety notice regarding batteries in shredding bins
Safety Simon says, with recycling, we all love a trier. But, putting batteries in shredding bins is playing with fire!
Our health and safety mascot, Safety Simon, has an urgent message to share about battery safety.
While we specialise in destroying things, batteries are too destructive, even for us. When you put batteries in your paper bins, that creates a fire risk for our staff. This year, we had several incidents that could have resulted in fires, injuries, and damage to our equipment from rogue batteries being placed in our paper bins if it were not for the quick actions of our well-trained employees. Luckily, our operatives didn't sustain injuries as a result of these incidents. However, to keep our drivers safe, we must remind all customers to dispose of their batteries safely.
If you are not sure of what can and cannot go into your shredding bin, please find our downloadable guidance posters here. Feel free to print these off to go near your bins or to share these with your staff.
Batteries in shredding bins cause fires
One of the perks of using a fully accredited shredding service is that our security-vetted operatives will never look through your confidential materials when we destroy them. When you use our services, your data is safe, and you can trust us to keep it safe. We don't pry, we just destroy. In return, we trust our customers to keep our operatives safe. The best way to do this is to make sure no batteries, hazardous waste or other forbidden items are put into our confidential waste bins. This includes normal household batteries, laptop batteries, mobile phones with batteries inside, power banks, products like watches or electric toothbrushes, disposable vapes, and any other kind of battery.
When a battery goes through our shredders, sparks from the battery can ignite paper in the truck. Paper and paper dust is highly flammable and even a small spark can very quickly get out of hand.
The risk of battery fires
In a statement made to the BBC in December 2022, a representative from the Environmental Services Association (ESA) said that when batteries are mixed in with general rubbish or recycling, they are "likely to be crushed, compacted, smashed or they might get wet." This can "cause them to short-circuit. And, of course, they're then in the presence of other flammable materials like plastic, paper and card and that can lead to quite big fires".
Additionally, a representative from the National Fire Chief Council told the BBC that battery-related fires "can be challenging for fire services to deal with, have a significant impact on local communities and present a real risk to staff working on lorries and waste plants".
Research recently published by Material Focus found that each year in the UK alone, there could be over 700 fires in waste trucks and sites caused by batteries being incorrectly disposed of. This poses a huge risk to workers and the general public.
In another study by Eunomia and the ESA, it was revealed that lithium-ion batteries could be responsible for around 48% of all waste fires occurring in the UK. These fires cost waste operators, fire services and the environment around £158m each year.
When we experience fires, as well as the obvious risk to human health, the fires also prevent the materials on board our trucks from recycling. It isn't only dangerous to put batteries in your shredding bins, it's environmentally irresponsible.
So, how can you dispose of batteries?
How to dispose of batteries
Batteries should be recycled at the end of their working life. Individuals can do this at battery recycling points and businesses can use specialist battery disposal services.
For individuals, you can find standard battery recycling points at supermarkets or near enough any other retailer that sells batteries. Retailers that sell over 32kg or more of portable batteries per year (around one pack of four AA batteries per day) must offer free takeback of waste or used batteries. These rules even apply to online retailers. The UK government's Office for Product Safety and Standards manages this takeback scheme.  Retailers not complying could face fines of up to £5,000.
For businesses that need to dispose of batteries, specialist hazardous waste collectors can help. There are many commercial battery disposal service providers in the UK to choose from. All reputable organisations will be able to issue you a Consignment Note for your compliance records. If you need help finding a battery disposal service provider, we can facilitate that for you. Please get in touch and we'll discuss the best possible option for your requirements.
---
Sign up for our newsletter to receive alerts about new blog articles, data protection advice, and Shred Station news.