Are you disposing of your confidential material responsibly?
Confidential information is everywhere. It comes through our doors every morning. It gets stuffed into overfilled filing cabinets and desk drawers. In some cases, it even gets put into boxes and ends up gathering a shroud of dust, untouched in lofts and garages.  Even worse, it ends up in general waste bins!
So many materials we need to dispose of contain confidential information. Because of this, extra caution is necessary to keep data safe. Instead of throwing confidential information away or letting it gather dust in storage, it should be securely destroyed. But how do you ensure your confidential material is 100% safe once it's out of your hands?
Using a Rubbish Removal Company to Dispose of Personal or Business Paperwork
If it's confidential materials you need to dispose of, we would not recommend a rubbish removal company.
Many rubbish removal companies send the items they collect to recycling or landfill. Neither of these are safe options when it comes to getting rid of confidential data. If your data goes to landfill, it will likely remain intact. At recycling depots, it can be accessed by dozens of people prior to recycling. Your data is not likely to be collected by security vetted personnel or have strict access controls. Nor is it likely to be tracked.
If you are using a rubbish removal company or skip to get rid of a large amount of household, garden or building waste and are considering throwing a few boxes of old paperwork in with the mix, we would strongly advise against it. A single piece of paper disposed of incorrectly could be all it takes to put yourself at risk of fraud.
You may think the likelihood of a rubbish removal company mishandling your confidential information is low. However, while the vast majority of rubbish removal companies are legitimate businesses more than able to dispose of non-confidential waste, they are unlikely to have in-depth knowledge about data security. Unfortunately, there are also unaccredited companies or individuals out there looking to take advantage of unsuspecting customers. They do this through the means of theft, reselling waste goods, or even fly-tipping.
The Risk of Fly-Tipping
Last year, local authorities in England alone dealt with 1,072,000 fly-tipping incidents – an increase of 8% from the year before. There are almost always direct victims of this crime.
All too often, individuals put their faith and trust in bogus rubbish removal companies. These companies promise to dispose of materials responsibly for a seemingly very reasonable fee. Unfortunately, these criminal organisations can end up dumping your waste at the side of the road or on privately-owned land, all while benefitting financially. If you do fall victim to these organisations, you do not want your confidential information involved. With materials just carelessly left in open areas without protection, this could potentially expose unknowing victims to further crimes such as identity theft.
Fly-tipping victims include businesses too. The Department for Environment, Food and Rural Affair's recent release on Fly-Tipping Statistics for England, 2018/19 shows that 7% of recorded incidents involved commercial waste. Sensitive commercial documents in the wrong hands could damage a brand's reputation irreparably.
With fly-tipping on the rise, it's more important than ever to make sure the company you are using to dispose of any form of waste is reputable, and the best way to verify this is by looking at the company's certifications. For confidential information, it's crucial to choose a company that will operate with data security in mind. Not just a rubbish removal service.
Using a Removal and Storage Company to Store and Destroy Confidential Information
It may be tempting to use a removal and storage company to house and eventually destroy your confidential information, but out of sight should not mean out of mind.
While storage companies do usually have access controls, CCTV, and some may even provide a shredding service, often they will not have the accreditations to destroy confidential waste in line with EN 15713 standards.
The EN 15713 standards are set out by the British Security Industry Association and the United Kingdom Security Shredding Association to define how shredding companies should handle data to ensure security at all points of the process. If a removal and storage company doesn't meet this set of rules, your data could be at risk.
Removal and storage companies could even be outsourcing data destruction to a third party. This poses several risks to your data.
Firstly, removal and storage companies may not destroy your data for a considerable amount of time after you've requested destruction. Instead, it will be housed in storage, with you never really knowing when destruction will take place. The reason for this is that it's financially more viable for these companies to wait until they have accrued a large amount of data to destroy and have it all shredded at once, rather than book in many smaller services.
Secondly, these third parties may not have been properly vetted by the removal and storage company, who aren't likely to be experts in confidential data destruction themselves. For peace of mind and to guarantee destruction is safe, secure and compliant, it's better to approach a reputable destruction company yourself. That way, you'll know exactly where your data ends up, and can even witness it being destroyed with an on-site shredding service.
Taking Confidential Paperwork to Recycling Centres
 Recycling centres are essential for reducing our collective impacts on the environment, using state-of-the-art machinery to separate materials and prepare them for recycling. However, you should not use a recycling centre to dispose of any confidential material. There are still many manual processes that take place at recycling centres, from sorting waste to getting materials ready for distribution. These processes cannot provide any form of data security.
An example of why a recycling centre should not be used to destroy confidential waste is its accessibility. Recycling centre facilities are open and accessible to countless members of the public each day, and no identity verification takes place at these centres. Your confidential paperwork could be sitting in a recycling centre for weeks, ready for the taking by anyone. It's also quite uncommon that recycling staff will have undergone security vetting.
There is no way to track what happens to your information after you've dropped it off at your local recycling centre. For anything sensitive, it's better to have it shredded by a fully certified company where staff receive data protection training, and where you'll receive a Certificate of Destruction.
Can businesses take waste paper to recycling centres?
Businesses should never dispose of confidential data at recycling centres. To do so would be a breach of GDPR. It would also risk the personal data of customers, sensitive business information, and data that could contain personally identifiable information.
In the first quarter of 2020, there were 85 reports of data breaches from businesses in the UK in the form of:
Incorrect disposal of hardware
Incorrect disposal of paperwork
Loss/theft of devices containing personal data
Loss/theft of paperwork or data left in an insecure location.
These are just the reported numbers. Unreported numbers could be significantly higher, or even as yet may be unidentified. Breach incidents such as these could result in huge fines for businesses, as well as reputational damage.
As so many materials we need to dispose of contain confidential information, extra caution is necessary to keep data safe. Instead of just throwing confidential information away or taking it to a recycling centre, it should be destroyed securely.
Things to consider when disposing of confidential material
We've put together a table of things to look out for when choosing a method of data destruction or disposal.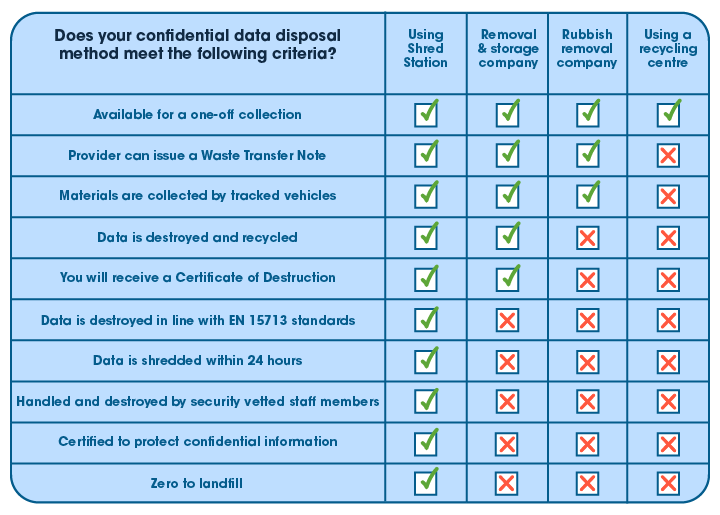 As well as the above options, you may be considering shredding your own data at home. If this is something you are planning on doing, note that many doorstep recycling collectors will not accept shredded paper. Storing shredded paper in unlocked outside bins also risks theft and reassembly through bin raiding. Fraudsters commonly use this technique to gather personal data. With Shred Station, we recycle all of the paper we shred. Plus, with us, you know your data will never reach landfill or cause harm to the environment. This is all thanks to our eco policies and carbon-neutral company status.
Using a Fully Accredited Shredding Supplier like Shred Station
Shred Station meets and exceeds all of the legal criteria for securely destroying confidential materials. Everything we shred gets destroyed in line with BS EN 15713 standards, and your confidential materials are kept safe every step of the way, from collection to shredding, to recycling.
As well as having ultimate security, data destruction with us is stress-free. With Shred Station, you can have all of your confidential materials collected for destruction at the same time. We can shred everything from documents to hard drives and media storage devices. There is no need to source multiple suppliers, shop around for quotes, or risk putting your data in unsafe hands. We are highly competitive with our pricing, and you'll receive a comprehensive Waste Transfer Note and Certificate of Destruction after every collection.
We are an environmentally responsible destroyer of data, with a strict zero-to-landfill policy, certified CarbonNeutral® status, and many other environmental commitments.
If you need some help with your confidential data disposal, get in touch today.
---
Sign up for our newsletter to receive alerts about new blog articles, data protection advice, and Shred Station news.