Celebrating a decade of successful shredding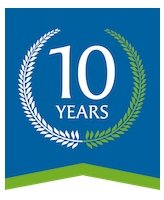 As 2018 begins, we're delighted to be celebrating our 10th anniversary as a successful shredding provider.
The Shred Station story began in 2008. In the early days, we operated with a lone mobile shredding truck, travelling around to meet the needs of local business on-site.
Since then, we've expanded from that one truck to offer a full range of mobile and off-site secure shredding vehicles. We now operate multiple high-security shredding depots and also have several sales offices nationwide.
However, our mission has remained the same. We're still committed to providing shredding services of the highest quality and security. And we still make sure we offer an outstanding level of service to all our customers.
We see ourselves as much more than just a shredding provider. We're here to help our customers safeguard their data and run their businesses in an efficient, secure and compliant way. That's why we're always happy to offer advice and guidance, and why we keep our blog regularly updated with informative articles.
Not only have our services evolved, we've continually improved our environmental efforts too. Our head office and depot are now completely powered by solar energy. We have an electric mobile shredding vehicle and, having already replaced all our Euro 4 vehicles, we are now working towards replacing any Euro 5 emission vehicles with those that meet the very latest Euro 6 standard.
"We'd like to thank all our customers and suppliers for their support, and the part they've played in our story," says our MD, Simon Franklin. "We hope you'll join us in toasting our decade of success, and continue to work with us into the future. Here's to the next 10 years!"