Behind the scenes at our shredding depots
Members of the public are not allowed into our secure destruction facilities for many data security and safety reasons. So, what actually happens behind the scenes at our shredding depots?
We destroy all kinds of confidential materials. Every day is different. At any given moment, we could be destroying anything, from boxes of old personal documents to school exam papers to government files. As the materials we destroy are confidential, we can't have members of the public entering our depots. To do so would be a data security risk. It would also be a safety risk as our forklifts are in constant use and we run a lot of powerful and dangerous equipment. While we would love for our customers to be able to witness the off-site shredding and marvel at our machines, it wouldn't be practical. Instead, we'll give you a sneak peek into what goes on at our destruction centres.
With our standard off-site service (where the shredding happens at our depot rather than onboard a truck at your premises), we can destroy huge volumes of paperwork very quickly. Other than for customers requiring a high-security service, we treat every sheet the same.
The shredding process
You may be wondering if some documents are 'more confidential' than others, why do we use the same process? The simple answer is that our standard shredding service is already extremely secure.
When materials arrive back at our depots for off-site shredding, they are:
Unloaded from our trucks onto a conveyor belt which mixes the paperwork.
This conveyor belt carries the paperwork into the shredder. The shredder then destroys the paperwork into small confetti-sized fragments.
Shredded fragments exit the shredder onto a second conveyor.
Conveyor two transports the little shredded pieces into a baler.
The baler compresses the fragments into large 600-700kg bales which are then sent to UK paper mills for recycling.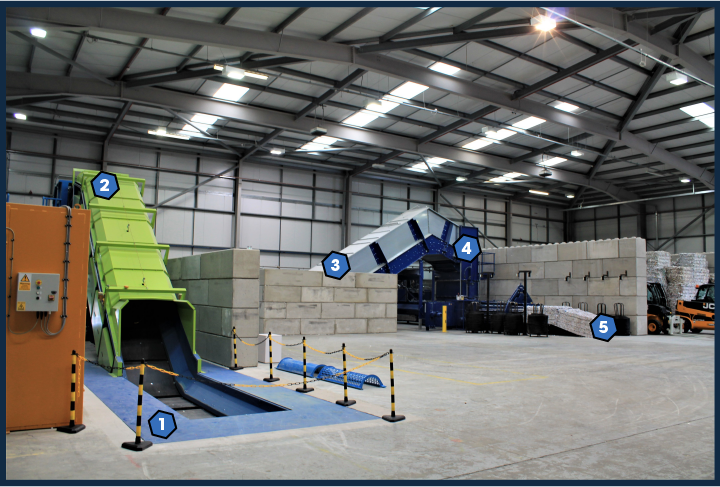 Image taken inside the Shred Station Manchester depot.
Our warehouses are constant hives of activity, with our security-vetted Warehouse Team and Maintenance Team working extremely hard to ensure our process and machines run smoothly and optimally at all times. They play a fundamental role in always keeping your materials – and each other – safe.
Everything we shred, we do so in line with EN 15713 standards. Our standard mobile and off-site services are approved for UK government use by the National Protective Security Authority (formerly the Centre for the Protection of National Infrastructure) as you can see on the website. With Shred Station, your data is in safe hands.
Not all shredders are made equal.
As you can tell from the image of our Manchester depot above, our shredders aren't like the ones you can buy on the high street. At the higher end, a smaller shredder you can buy on the high street may be able to shred 400-450 sheets per hour, ours can shred much more. Our mobile shredders can destroy around 400,000 sheets per hour and our depot shredders up to 2,000,000 sheets per hour.
Meet 'The Beast'
Our newest industrial shredder, seen in the image below, lives at our Norwich shredding depot. The machine, known as 'The Beast', is incredibly fast and powerful. It can destroy and devour pretty much anything that enters its jaws.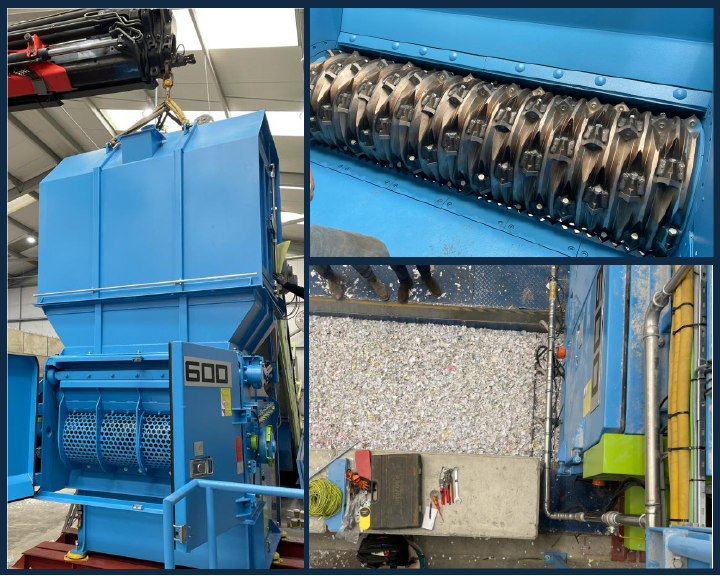 Industrial shredder at Shred Station's Norwich depot.
Making quick work of even the largest shredding requirements, all of our depots are equipped with top-of-the-range machinery and can destroy whatever materials you have with ease.
Get in touch to discuss your requirements and our team of experts will recommend the best and most cost-effective service to suit you.
---
Sign up for our newsletter to receive alerts about new blog articles, data protection advice, and Shred Station news.