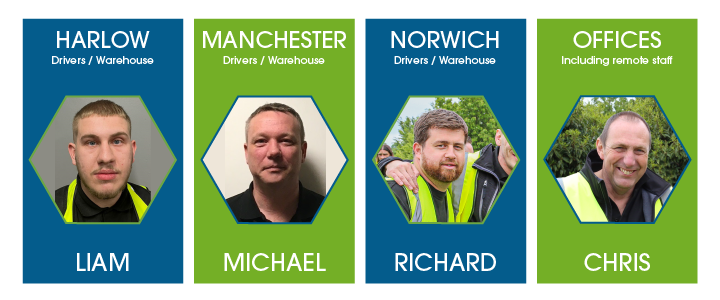 Our 2023 Q2 Employees of the Quarter
Announcing our four Employees of the Quarter for 2023 Q2!
At the end of each quarter, our teams anonymously vote for the colleagues they feel deserve to wear a metaphorical Employee of the Quarter crown. We have an award for each main section of the business – our Harlow operations staff, Manchester operations staff, Norwich operations staff, and also the office-based or remote staff. Each winner receives a voucher and three full months of glory.
Our winners for this quarter are…
Harlow – Liam Howe!
Luke is a Driver's Mate based at Harlow shredding depot. Our Harlow site services primarily London and Essex-based customers, making for a busy shift for our drivers and mates each day. When informed of his win, Luke was called "one of the best" by our Harlow Depot Manager, Jacek – very high praise! Here are just some of the votes Liam received:
"Liam works alongside Pat – our lovely driver. They always ensure their jobs are complete. If they miss them, they take ownership and recover them. They keep their lorry in good shape, don't call with issues and have a great relationship with their customers."
"Extremely helpful, hard worker."
"Great driver, very helpful."
Well done, Liam! A big thank you for your efforts this quarter.
Manchester – Michael Gallimore!
Michael is a very skilled HGV driver based at our Manchester depot. Michael receives regular nominations in our Employee of the Quarter awards, and this is what his colleagues said about him this quarter:
"He is fantastic and cheery always."
"Michael works long hours and gets the job done professionally. Cannot help anyone enough."
"Reliable, hard-working and an all-round top bloke. Still owes me a BBQ, though."
Great work, Michael. We hope we are all invited to your barbecue!
Norwich – Richard Brett!
Richard is a driver based at our Norwich depot and has been with Shred Station for many years. His customers always send in praise for Richard's efficiency as well as his friendly attitude. Here are just a couple of the reasons for his nominations this quarter:
"Great team player and gets the job done."
"Always thorough, a great team player and good to have around."
Thank you, Richard!
All offices/remote – Chris Willgress!
Chris is a Senior Account Manager based at our Norwich head office but most days his role sees him travelling across the region. He has almost 30 years of experience in the industry, so there isn't much Chris doesn't know about shredding! In his spare time, he runs a lovely little farm shop with his family and is an avid bowls player. He received many votes this quarter, including the below:
"He is an awesome character, kind, caring and makes us all laugh."
"While my role doesn't have a huge overlap with Chris, he positively impacts the workspace enormously. As well as being a great colleague, he is a great friend. I know, wholeheartedly, if I ever had a bad day or had any problems I needed to talk through, I could talk through them with Chris. He has a huge amount to deal with but always has time for everyone else. He is very trustworthy, makes us all laugh, and is always misbehaving in the best possible way. Cheers, Willgress."
"He makes me laugh every single time I speak to him."
"Always has a positive mindset."
Nicely done, Willgress.
A big thank you again to all of our Employee of the Quarter winners!
---
Sign up for our newsletter to receive alerts about new blog articles, data protection advice, and Shred Station news.